If you haven't booked your summer holiday yet, you still have time. It's all about finding the right holiday for a good price, especially when you have a family to cater for. Here we've listed ten of the best destinations around the world for families with kids of all ages – and the best part is that they're all relatively cheap!
10 – Athens, Greece
By Christophe Meneboeuf [CC BY-SA 3.0], via Wikimedia Commons
Athens may not seem like the typical destination for a family full of young children, but it's perfect for slightly older children who you'd like to experience a little culture and history. Athens is bursting with art, history and architecture dating back thousands of years, which will impress even the most indifferent of children. If nothing else, the warm weather will be a winner!
09 – Dubrovnik, Croatia
I, Beyond silence [GFDL, CC-BY-SA-3.0 or CC BY-SA 2.5-2.0-1.0], via Wikimedia Commons
Croatia isn't usually high on people's lists of must-see destinations, but it is home to some stunning beaches. Throw in the fact that it doesn't see quite the same tourist boom as other areas of Europe, and you'll find that it's usually very reasonably priced. Good weather, beautiful landscapes and low costs – what more could you want?
08 – Salzburg, Austria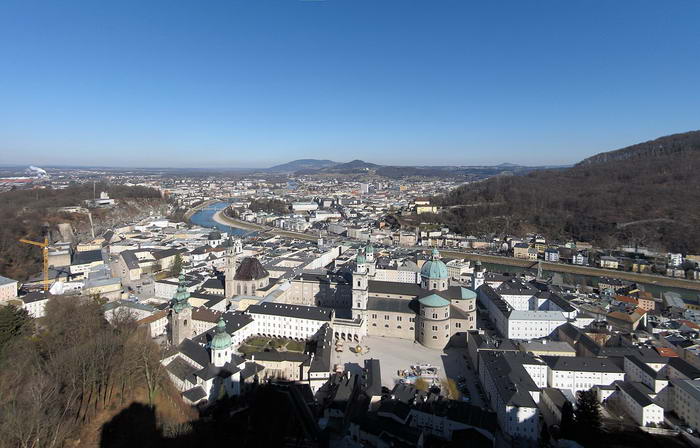 By Hohensalzburg_Castle_11.jpg: GryffindorHohensalzburg_Castle_12.jpg: GryffindorHohensalzburg_Castle_13.jpg: Gryffindorderivative work: – Darwin Ahoy! [CC BY-SA 3.0], via Wikimedia Commons
Why not head to the Alps for a summer holiday with a difference? Mountain ranges can provide some truly spectacular views all year round, not just when they're covered in snow. This is the ideal destination for families who like to try something a little more active and adventurous!
07 – The Algarve, Portugal
By Ricard12 (Own work) [CC BY-SA 3.0], via Wikimedia Commons
Portugal is a very popular European tourist destination, being located both on the edge of the Atlantic and fairly far South. It's great if you want plenty of beaches and family friendly activities, especially for youngsters!
06 – Rome, Italy
By Keith Yahl (Original Photography) [GFDL or CC BY-SA 4.0-3.0-2.5-2.0-1.0], via Wikimedia Commons
Rome is another city which is probably better suited to slightly older children who can appreciate the history behind the architecture and the culture. Having said that, the Italian food is so popular with people of all ages that from ice cream to pizza, there will be something Italian to keep even your youngest children amused!
05 – Cancun, Mexico
By Keith Pomakis on 2003-08-18 via Wiki
Mexico is slowly becoming one of the most popular holiday destinations in the world, thanks to its picturesque beaches and very warm weather. This increase in popularity means that you'll find loads of family friendly hotels and activities – now more than ever!
04 – Paris, France
By Wladyslaw (Taxiarchos228) (Own work) [GFDL or CC BY 3.0], via Wikimedia Commons
The beauty of Paris is that most of the people who tourists come into contact with can speak English, which makes getting around much easier for young families. Whether you fancy a spot of sightseeing, some shopping, or even an afternoon relaxing in a French café, there's something to please every member of the family in France.
03 – Barcelona, Spain
By Amadalvarez (Own work) [GFDL or CC BY 3.0], via Wikimedia Commons
Spain has always been an incredibly popular family holiday destination, and nothing's changed. This means that not only do you know what to expect when you book a trip to the Spanish mainland, but also that most of the hotels and activities are already well-equipped to cater for entire families. If you're looking for a cheap, no-fuss destination with sun, sea and sand, then Spain is the place for you.
02 – Orlando, Florida
By Bill Dickinson (websites [2][3]) ([1]) [CC BY-SA 3.0], via Wikimedia Commons
One of the biggest cities in Florida, Orlando has so much to keep families occupied, whether it's just for a day trip or for an entire week. With everything from Universal Studios and Walt Disney World to airboat rides on the nearby Everglades, Orlando will be a sure-fire hit for the whole family.
01 – A staycation – camping near home!
So often we can focus so much time looking outwards that we forget to look at what's right on our doorsteps. All too often, there's nowhere cheaper or more exciting than taking a staycation – that is holidaying in your own country, possibly even fairly close to where you live. This could mean hiring out a villa or just camping in a field; whatever you choose, it will encourage you to look at your area in a totally new way. A staycation will probably end up being the best holiday your family ever has!