A popular directory service for pet-friendly vacation rentals, has put together a list of the 10 most dog-friendly beaches in America. Now we could just list the lot in 10 lines and be done with it.
But what's a blog post without pictures of cute dogs and puppies frolicking on a beach vacation while their masters and mistresses snooze and soak in the sun? Take a look at these happy pets and the stunning beaches, and both you and Fido will start yearning for a dog beach holiday yourself.
10 – First Landing State Park in Chesapeake Bay, Virginia
Located at the mouth of the Chesapeake, this is a fine beach for both man and dog. It's the perfect place for a brisk morning walk with Fido, or you enjoy the sand and the sunset and the breeze in the evening. Ok, so you can spend the whole day snoozing if you like the beach so much.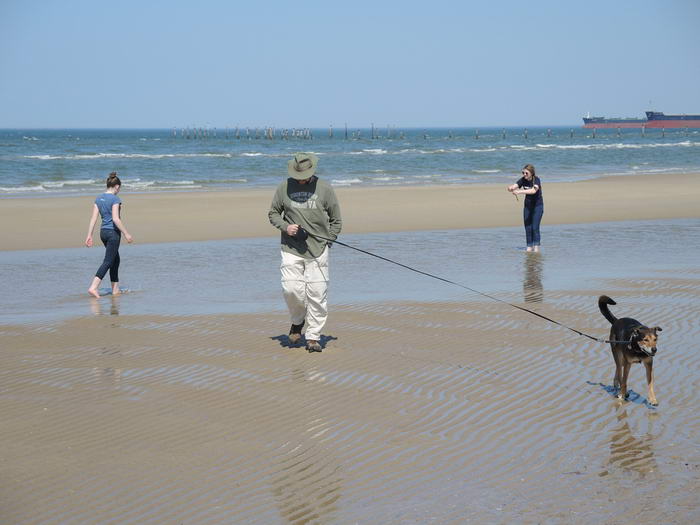 Photo credit: by vastateparksstaff
You can walk, run or trot at First Landing State Park, and explore the entire beach for hours with a great view of the ocean and large ocean-going ships looming on the horizon.
09 – Dog Beach in Key West, Florida
There's no dearth of pristine white sand beaches in Florida, and a large number of them are both beautiful for people and a lot of fun for dogs. One of these gems that shines brighter than the rest is the Dog Beach in Key West, located right on the divide between the Gulf of Mexico and the Atlantic Ocean.


Photo credit: by nikoretro
After you and Fido frolic and snooze on the beach, head over to Louie's Backyard right next to the beach. It's a dog-friendly establishment where both of you can grab some quick nourishment before you head out again for more holiday fun.
08 – Nags Head in the Outer Banks, North Carolina
These barrier islands on the North Carolina Coast offer some of the best resort and beach holiday destinations. Even Dr. Beach admits that the Outer Banks has arguably the best beaches in North Carolina, if not the entire United States. Most beaches allow dogs, and Nags Head is a very dog-friendly town.


Photo credit: by TheRealOuterBanks
Dogs are allowed on the beaches all year round, but you need to keep a close eye on your canine friends when you're on the beach. They like to keep their beaches clean and safe, so make sure you comply with the rules that vary from town to town.
07 – Dog Beach in Huntington Beach in California
Better known all over the world as Surf City USA, Huntington Beach is not just about pier surfing and monster waves. It's also an extremely dog-friendly city, and you could say the wide sandy Dog Beach is Dog City USA.


Photo credit: by _tar0_
The Preservation Society of Huntington Dog Beach even works to keep the beach clean and accessible for dog lovers and their four-legged canine companions.
06 – Cannon Beach in Oregon
Cannon Beach is a ruggedly beautiful and popular resort hotspot about 80 miles west of Portland. Visitors come to see the famous Haystack Rock and end up spending the day playing on the beach. If you bring Fido along, your pet will rediscover the inner animal inside in the midst of all the natural beauty and sea birds.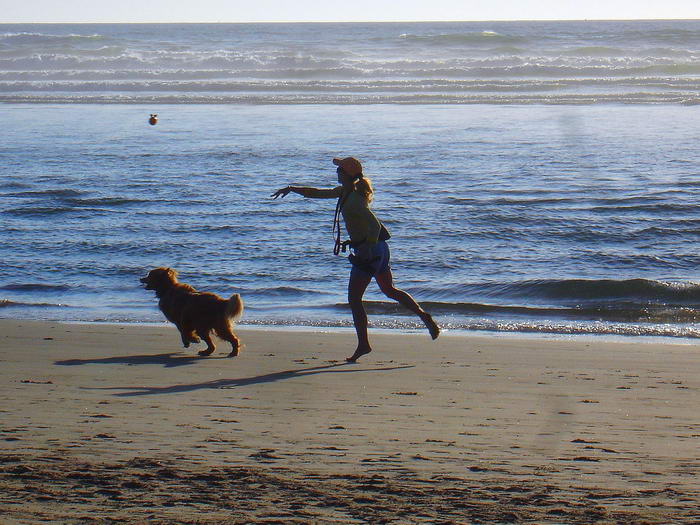 Photo credit: by Merelymel13
Public beaches in Cannon Beach are very safe, dog-friendly and a nice place to spend the day for both dogs and their masters.
05 – Fort Funston State Park in San Francisco, California
Fort Funston is located on the western edge of San Francisco, with 200 feet high bluffs that make it a great place for outdoor activities including hang-gliding and horse riding.


Photo credit: by @bastique
If your preferences tilt towards canine rather than equestrian four-legged loyal friends with tails and wet noses, then you'll be heading down to the beach at Fort Funston, rated as one of California's most dog-friendly beaches. Fido can run like the wind, chase his own tail, retrieve balls and frisbees and play with his fellow doggy comrades in the sand and water in a way that's just not possible in parks in the city.
04 – Sleeping Bear Dunes National Lakeshore in Michigan
If all the dog-friendly beaches were to be found only on the Pacific and Atlantic coasts, where would pet owners in the Midwest go? Thankfully, there are lakeshore beaches such as the Sleeping Bear Dunes National Lakeshore that are just as beautiful and dog-friendly as any beach in Florida or California.


Photo credit: by engineerd
You and Fido will be wowed by the beauty of miles and miles of beach sand and sand bluffs that tower 450 feet high up above Lake Michigan. Also managed by the NPS, this lakeshore offers everything from lighthouses to farmsteads and coastal villages worth exploring.
03 – Beaches of Cape San Blas, FL
It's hard to find a good beach where both man and dog can run amok and enjoy a few hours of down time and frolic without tripping all over other people and their pets. The beaches of Cape San Blas, just 35 miles from Panama City, are pristine and undeveloped and virtually empty all the time.


Photo credit: by Numinosity (Gary J Wood)
You and your four-legged friends can run and swim and play as far as the eye can see at Cape San Blas without bumping into any other pet owners or dogs.
02 – Fort DeSoto Park in Pinellas County, FL
Fort DeSoto Park is an entire island perfectly located on the way to and from Tampa Bay. Fort DeSoto Beach was judged as America's Best Beach a few years ago by the famous Dr. Beach.


Photo credit: by Fifth World Art
Obviously, the badge of honor from Dr. Beach means it is a great beach for people, but it's also one of the best dog beaches in Florida and the U.S. where Fido can run and swim free and wild.
01 – Dog Beach in Del Mar, San Diego, California
This is perhaps the most dog-friendly beach not just in California or on the West Coast, but in the entire continental United States. It is not just about the fact that owners find it safe to allow their dogs to run wild without a leash all over the beach and in the water during certain times of the year. More importantly, the constant flow of pet owners and dogs maintains a certain environment on the beach which makes dogs feel perfectly at home.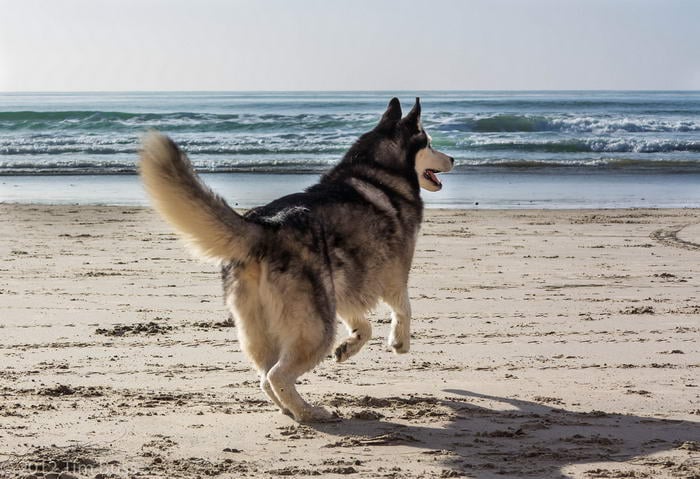 Photo credit: by Tim Buss
The Del Mar Dog Beach is actually located south of Solana Beach and north of Del Mar. A river cuts off access at the other end, so the owners don't have to worry about their precious canine friends running away. It's a perfectly nice beach, well protected, clean and safe, and both you and the pets will be able to make plenty of new friends.