When it comes to vibrant and fun-loving places to visit, nowhere does it quite like Latin America. Officially defined as the parts of the whole American continent where Spanish or Portuguese is the main language, this effectively means it covers all of Central and South America along with some Caribbean islands too. This diverse range of countries means there is lots to see and do when you visit this part of the world.
Tourism is a vital part of Latin America's economy, contributing to job creation, foreign exchange, and socio-cultural development. Travelers flock to these famous places in Latin America, drawn by the promise of adventure, relaxation, discovery, or simply the need to experience something out of the ordinary.
Whether it's the natural grandeur of Patagonia, the historic charisma of Machu Picchu, the vibrant street life of Havana, or the breathtaking biodiversity of Costa Rica, Latin America serves up a feast for the senses and the spirit.
Here are the ten most amazing places to check out when living la vida loca.
10 – Pantanal, Brazil
Found in the exotic destination that is Brazil, this is actually a place to relax with nature in. The Pantanal is the largest wetland areas in the world. This makes it ideal for nature lovers to explore and spot many rare species of wildlife. Taking the time to make your way through the many rivers, forests and lakes will open up a door of the most wonderful sights to you. From beautiful jaguars to rare birds and giant otters, this is one place you will not forget in a hurry.
09 – Salar de Uyuni, Bolivia
The main draw to check this part of Latin America out is the amazing salt flats that you can drive across. The contrast of the brilliant white salt ground with the pure blue sky really is something else. When you have driven for a while, you will also reach fabulous volcanoes to see and flocks of flamingoes to look at. These flamingos live in awe-inspiring lagoons deep in the flats and are really a sight to behold when in large numbers.
08 – Rio de Janeiro, Brazil
Heading back to Brazil, one exotic and party loving place to visit in Latin America is Rio. One of the most famous cities in the world, it has lively bars and nightlife to go wild in. During the day there is the equally famous beaches to chill out on or Sugarloaf Mountain to explore. Those with a head for heights will want to look at the mesmerizing statue of Christ the Redeemer perched high above the city. For a truly raucous experience, go to Rio when it is Carnival time!
07 – Amazon Rainforest, Various Countries
The well-known Amazon Rainforest is so huge it stretches across many countries including Peru and Ecuador. It has long been the destination of choice for daring explorers, but you can simply take a luxury cruise down it now if you like. You will still get to see all the sights that make it so iconic but in total safety. For the daredevils out there, you can hire a local guide to go walking with or help show you how to fish for Piranhas!
06 – Havana, Cuba
If you want a city that oozes cool and style, then Havana is the best place to head. From the colourful buildings to the classic cars that ride by, it is like stepping back in time. You will also love the music, rum, food and welcoming attitude of the locals here too. When in Havana, it is a must to try out some Salsa dancing and the best Mojito's you will ever taste. While you can do a weekend break here, why not stay for longer to really feel its charm?
05 – Machu Picchu, Peru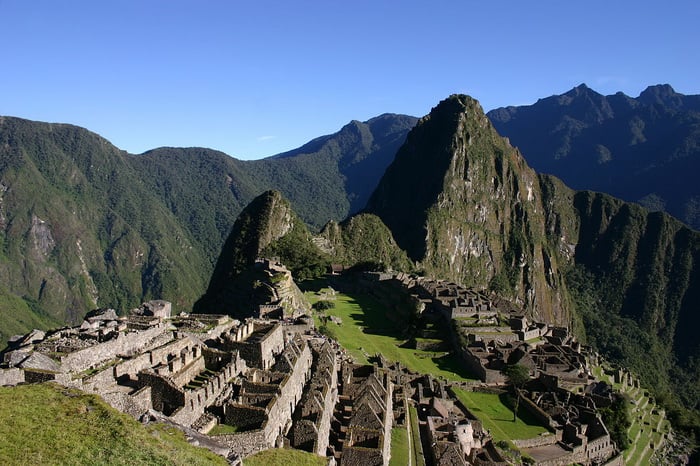 Found perched high in the Andes mountain range, this is one ancient site that all history lovers will want to see. Exploring the citadels and palaces of this famous Incan settlement is a once in a lifetime experience you will not forget in a hurry. The sheer sense of history is hard to escape from and you can really get a sense of how grand the Incan empire was at its peak. For those who prefer not to walk the Incan Trail to get there, there is a luxury train instead.
04 – Torres del Paine, Chile
This is a wonderful National Park in Chile that features snow covered mountains and icy glaciers. As you would expect, it is also home to many forms of wildlife which cannot be seen in many other places. Many visitors here also love to horse ride around the plains to get the very best view of all that is on offer. As natural beauty goes, this is hard to beat.
03 – Iguazu Falls, Argentina and Brazil
You might think that the more famous Niagara Falls in North America is impressive enough but wait until you see the Iguazu Falls instead! Taller and wider than Niagara, it is one of the most inspiring sights to see when in Latin America. The daring can sail out to the foot of the falls on a boat ride to see just how choppy it gets. It is also worth trying to see the falls from both the Argentinian and Brazilian sides for the different views they both give.
02 – Chichen Itza Mayan Ruins, Mexico
The other great civilization of ancient Latin America was the Mayans of Mexico. This ruined complex shows just why! The scale and beauty of the many buildings here will take your breath away. Most famous is the huge El Castillo temple which has masses of steps to get up to the top. Even more impressive is the way that the buildings are aligned with the various equinoxes to produce different shadows around the whole complex.
01 – Galapagos Islands
Although you may not think it is, this island is considered as part of Latin America. It is just a wonderous place to visit with its unspoilt landscape and chilled out atmosphere. Best enjoyed from the comfort of a luxury yacht, the wildlife you can see here is second to none. From Giant Tortoises to Sea Lions and more unusual creatures, everyone will love this magical island. When it is time to bed down for the night, the peace and quiet will make you sleep perfectly too.
In conclusion, Latin America's wealth of attractions offers something for every kind of traveler. The region is a thrilling kaleidoscope of experiences, presenting opportunities to explore pristine ecosystems, immerse oneself in rich cultures, indulge in culinary delights, or simply bask in the magnificence of its landscapes.
Venturing through the famous places in Latin America is akin to taking a walk through the corridors of history, while being surrounded by awe-inspiring natural beauty. It's about feeling the pulsating rhythms of life in its cities, towns, and villages. It's about the warm smiles of the locals that speak volumes about their love for their land.
So, pack your bags, bring along an open heart and an adventurous spirit, and step into the vibrant world of Latin American Places. You might start your journey as a tourist, but you'll leave with the soul of a traveler, carrying an imprint of Latin America that will remain etched in your heart forever.