Are you ready to embark on a visual adventure like no other? Well, grab your sunglasses and pack your bags, because we're taking you on a trip to the 10 most colorful cities in the world! These vibrant destinations boast a spectacular array of multicolored houses, eye-catching streets, and dazzling colour palettes that are guaranteed to brighten your day. From the candy-colored facades of Burano to the artfully painted murals of Valparaíso, these cities prove that life is better in technicolor. So, let's dive into this kaleidoscope of cultures and explore the world's most colourful destinations!
10 – Cinque Terre, Italy
Cinque Terre comprises the villages of Monterosso al Mare, Vernazza, Corniglia, Manarola, and Riomaggiore, all of which are perched high above the quiet Mediterranean below. These villages climb the mountainous overlook with bright, varied colors, appearing as if they were drawn in place by the pastel hand of a dreaming artist.
09 – Brighton Beach, Melbourne, Australia
This long stretch of safe, sandy bay swimming beaches includes Dendy Street beach, Middle Brighton and Brighton beaches. The area is famous for quaint colourful bathing boxes along the beach set against the spectacular Melbourne city skyline.
08 – Paradise Island, Bahamas
image credits: Shutterstock Ramunas Bruzas
The Bahamian capital is a city rich in beauty, history, and personality. Since its founding in 1656, and through the ages of colonialism, piracy, rum-smuggling, and now tourism, it has always been the center of color and culture in the islands.
07 – Gamla Stan, Stockholm

This old town is the original Stockholm. People set up the town during the 1300 century. There are about 3000 people living in the old city today. Most buildings are from the 1700 and 1800 century.
06 – Barranco, Lima, Peru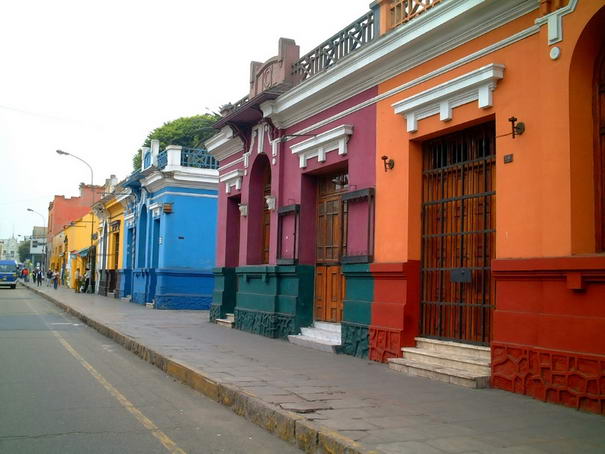 image credits: Shutterstock paul prescott
With colorful buildings, gorgeous colonial mansions and coastal fog that would fill your days of sightseeing Lima is a very eclectic coast town.
05 – Cape Town, South Africa
The buildings of Bo Kaap – Cape Town are separated by bright and friendly colors which change from address to address. Pinks, oranges, yellows and blues mix together to create a community of eye candy, one that easily earns its place on our list.
04 – Pattaya, Thailand
image credits: Shutterstock jeep2499
Located on the east coast of the Gulf of Thailand, Pattaya receives millions of tourists annually. Family-friendly Jomtien Beach makes a pleasant contrast to crowded, polluted Pattaya Beach, with its jetskis and beach bars. Also you shouldn't miss to see colorful houses and hotels.
03 – Puerto Vallarta, Mexico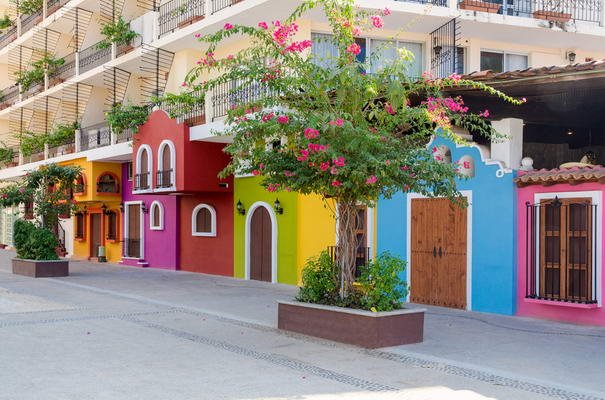 image credits: Shutterstock karamysh
Puerto Vallarta is a favourite of tourists looking for an authentic taste of Mexico. Wind your way through the cobblestone streets, past the cathedral, craft stores, markets, restaurants, and its famous "Malecon" promenade, for an unforgettable experience, day or night.
02 – Willemstad, Curacao, Caribbean
image credits: Shutterstock Chris Jenner
During 1800s, when the Dutch ruled Curaçao, the then-governor attributed the migraines that afflicted him to the powerful Caribbean sun reflecting off the colony's stark walls. As a result, an official decree that commanded citizens to paint the structures anything but white. Today, this World Heritage site owes its distinctive pastel shades to one man's maladies.
01 – Wroclaw, Poland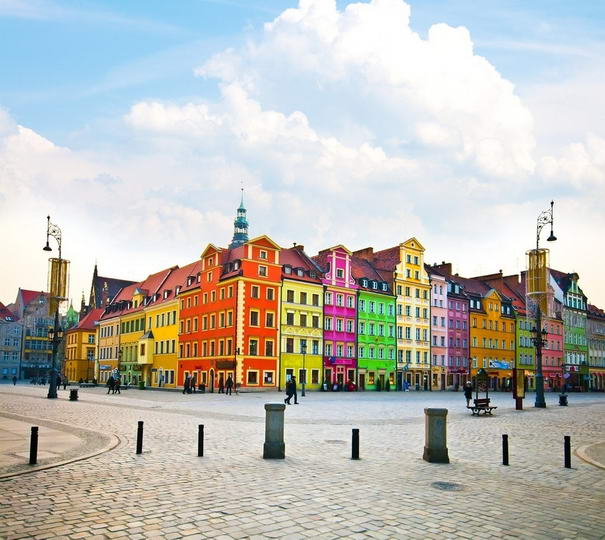 image credits: Shutterstock Pablo77
The buildings of Wroclaw's city center are rich in color, progressing from earth tones to pastels in a very old-world manner. This colorful take on classical architecture makes it one of the most colorful cities in Europe.
As our colorful journey comes to an end, we hope you've been inspired to add these vibrant cities to your travel bucket list. These breathtaking destinations are offering a visual feast for the eyes. So, next time you're planning a trip, consider visiting one of these multicolored metropolises and experience the joy of living life in full color. And who knows? You might even find yourself picking up a paintbrush to add a splash of color to your own surroundings. Happy travels, and may your life always be filled with vibrant hues!