If you want to stay somewhere a little bit different on your next holiday and have a unique experience, this list is for you. Converted hotels is a growing trend in travel business. Those buildings that were once used as something completely different, like a prison, a theatre, a monastery. Today those buildings are refurbished as a hotel while retaining the spirit of the original structure.
Check out 10 Most Mysterious Converted Hotels. If you have ever stay in a hotel like below examples, feel free to share your experiences with us by using commets section.
10 – Four Seasons Hotel Gresham Palace – Budapest, Hungary

Photo credit: [email protected]
A former palace Four Seasons Hotel Gresham Palace is built in early 20th century and originally the headquarters for an English insurance company. Aunique art nouveau landmark, the recently transformed Four Seasons Hotel Gresham Palace Budapest combines historical elegance with ultra-modern comforts.
09 – Hotel Hospes Palacio del Bailio – Cordoba, Spain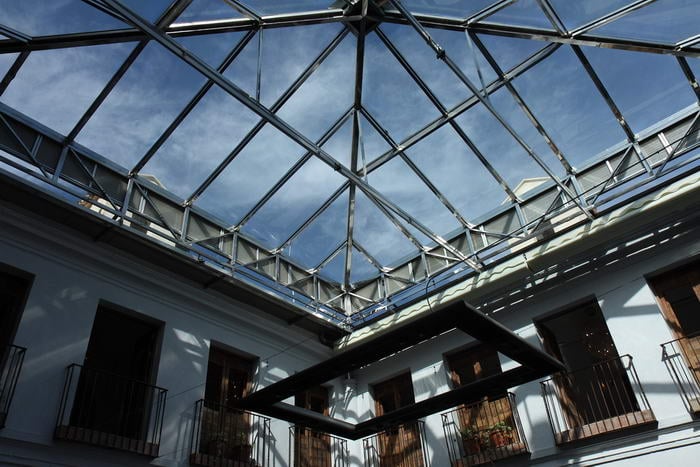 Photo credit: Titus Hageman Fotografie ©@flickr
Built between the 16th and 18th centuries, this traditional Andalusian agrarian estate, now in the historical heart of Cordoba, has been meticulously restored and finely balanced with contemporary design. The former Mosque that was then converted into a Christian Cathedral in the center of Cordoba's old town.
08 – Mandarin Oriental – Prague, Czech Republic

Photo credit: [email protected]
Built on the site of a former 14th century monastery, the hotel offers a holistic spa experience, with a vitality pool and two saunas.
07 – Hotel Im Wasserturm – Cologne, Germany

Photo credit: Simon [email protected]
Located at the very heart of the Cathedral City, Hotel Im Wasserturm is converted from a water tower. It is partly destroyed during World War II, rebuilt in the early 90's and configured in three rings by British engineer John Moore.
06 – Wanderlust Hotel – Singapore

Photo credit: Brandon [email protected]
Located in Singapore's Little India neighborhood, Wanderlust Hotel is housed in a former schoolhouse. Designed by Asylum, the lobby has a glam industrial vibe.
05 – Hotel Katajanokka – Helsinki, Finland

Photo credit: [email protected]
Originally built as a jail, Hotel Katajanokka was completed in 1837 and even came equipped with its own church. Today this prison is the white wing of the hotel.
04 – The Liberty Hotel – Boston, USA

Photo credit: [email protected]
Since opening in September 2007, the Boston luxury hotel quickly became the "must-visit" downtown Boston destination for visitors and local residents alike. Back when The Liberty Hotel was the Charles Street Jail!
03 – Krolewski Hotel – Gdansk, Poland

Photo credit: [email protected]
One of the city Gdansk's chief products was grain, and the Krolewski occupies one of the city's historic granaries, the former Royal Granary. Today, this grand riverside building houses one of the most elegant hotels in the tri-city area.
02 – Four Seasons Hotel at Sultanahmet – Istanbul, Turkey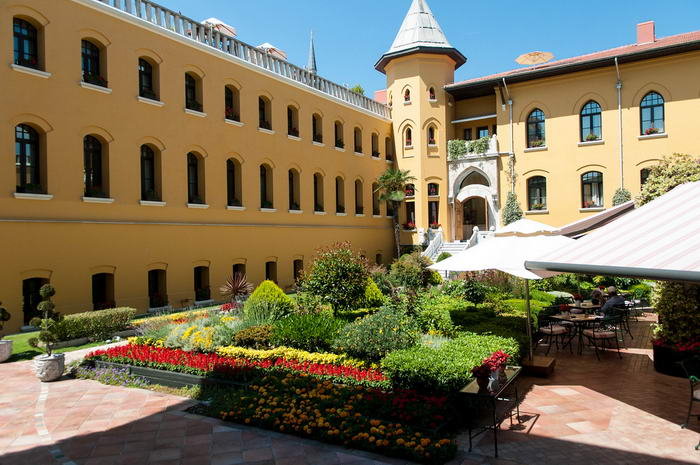 Photo credit: [email protected]
Four Seasons Hotel at Sultanahmet, a former Turkish prison, is not only an marvelous structure, but it is also conveniently located between the Hagia Sofia and the Blue Mosque, two of Istanbul's greatest historical buildings.
01 – Chateau de Trigance – Trigance, France

Photo credit: [email protected]
The Thomas Family transformed this Castle into a Hotel and Restaurant. The hotel has 10 rooms, they are situated all in the Castle.