Around the world there are many natural wonders, but some really take the breath away. What may surprise you is that some of them are well-kept secrets that you may not have been aware of before. These hidden treasures offer the ideal mix of breath-taking views, majestic scope and tranquil beauty. Any of the places we will look at on this list are worth a visit and certainly are sure to impress when you do.
Here are ten of the most stunning places in the world to visit.
10 – Bryce Canyon, USA
When it comes to famous natural landmarks in the USA, most will instantly think of The Grand Canyon. While this is definitely worth a visit too, lesser known Bryce Canyon is one place to put on your bucket list too. Found in the lovely state of Utah, it really does boast a most unusual and striking look. This makes it a very interesting landscape to explore and photograph. Years of natural erosion due to the weather have formed masses of small amphitheatres that are also known as Hoodoos.
09 – Erg Chebbi, Morocco
Found in the North African country of Morocco is awesome Erg Chebbi. Found in the Moroccan portion of the famous Sahara Desert, it consists of wind-blown sand dunes that rise up into the clear sky. Stretching for a huge 22 kilometres, some of the dunes themselves can measure more than 100 metres in length. The natives believe that the sand here has healing properties and regularly visit Erg Chebbi to take advantage of this.
08 – Playa Ostional, Costa Rica
This one is an animal lovers paradise! The country of Costa Rica is supremely pretty with its many exotic animal species and lush forests. Every year this is the place rare sea turtles chose to nest and breed. If you come at the right time you will have direct access to seeing this happen as they line the beach. Literally thousands of the turtles turn up and this definitely makes it a truly amazing natural wonder to behold.
07 – Pantanal, Brazil
Found in the region of Mato Grosso do Sul, this is one of the biggest topical wetlands on the planet. Covering an immense area of around 200,000 square kilometres, this is a very pretty and stunning place to visit. The Pantanal is flooded for much of the year which makes for a biologically diverse set of creatures. Amongst others you will find capybaras and giant ant-eaters muddling along in the fabulous scenery.
06 – Blue Lagoon, Iceland
Located close to the capital Reykjavik, the Blue Lagoon is probably the most well-known place on this list. It is worth a mention though as it is one of the weirdest looking but exhilarating natural wonders to see. The landscape is almost lunar in its look while the warm, volcanic water is superb for your health. After gaining entry, you can laze by the waters or visit the on-site spa which makes use of the healing mud in its treatments.
05 – Valle de la Luna, Chile
This is one magical and ethereal place to visit at least once. The region it is found in gives the unique conditions in which the Valle de la Luna can thrive. As the name suggests it is lunar-like in its look and you could almost imagine you were on the Moon when there! The wind and water than flows trough the valley cut the rocks into unusual shapes and textures to give this effect. It is certainly a place you will not forget in a hurry and one that shows just how wonderous nature can be.
04 – Wai-o-Tapu, New Zealand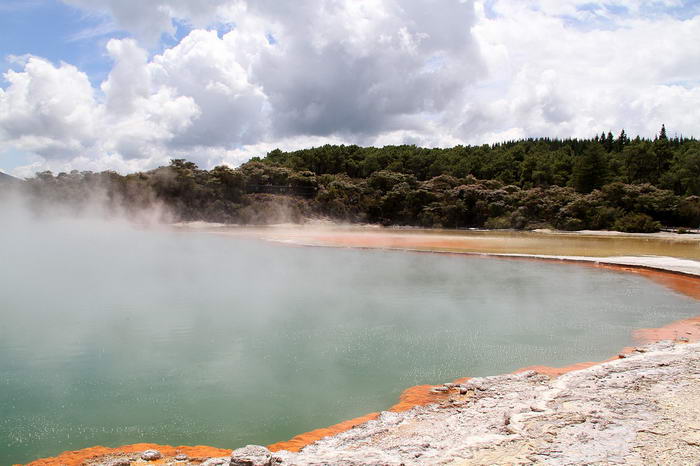 Similar to the Blue Lagoon in Iceland, this little-known natural wonder in New Zealand is home to a thermal spring. It is spread over a large area that lends itself to slow walks and exploration, taking in all it has to offer. There are amazing geysers and fabulous coloured lakes to see along with the mud pools for the more adventurous. The most famous lake here is the so-called 'Champagne Pool' that has an outer ring of Orange to attract people.
03 – Colca Canyon, Peru
If we're talking about natural wonders that you may not have heard about, this is up there with the best. Colca Canyon is as big and deep as The Grand Canyon but amazingly still have people living there! These inhabitants tend the crops on the Pre-Inca period slopes as well as looking after their families. It is also home to numerous spa's so great to chill out in when you have spent the day taking in the scenery.
02 – Jiuzhaigou Valley, China
The name of this place means 'Nine Villages' and takes its cue from the nine Tibetan villages found within the valley itself. The landscape here is simply divine with snow-capped mountains forming the perfect backdrop to the many rivers and lakes found here. It is a great area to just wander around and be blown away by the sheer beauty of what you will come across. China is a really stunning country and this valley shows just why.
01 – Tsingy de Bemaraha, Madagascar
Listed as a UNESCO World Heritage Site in 1990, this is found in the Melaky region of wonderful Madagascar. The name comes from the many limestone rock formations to see in the area that are known as Tsingy in the local language. These stunning formations are simply amazing as are the lush mangrove forests that surround them. There are also a fascinating selection of animals to see there which will delight all who visit.
When you are looking at getting away somewhere a little different for your next trip, why not consider one of the above? They will certainly give you something different to check out and give some stunning photos to bring back home.