The world is so full of natural wonders that new, amazing and unbelievable places can be discovered every day. These unbeliavable places from all around the world are, in their own right, beautiful. Consisting of everything from individual monuments to expanses of water and ancient villages to modern cities, they may not all be attracting, appealing or aesthetically pleasing to everyone, but to some, they are some of the most stunning places on earth. And yes, all those of those places are real!
Check out 10 Most Unbelievable Places That Really Exist…
10 – Antelope Canyon – USA
Photo credit @ Flickr yinan.
Antelope Canyon, located in Arizona, is a slot canyon that is known for its stunning rock formations and narrow passageways. The canyon is a popular destination for photographers due to the way the light filters through the narrow openings in the rock, creating stunning light beams that dance on the canyon walls. If you're looking for a unique travel idea, Antelope Canyon is definitely worth considering.
09 – Hitachi Seaside Park – Japan
Photo credit @ Flickr nipomen2
Hitachi Seaside Park in Japan covers an area of 3.5 hectares and the flowers are amazing all year round. The park is next to the Ajigaura Beach, is a flower park and a popular tourist destination. The park also features a variety of other attractions, including a Ferris wheel and a mini-train ride, making it a perfect destination for families.
08 – Tunnel of Love – Ukraine
Photo credit @ 500px Oleg Gordienko
The magical-looking place is named "The Tunnel of Love" by locals because it is a popular spot for couples to visit. As the trees grow closer together, they create a canopy that filters the light, creating a stunning display of light and shadow.
07 – Street in Bonn – Germany
Photo credit @ 500px Adas Meliauskas
Bonn, Germany, is known for its charming streets and quaint buildings, but one street in particular stands out. Cherry Blossom Avenue is a street that is lined with cherry blossom trees, creating a stunning display of pink flowers in the spring. If you're looking for a cheap flight to Europe, Bonn is definitely worth considering, especially during the spring when the cherry blossoms are in bloom.
06 – Tianzi Mountains – China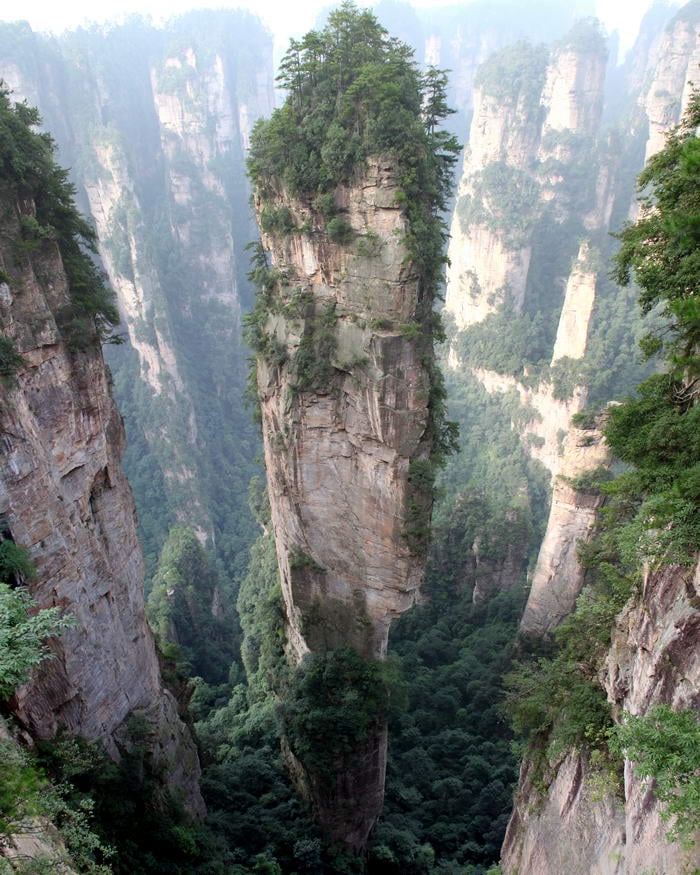 Photo credit @ Flickr Ryk_J
Tianzi Mountain is named after Xiang Dakun who led the local farmers' revolt and called himself Tianzi-the Son of Heaven. Bounded by Suoxi Valley on the east, Zhangjiajie on the south, Sangzhi County on the north, Tianzi Mountain is one of the four scenic zones in Wulingyuan.
05 – Lake Hillier – Australia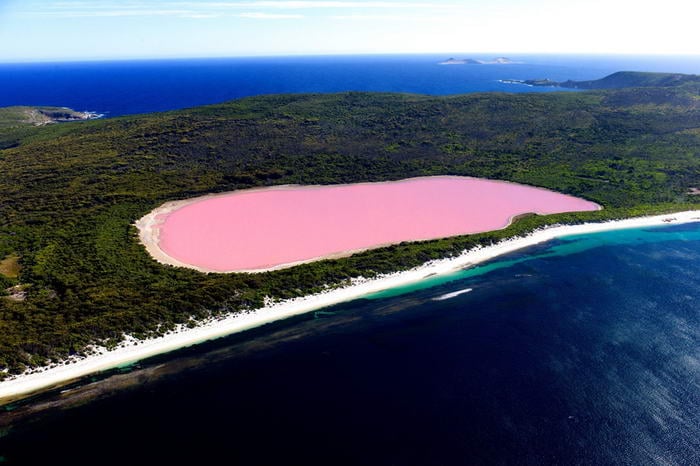 Photo credit @ 500px Ockert Le Roux
The most notable feature of this lake is its flamboyant colour, rose pink. The colour is permanent, as it does not alter when the water is taken in a container. The length of the lake is about six hundred meters.
04 – Pamukkale – Turkey
Photo credit @ 500px Magnus Thorildsson
Pamukkale is a natural attraction in Denizli Province in southwestern Turkey. Snow white Pamukkale's terraces are made of travertine, a sedimentary rock, deposited by water flowing from the hot springs.
03 – Bamboo Street – Sagano – Japan
Photo credit @ 500px Yuya Horikawa
Sagano Bamboo Forest is one of the most amazing natural sites in Japan. One of the most interesting facts about Sagano Bamboo Forest is the sound which the wind makes while it blows amongst the bamboo. Amazingly enough, this sound has been voted on as one of the "one hundred must-be-preserved sounds of Japan" by the Japanese government.
02 – Tulip Fields – Netherlands
Photo credit @ 500px Allard Schager
Every March the fields just outside Amsterdam turn from sandy patches into carpets of lime green sprouts as the first signs of spring emerge. By the time the season is in full swing, the area is swathed in red, pink, purple, orange and yellow blooms, a sight that truly looks like something out of a cartoon.
01 – Hang Son Doong – Vietnam
Photo credit @ National Geographic Carsten Peter
Located in Vietnam, Hang Son Doong is the world's largest cave, measuring over 5.5 miles in length. The cave features stunning rock formations and an underground river, making it a popular destination for adventurous travelers. While visiting Hang Son Doong can be expensive, it's definitely worth considering if you're looking for a unique travel idea.
Now that we've explored ten unbelievable places around the world, let's talk about how to make the most of your trip. When planning your trip, it's important to consider the best time of year to visit each destination. For example, if you're planning to visit the tulip fields in the Netherlands, the best time to go is in April or May when the flowers are in bloom. Additionally, it's important to research flights and accommodations to ensure that you're getting the best deal.
If you're on a budget, there are plenty of ways to save money while traveling. For example, consider staying in a hostel or renting an Airbnb instead of staying in a hotel. Additionally, look for free or cheap activities to do in each destination. Many cities offer free walking tours or have museums with free admission.
FAQs:
Q: Which of these destinations is the most expensive to visit?
A: Hang Son Doong in Vietnam is the most expensive destination on this list.
Q: Are these destinations family-friendly?
A: Most of the destinations on this list are family-friendly, but some, such as Hang Son Doong, may not be suitable for young children.
Q: Can I visit all of these destinations in one trip?
A: It's possible to visit multiple destinations on this list in one trip, but it would require a lot of travel time and planning.
Q: Are these destinations accessible for travelers with disabilities?
A: Some of the destinations on this list may be more accessible than others. It's important to research each destination and consider any accessibility needs before booking your trip.
In conclusion, these ten unbelievable places around the world are sure to inspire your next travel adventure. Whether you're looking for a romantic getaway or a family-friendly vacation, there's something on this list for everyone. By doing your research and planning ahead, you can make the most of your trip while staying within your budget. So, what are you waiting for? Start planning your next adventure today!