Nothing symbolizes the magic of the holiday season quite like a beautifully decorated Christmas tree. From towering giants adorned with thousands of twinkling lights to unique, artistic displays, Christmas trees around the world have a way of capturing our imaginations and spreading cheer. In this festive exploration, we'll take you on a world tour of the 10 most magnificent Christmas trees that will surely leave you in awe. So, grab a cup of hot cocoa, cozy up by the fireplace.
Let's take a closer look at the 10 Most Magnificent Christmas Trees Around the World…
10 – The Red Square – Moscow / Russia
In Moscow, this huge artificial Christmas tree lights up famous Red Square, with the GUM state department store behind it.
09 – Suvarnabhumi Airport – Bangkok / Thailand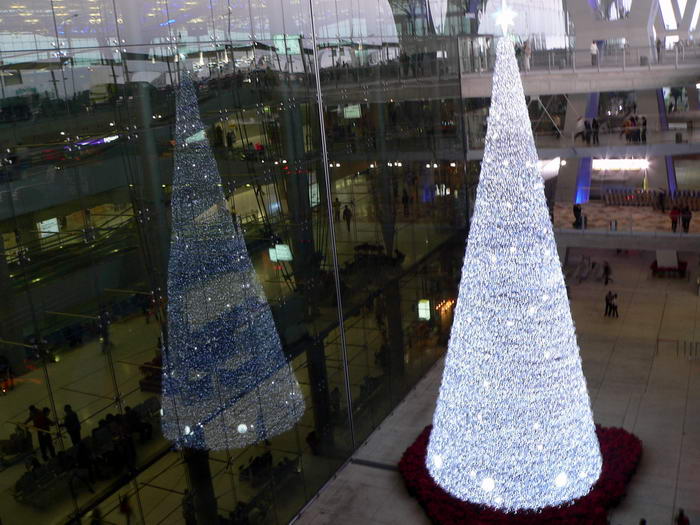 Thailand welcomes visitors with a striking indoor Christmas tree at Suvarnabhumi Airport.
08 – Unirii Square – Bucharest / Romania
For Unirii Square artificial Christmas Tree over 2 million lights were used that is as tall as a 21-story building and weighs about 300 tons. The Christmas tree was lit in a ceremony on the Romania's National Day.
07 – Praça do Comércio – Lisbon / Portugal
More than 230 feet tall, christmas tree in Praça do Comércio is one of the largest in Europe.
06 – Eclipse – Washington D.C., US
Located at the Eclipse park which is close to the White House, this shiny christmas tree is tradition since 1923.
05 – Trafalgar Square – London
A token of gratitude for Britain's aid during World War II, the Christmas tree in London's Trafalgar Square has been the annual gift of the people of Norway since 1947.
04 – Rockefeller Center – New York City
The tradition of Rockefeller Center's magnificent christmas tree has been going on since 1933, and it's certainly an event meant to instill the Christmas spirit into the hearts of the American people.
03 – St. Peter's Square – Rome / Italy
Italy's most mesmerizing Christmas tree is positioned in St. Peter's Square, and it's certainly worth admiring.
02 – Lafayette Galleries – Paris / France
Every year in Christmas time, the Lafayette Galleries in Paris come up with this giant Christmas tree.
01 – Ipanema Lagoon – Rio de Janerio / Brazil
You can find the world's largest floating Christmas tree at Ipanema Lagoon. The tree weighs 542 tonnes, and it is illuminated by over 3.3 million lights.
There you have it, our enchanting journey to the 10 most magnificent Christmas trees around the world. Each tree is a testament to the creativity, dedication, and spirit of the holiday season in its respective location. These dazzling trees not only bring joy and wonder to those who gaze upon them but also unite people from all walks of life in a shared appreciation for the magic of Christmas. May this festive adventure inspire you to create your own holiday memories and cherish the traditions that make the season so special. Merry Christmas, and may your days be merry and bright!