if you have very expensive, luxurious taste, you may be in search of a luxury hotel for your next holiday. Below you will find just 10 of them for your inspiration.
10 – CuisinArt Golf Resort & Spa Anguilla
Originally built as a tropical playground for its owner, it later expanded to include guests. The luxurious guest rooms and Moorish inspired villas, the Venus Spa & Fitness complex which has been rejuvenated to the tune of ten million dollars and the magnificent golf club attract the finest guests in the world. Celebrities love this place for its location and the discretion of the staff.
09 – Secrets Marquis, Los Cabos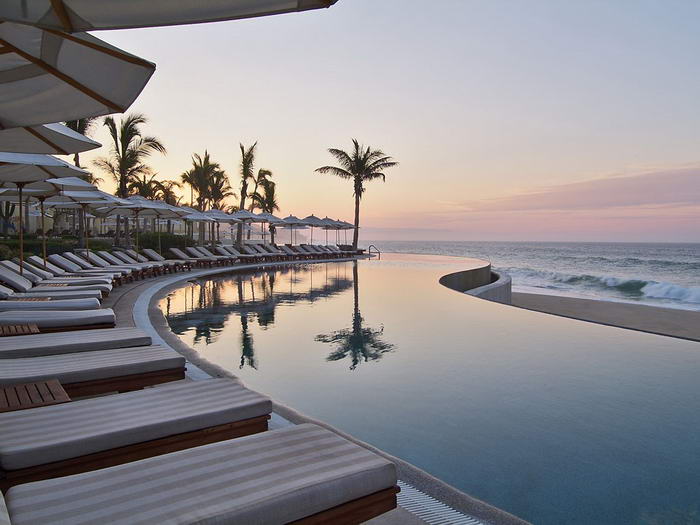 The design of this luxurious hotel was inspired by a celestial legend of two angels seeking paradise on earth. Actually, it can be argued that guests experience paradise when stepping inside this elegant place, which opens out onto the restless sea. Sculptures, massive waterfalls, spectacular pools, and a lovely serene spa create the perfect ambiance for the rich and restless looking for moments of tranquility.
08 – The Boulders, Arizona
PR rep Deborah Bridges says, "Our clientele is among the wealthiest in the world, but we're not allowed to talk about who our VIP guests are until they're dead."Clearly a place adored by the celebrities that want a few days out of the spotlight. The prestigious golf and spa resort, the old granite boulders and the lush desert give this hotel an air of originality and serenity.
07 – Palms, Las Vegas
For those looking for sheer luxury in the sin city, the Palms offers the best options. The luxury rooftop suites like the Hugh Hefner Sky Villa hold up to 250 people for a get-together and boasts a massive rooftop Jacuzzi hanging over The Strip. A private glass elevator, rotating bed, gym, sauna, media room, full bar and impeccable services make this hotel one of the most prestigious in the whole world.
06 – Atlantis Paradise Island, Bahamas
Built in tribute to the legendary lost city, Atlantis Paradise Island is a 141-acre waterscape, rated as the premier luxury destination in Bahamas.Their Royal Towers Bridge Suite on the 23rd floor spans ten plush rooms topped by 12-ft. ceilings and full length windows and includes a grand piano, twin entertainment centers, a formal dining room with a 22-karat gold chandelier, whirlpool tubs,plus a permanent staff of seven to cater to your every desire.
05 – The Plaza, NYC

By Matt Weaver (Own work) [Public domain], via Wikimedia Commons
New York is well known for its amazing hotels, but The Plaza is often the first choice of the rich due to the quality of services, the luxurious VIP suites and the beautiful views over Manhattan. The three-bedroom suite is opulent and charming, with a formal dining room, a library, a gymnasium, a grand piano and is serviced by its own private elevator. Butler service is also included.
04 – Burj Al Arab Hotel, Dubai

By Fiontain (Own work) [CC BY-SA 4.0], via Wikimedia Commons
Built to resemble a billowing sail, the stunning architecture of Burj Al Arab Hotel in Dubai makes it one of the most photographed in the world. All rooms are luxurious suites spanning two floors with state-of-the art everything and incredible views. And beyond the unique over-the-top amenities like the attached heliport and hovering tennis courts, there is a wide range of futuristic dining and nightlife options.
03 – The Westin Excelsior, Rome

User: Gobbler at wikivoyage shared [GFDL or CC BY-SA 3.0], via Wikimedia Commons
Built in 1906, The Westin Excelsior Rome has an impressive pedigree in the Via Veneto district. Though most rooms are affordable, their piece de resistance is the Villa La Cupola Suite that has recently been renovated. Furnished in grand old style, starring high tech gadgets, hand-frescoed cathedral style domes, its own private fitness room, sauna, steam bath and Jacuzzi, this place is perfect for the privileged people who want to visit Rome.
02 – Mardan Palace Hotel, Turkey

Built by the famous Russian Billionaire Telman Ismailov in 2009 ,the Mardan Palace Hotel in Antalya, Turkey boasts the largest swimming pool in the Mediterranean and is rated as one of the most elitist hotels in Europe. The jaw-dropping interiors of gold leaf, crystal, and Italian marble, the amazing dining spots, 17 bars, a lavish spa and a sunken aquarium full of exotic fish make this place a piece of heaven.
01 – Emirates Palace, Abu Dhabi

By SR Sajid Rauf (Own work) [CC BY-SA 4.0], via Wikimedia Commons
Costing around $3 billion to build, Emirates Palace features 394 rooms and suites, 40 meeting and conference rooms, a white sand beach, numerous pools and fountains, a sumptuous spa, marble imported from 13 different countries and over 1,000 crystal chandeliers. It's like a small pleasure fortress that also boasts the most prestigious marina development in the Middle East. The place is fit for royalty and it hosts some of the wealthiest people in the world.