There's nothing more relaxing than a hot spring. The hot water from these astonishing springs comes from deep withing the earth, bringing to the surface a combination of beneficial minerals. The very high mineral content makes hot springs impart a wide range of benefits, from chemical effects, to physical and biological. So you may want to visit one of these places in your next holiday.
Check out 10 Most Amazing Hot Springs Around the World.
10 – Cascata Del Mulino – Tuscany
Photo credit: By Markus Bernet (Own work) [CC-BY-SA-2.5], via Wikimedia Commons
Cascata Del Mulino is located in the ancient spa town of Saturnia, these waterfall springs stay a constant 99.5 degrees Fahrenheit all year, and see few visitors and even fewer tourists which is interesting. The hot spring is actually a waterfall next to an old mill.
09 – Travertine Hot Springs – California
Photo credit: [email protected]
Travertine Hot Springs at California are a great blend of warm mineral waters, soft sediment bottoms, and stunning scenery.
08 – Chena Hot Springs – Alaska
Photo credit: By Frank K. from Anchorage, Alaska, USA (The Rock Pool at Chena Hot Springs) [CC-BY-2.0], via Wikimedia Commons
Founded over 100 years ago in Alaska, Chena Hot Springs is the most developed hot springs destination. Famous for it's healing mineral waters, beautiful Aurora Borealis displays in the winter, it is a great destination for any time of the year.
07 – Myvatn Nature Baths – Iceland
Photo credit: By Bruce McAdam [CC-BY-SA-2.0], via Wikimedia Commons
Myvatn Nature Baths is located in northeast Iceland, a mere 65 miles south of the Arctic Circle, Lake Myvatn was shaped through the years by repeated volcanic eruptions and seismic activity.
06 – Bagni Di Petriolo – Tuscany
Photo credit: © Raimond Spekking / CC BY-SA-4.0 (via Wikimedia Commons), via Wikimedia Commons
Bagni Di Petriolo springs gush down into a series of small pools, climaxing into a large pool where visitors ease aching shoulders by sitting under the torrents of water. At 43 C the temperature is perfect for cold days, and the pools collect water at different temperatures.
05 – Takaragawa Onsen – Japan
Photo credit: Onsen in Nachikatsuura, Japan". Licensed under CC BY-SA 3.0 via Wikimedia Commons
Located two hours far from Tokyo, Takaragawa Onsen's water has a reputation for helping diseases like nervous disorders, bad circulation, skin irritation, sore muscles and joints, aches, bruises and fatigue.
04 – Héviz – Hungary
Photo credit: By HTME (Own work) [CC-BY-SA-3.0], via Wikimedia Commons
Héviz is Hungary's largest thermal lake and the world's second-largest thermal lake according to wiki. Springs of different temperatures diffuse in a narrow cave, and became a constant temperature stream when entering the lake.
03 – Széchenyi Baths, Budapest – Hungary
Photo credit: [email protected]
With a whopping 18 different pools and a further ten saunas and steam chambers, the neo-baroque Széchenyi Baths complex in Budapest's City Park is one of the capital's top attractions.
02 – Pamukkale -Turkey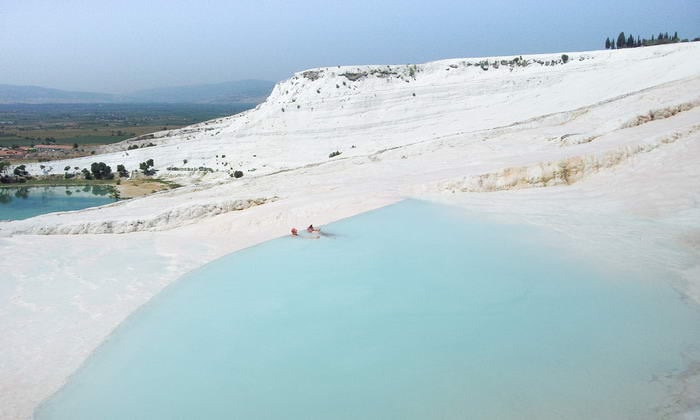 Photo credit: Marcel [email protected]
Known as ''Cotton castle''; this stunning natural pool is created by the build-up of carbonate minerals, the terraced hot springs fringe the ruins of the ancient Greco-Roman and Byzantine city of Hierapolis.
01 – Jigokudani Monkey Park – Japan
Photo credit: By Yosemite [GFDL or CC-BY-SA-3.0], via Wikimedia Commons
Jigokudani Monkey Park is in Yamanouchi, Shimotakai District, Nagano Prefecture, Japan at Joshinetsu Kogen National Park, and is located in the valley of the Yokoyu-River, in the northern part of the prefecture. You will have chance to meet famous snow monkeys there.