Roller coasters are not everyone's cup of tea. Some people find them to be terrifying and dangerous, which is a reasonable stance to take given the amount of theme park accidents over the years that have resulted in injury and sometimes death. For others, they are well worth the risk, as they offer a momentary rush of excitement and exhilaration that cannot be matched elsewhere. Here are 10 of the most intense US roller coasters in operation today.
10 – The Incredible Hulk (Islands of Adventure, Orlando FL)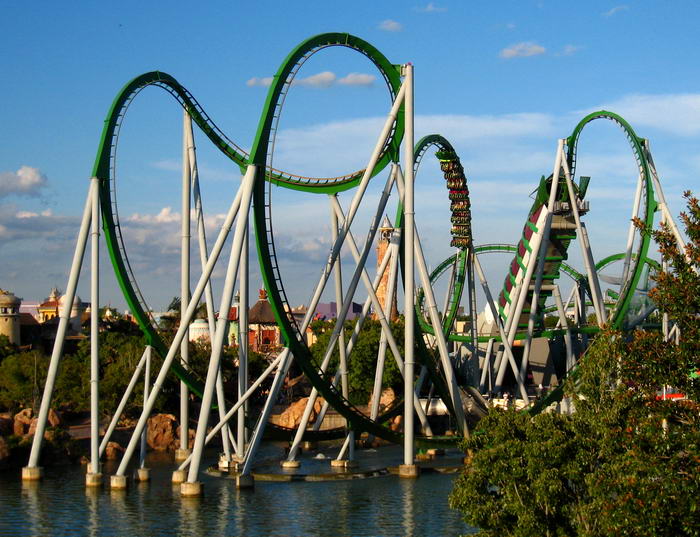 Named after the Marvel superhero, the Incredible Hulk launches its passengers to 40 mph in just two seconds, and reaches a top speed of 67 mph.
09 – Kingda Ka (Six Flags Great Adventure, Jackson NJ)
Donning the title of "world's tallest roller coaster", this ride travels up to 128 mph in 3.5 seconds and at one point, climbs a height of 456 feet!
08 – Top Thrill Dragster (Cedar Point, Sandusky OH)
Located at one of the roller coaster capitals of the world, this coaster was the tallest roller coaster in the world before it was dethroned by Kingda Ka.
07 – Superman: Escape from Krypton (Six Flags Magic Mountain, Santa Clarita CA)
Also once dethroned as the world's tallest roller coaster, Superman is one of the most well known names in roller coaster history, and is among the top 3 longest drops in the world.
06 – Fury 325 (Carowinds, Charlotte NC/Fort Mill SC)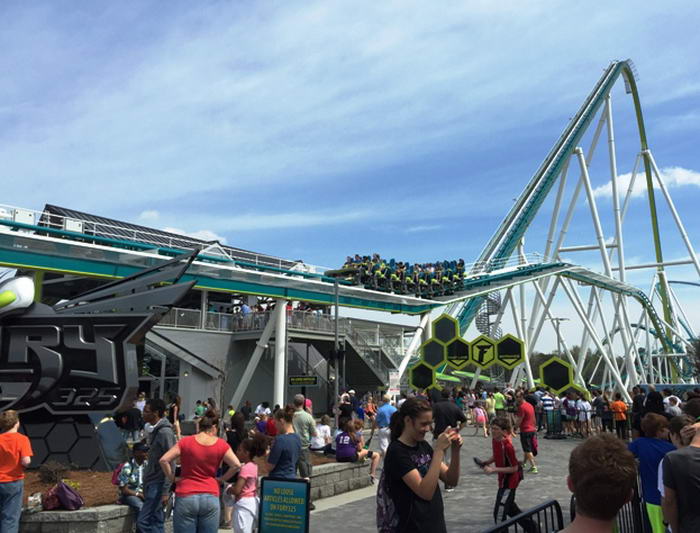 Recipient of multiple "Golden Ticket" awards, the Fury 325 reaches a maximum height of 325 feet taking its riders on high speed twists and turns.
05 – Millennium Force (Cedar Point, Sandusky OH)
The Millennium Force is known for breaking numerous world records, and was a pioneer of roller coaster feats, by being the world's first ride to exceed 300 feet in height.
04 – Intimidator 305 (Kings Dominion, Doswell VA)
Also over 300 feet in height, this high-speed coaster gets its name from the NASCAR legend Dale Earnhardt who once went by the moniker "The Intimidator".
03 – Cannibal (Lagoon Amusement Park, Farmington UT)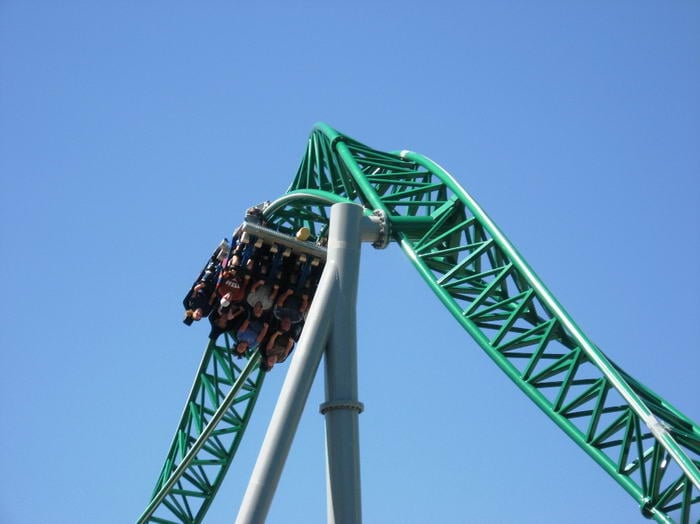 The Cannibal is not just known for its speed, but rather the terrifying 208 foot 116 degree drop, taking riders beyond vertical free-fall.
02 – Skyrush (Hersheypark, Hershey PA)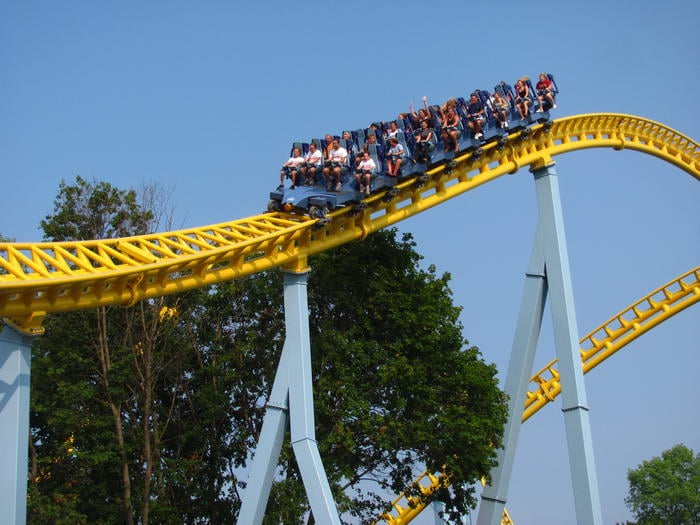 This coaster carries occupants in a first-of-it's-kind train where riders are positioned both directly on top of the track as well as hanging over either side of the track.
01 – Apollo's Chariot (Busch Gardens, Williamsburg VA)
Passengers on Apollo's Chariot experience that 'stomach-in-your-throat' sensation not once, not twice, but eight times on the ride, which lasts over 2 minutes long.