Every bit of our living spaces, right down to the furniture ideas for small spaces and the types of blinds on the windows, contribute significantly to the overall aesthetic and mood. It's no wonder then, that functional furniture pieces and interior design elements, like these coat hooks we're going to discuss, carry so much weight in shaping our perception of a place.
In the realm of interior design, even the smallest details can make a big difference. Enter the world of creative coat hooks, where practicality meets artistry. In this list, we'll showcase 10 of the most inventive coat hooks crafted by various designers, guaranteed to add flair to any modern interior. So, if you're looking for design tips to elevate your space, you've come to the right place. Let's explore the ingenious designs of these unique coat hooks and discover how they can transform your home!
10 – Drops
09 – Office Clip Hook
08 – The Knife Hooks By tc studio
07 – Brushes By Dominic Wilcox
06 – The 8-Bit pixelated
05 – Hang Here By Richard Shed
04 – Ninja Star Coat Hooks
03 – The Climbing Wall By Ferran Lajara
02 – Hookaboo Designed by Matt Carr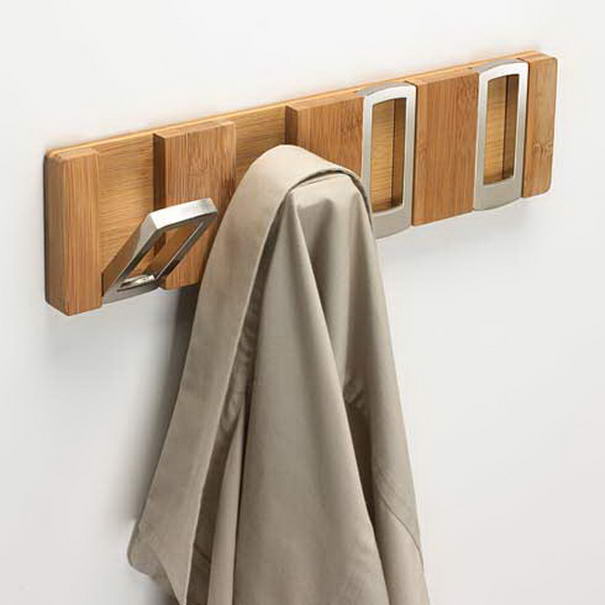 01 – Butterflies By Lamidea
And there you have it, a roundup of some of the most creatively designed coat hooks out there that can truly jazz up your spaces. It's these small elements, from coat hooks to the types of blinds, that play a huge part in elevating your interior design game.
As we conclude our exploration of creative coat hooks, we hope you've found inspiration to enhance your interior design with these unique and functional pieces. The 10 inventive hooks we've highlighted not only serve as practical storage solutions but also as stunning works of art in any modern interior. Remember, sometimes it's the little touches that truly elevate a space, so don't be afraid to think outside the box and embrace these one-of-a-kind designs. Happy decorating!