I'm not rich myself but i don't know if i would pay that high prices for a painting even. This most expensive paintings list ever sold is based on theartwolf website. A they say, ,it includes both private sales and public auctions. 3 Pablo Picasso works are in list but no Salvador Dali or Leonardo Da Vinci. Check out 10 Most Expensive Artworks Ever Sold list and please tell us if you would pay $250 million for number one.
10 – Diana and Actaeon By TITIAN (1556-1559) $91 million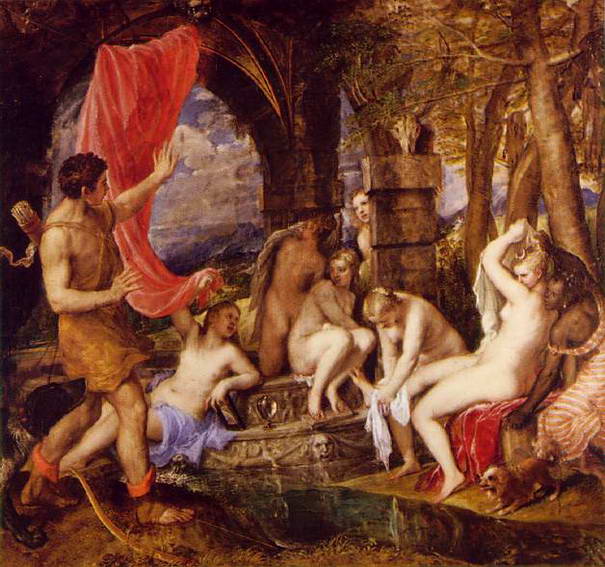 Diana and Actaeon is one of six large mythologies that Titian produced for King Philip II of Spain between 1549–62. The project seems to have been conceived when Titian met Philip, first at Milan in 1548, and then at the Imperial Diet at Augsburg in the winter of 1550–1, on both of which occasions he also painted the prince's portrait.
09 – Dora Maar au chat By PABLO PICASSO (1941) $95.2 million
Dora Maar au Chat by Pablo Picasso was painted in 1941 during the Second World War, during a difficult period as France was, at that time, occupied by Nazi Germany. The painting depicts Dora Maar, Picasso's lover, sitting in a chair and there is a small cat sitting on her shoulders.
08 – Eight Elvises By ANDY WARHOL (1963) $100 million
The picture of Eight Elvis, a 12 ft canvas was part of a much larger 37 feet canvas with 16 Elvises. The painter Andy Warhol was born in August 6, 1928. He was known as painter, printmaker and film maker.
07 – Garçon a la pipe By PABLO PICASSO (1904) $104.1 million
was painted in 1905 when Picasso was 24 years old, during his Rose Period, soon after he settled in the Montmartre section of Paris, France. The oil on canvas painting depicts a Parisian boy holding a pipe in his left hand and wearing a garland or wreath of flowers.
06 – Nude, Green Leaves and Bust By PABLO PICASSO (1932) $106.5 million
Nude, Green Leaves and Bust is one of the sequence of paintings of Picasso's muse, Marie-Therese Walter, made by Picasso at Boisgeloup, Normandy, in the early months of 1932. They are widely regarded as amongst his greatest achievements of the inter-war period.
05 – The Scream By EDVARD MUNCH (1895) $119.9 million
The Scream was made by the Norwegian painter and printmaker Edvard Much (1863-1944). For years he had suffered from anxiety, excessive drinking, hallucinations and feelings of persecution.
"Illness, insanity, and death were the black angels that kept watch over my cradle and accompanied me all my life," he said.
04 – Adele Bloch-bauer I By GUSTAV KLIMT (1907) $135 million
This painting, which took three years to complete, was commissioned by the wealthy industrialist Ferdinand Bloch-Bauer, who made his money in the sugar industry. Ferdinand Bloch-Bauer favored the arts, especially Klimt, and commissioned him to complete another portrait of his wife Adele in 1912. Adele Bloch-Bauer was the only person to be painted twice by Klimt.
03 – Woman III By WILLEM DE KOONING (1952-53) $137.5 million
Woman III is a painting by abstract expressionist painter Willem de Kooning. Woman III is one of a series of six paintings by de Kooning done between 1951 and 1953 in which the central theme was a woman.
02 – Number 5, 1948 By JACKSON POLLOCK (1948) $140 million
Jackson Pollock (1912-1956) had a short-lived artistic career with only a few of those years (1943-1951) dedicated to his famous style. However, these abstract paintings left a legacy behind just as his alcoholism and untimely death. His painting style and technique brought together elements of Cubism, Surrealism and Impressionism, and transcended them all.
01 – The Card Players By PAUL CÉZANNE (1892/93) $250 million
The Card Players, painted between 1890 and 1892, is one of at least five variations ofmen playing cards in a café. In this version, the bottle on the table, with its gleaming white highlight, divides the composition in two, calling attention to the light and dark tonalities of the dress of the two figures.