When you hear the term "fashion," what comes to mind? Is it vibrant patterns, the latest trends, or a statement piece that turns heads? Perhaps, but for a select few, fashion is about far more than just clothing – it's a lifestyle, a statement, and a form of self-expression. It's about luxury brands that set the standard for opulence and elegance, even if their price tags are a little out of reach for the average shopper.
Luxury brands have always held a unique allure. They're not just about the clothing or the fashion designer behind them. They're about the status, the quality, and the timeless style they provide. These expensive clothing brands often become symbolic of success and sophistication, becoming the go-to choice for individuals who wish to express their status and style.
Even if we can't afford them, these brands influence the fashion world and trickle down trends that impact every level of the fashion industry. They inspire, innovate, and push boundaries, making their influence invaluable to the fashion world. So let's take a deep dive into the realm of luxury and explore some of the most valuable fashion brands out there, their history, and their most iconic products(By the way this list is not in particular order!).
10 – Chanel
If we're talking luxury brands, it's impossible not to start with Chanel. Founded in 1910 by the legendary Coco Chanel, this luxurious clothing brand has been synonymous with high fashion and sophistication for over a century. Known for revolutionizing women's fashion by introducing a more comfortable and casual elegance, Coco Chanel changed the fashion industry with her innovative designs.
Her first boutique, located in Paris, was initially dedicated to hats. However, her clothing line's success, especially the famous "Little Black Dress," introduced in Vogue in 1926, rapidly made Chanel a household name.
But perhaps Chanel's most iconic product is the Chanel No. 5 perfume. Introduced in 1921, it's said to be the first perfume ever to feature aldehydes synthetically, which give it a unique, sparkling quality. Marilyn Monroe famously stated she wore only a few drops of Chanel No. 5 to bed, further cementing its status as an iconic product.
Chanel's handbags are also a hallmark of their product line, with the "Classic Flap" bag being one of the most recognized high-fashion accessories worldwide. These handbags are famous with their distinctive leather design, high-quality materials, and, of course, the interlocking "C" logo.
Despite the passing of Coco Chanel in 1971, the brand continues to thrive under the direction of various talented designers, including the influential Karl Lagerfeld, who led the brand from 1983 until his passing in 2019.
Chanel remains a significant influencer in the fashion world, setting trends and maintaining its reputation as one of the most expensive clothing brands. Its longevity is a testament to the timeless appeal of its designs and the enduring allure of luxury.
09 – Louis Vuitton
Next up in our journey through the world of luxury is none other than Louis Vuitton. This luxury brand has a rich history that dates back to 1854 when Louis Vuitton himself founded the company in Paris, France. Originally a trunk-making business, Louis Vuitton quickly gained recognition for its innovative, flat-topped trunks, which were a stark contrast to the popular round-topped trunks of the time that couldn't be stacked.
Perhaps the most recognizable feature of Louis Vuitton is the distinctive monogram. The LV monogram, first introduced in 1896 as a tribute to the late Louis Vuitton by his son, George Vuitton, is now one of the most famous and coveted symbols in the world of fashion brands.
Louis Vuitton's iconic Speedy handbag is one of the brand's most famous products. First introduced in the 1930s, the Speedy handbag quickly gained popularity due to its practicality and style. In the 1960s, Audrey Hepburn, a known fan of the brand, requested a smaller model of the Speedy bag, leading to the creation of the Speedy 25, which is still a beloved model today.
Another renowned product is the Neverfull tote, introduced in 2007. Its large capacity and side laces that can adjust the shape of the bag make it versatile and functional, making it a favorite among luxury enthusiasts.
As one of the oldest and most successful luxurious clothing brands, Louis Vuitton has managed to stay relevant by consistently infusing innovation and creativity into their designs, maintaining their status as a timeless symbol of luxury and style.
08 – Gucci
In the realm of luxury goods, few names resonate like Gucci. Founded in 1921 by Guccio Gucci, the brand quickly gained acclaim for its high-quality leather goods, particularly its handcrafted leather luggage. Gucci's initial success came from its equestrian-inspired designs, a nod to Guccio Gucci's time working in luxury hotels where he was fascinated by the luggage of the wealthy guests.
One of Gucci's most famous products is the bamboo handle handbag. Created in 1947 when materials were scarce after World War II, the bag's bamboo handle, heated and bent into a curve, became an iconic symbol of the brand.
In the 1950s, Gucci introduced its trademark green-red-green stripe, inspired by the cinch strap of a horse's saddle. This design, along with the double-G logo in the 1960s, became synonymous with the brand and is instantly recognizable as a symbol of luxury.
In recent years, the brand is innovating by creative director Alessandro Michele, whose unique, eclectic style has bringing a new wave of popularity to Gucci. From the Dionysus handbag to the Princetown Fur Loafer, Michele's designs have become a favorite among fashion designer enthusiasts and celebrities alike.
Gucci's ability to reinvent itself while maintaining its luxurious roots is a testament to its timeless appeal and its place as one of the world's most expensive clothing brands.
Sure, I apologize for the mistake. Let's replace the duplicates with two other renowned luxury fashion brands.
07 – Burberry
Burberry is a British luxury fashion house which is famous for its timeless outerwear. Founded in 1856 by Thomas Burberry, the brand has become synonymous with the classic trench coat, which was originally designed for army officers during World War I.
The Burberry trench coat is a fashion staple, admired for its superior quality and practicality. It's available in various styles and lengths, but what remains constant is the iconic check lining, a pattern that has become Burberry's trademark.
Another notable creation from Burberry is their line of scarves, particularly their cashmere scarves featuring the brand's classic check pattern. These scarves have become a must-have accessory for many fashion-forward individuals.
Burberry's innovative designs and commitment to quality have made it one of the most desirable luxury brands in the global fashion industry. Their creations not only exude sophistication and style but also serve as a testament to the brand's rich heritage and exceptional craftsmanship.
06 – Prada
Our journey through the luxury fashion brands wouldn't be complete without mentioning Prada. Founded by Mario Prada in 1913, the Italian fashion house initially specialized in leather goods, including trunks and handbags. Its first taste of international success came when Prada was appointed as an official supplier to the Italian royal household in 1919, earning the right to use the House of Savoy's coat of arms and knotted rope design in its logo.
One of Prada's most renowned products is the Prada backpack. Introduced in the 1980s, the backpack made of Pocone, a military-grade nylon, was a game-changer in the fashion industry, making nylon a fashionable material.
Another significant creation is the Prada Saffiano bag. The Saffiano bag, named after the distinctive crosshatch texture of the leather, is a symbol of timeless elegance and practical luxury. It's not only stylish but also durable and resistant to scratches and stains.
Prada's commitment to craftsmanship, quality, and innovative design has cemented its place as one of the top expensive clothing brands in the world. Whether it's the nylon backpack or the Saffiano bag, Prada's creations are a testament to the brand's legacy of luxury and sophistication.
05 – Dior
Stepping into the realm of Christian Dior, we find ourselves in the midst of one of the most influential and prestigious luxury brands in fashion history. Founded in 1946 by the eponymous designer, Dior's fashion house quickly gained international acclaim with the introduction of the "New Look," which aimed to accentuate and celebrate the feminine figure.
One of Dior's iconic products is the "Lady Dior" handbag. Named after Lady Diana, the Princess of Wales, this bag embodies elegance and sophistication. It's instantly recognizable by its quilted pattern, referred to as "Cannage," and it has become a symbol of the brand's dedication to craftsmanship and luxury.
Additionally, Dior is famous for its haute couture offerings, creating exquisite custom-made garments for clients around the globe. The brand's dedication to craftsmanship, quality materials, and innovative design sets it apart as a leader in the luxury fashion industry.
04 – Givenchy
Next on our list of the most expensive luxury fashion brands is Givenchy, a brand synonymous with elegance and glamour. Founded by Hubert de Givenchy in 1952, the French fashion house has been a staple in the luxury fashion world for over half a century.
One of Givenchy's signature designs is the "Audrey Hepburn" little black dress. Designed for the actress in the movie "Breakfast at Tiffany's," the dress has since become one of the most iconic pieces of clothing in film history.
Aside from clothing, Givenchy is also good at its luxury goods, such as handbags and accessories. The "Antigona" bag, in particular, is one of the brand's most popular creations. Its structured design, combined with high-quality leather, makes it a coveted piece among fashion enthusiasts.
Givenchy's enduring appeal and timeless designs have cemented its place as one of the top luxury fashion brands. From its iconic Audrey Hepburn dress to the Antigona bag, Givenchy embodies elegance and sophistication.
03 – Valentino
When we talk about modern luxury, the Italian fashion house Valentino is one of the first names to come up. Established in 1960 by Valentino Garavani, the brand has been known for its extraordinary craftsmanship and timeless elegance.
One of the house's most iconic pieces is the "Valentino Red" dress, a fiery, passionate piece that has become synonymous with the Valentino name. This specific shade of red has become so iconic that it's often referred to as "Valentino red" in the fashion world.
Valentino is also famous for their "Rockstud" collection. This line, which includes handbags, shoes, and accessories, is characterized by pyramid-shaped studs that give each piece a unique, edgy look. It's the perfect blend of luxury and punk chic, making it a favorite among fashion-forward individuals.
In the world of luxurious clothing brands, Valentino has set a high bar for quality and elegance. From the iconic Valentino red to the edgy Rockstud collection, the brand has consistently proven its ability to combine tradition with innovation.
02 – Fendi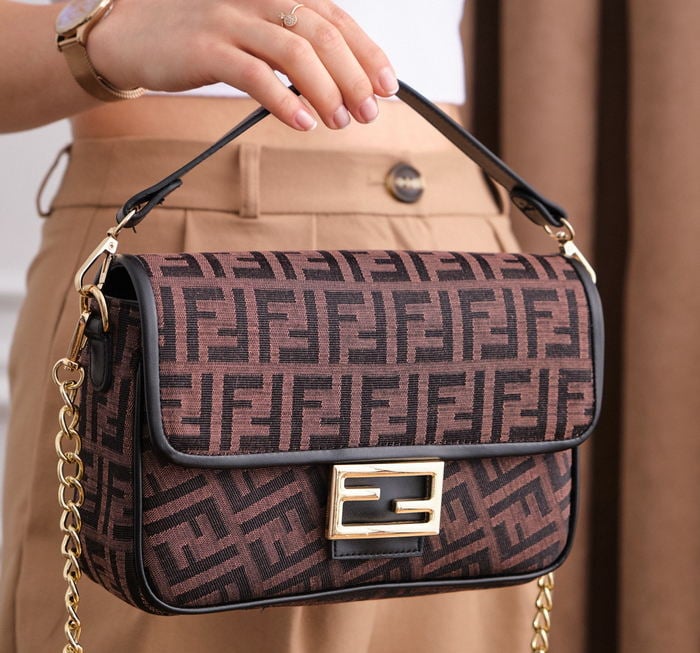 Fendi is another Italian luxury fashion house that has left an indelible mark in the fashion world. Established in 1925 by Edoardo and Adele Fendi, the brand initially started as a fur and leather shop in Rome. Today, Fendi is globally famous with its fur, ready-to-wear, leather goods, shoes, fragrances, eyewear, and accessories.
One of the brand's most recognizable creations is the "Baguette" bag. This handbag was popularized by the TV show "Sex and the City" and quickly became a status symbol in the late 90s and early 2000s. With its compact design and array of available colors and patterns, the Baguette bag has become one of the most iconic accessories in the history of fashion.
Fendi's innovative approach to fashion, along with its commitment to quality and craftsmanship, has solidified its place as one of the world's most desirable luxury brands.
01 – Balenciaga
Founded in 1917 by Spanish designer Cristóbal Balenciaga, Balenciaga is a brand known for pushing the boundaries of fashion. Renowned for his extraordinary craftmanship and innovative designs, Balenciaga has been praised as "the master of us all" by Christian Dior and hailed as "the only couturier in the truest sense of the word" by Coco Chanel.
The fashion house continues to redefine trends under the creative direction of Demna Gvasalia. Balenciaga's fashion-forward designs, such as the oversized silhouettes and the chunky Triple S sneaker, have captivated the fashion world, making it one of the most influential brands in contemporary fashion.
One of Balenciaga's most iconic creations is the Motorcycle Bag. Known for its soft, slouchy leather and distinctive hardware, the bag quickly gained popularity among fashionistas and remains a sought-after accessory to this day.
In the world of luxury goods, Balenciaga continues to challenge conventions and set new standards in design and innovation, solidifying its place as a coveted luxurious clothing brand.
We've walked through the hallways of ten of the most expensive luxury fashion brands and it's clear that their appeal goes beyond their high price tags. They represent history, craftsmanship, and a dedication to quality that is often unparalleled. So, even if their prices are out of reach for many, their influence in shaping our idea of style and luxury is undeniable.