Looking to give your floors a fresh and unique look? Look no further than these 10 creative flooring ideas! From eye-catching patterns to unexpected materials, these flooring designs are sure to add a touch of personality to any space. Whether you're looking to make a bold statement or just want to mix things up, these flooring options will have you walking on sunshine (or wood, or tile, or whatever your heart desires). So put on your creative hat and let's get to flooring!
10 – Stripped Wood Flooring
Strip it all back and go back to a building's primitive state. Deconstructivism is a great art and turning your property into an unfinished, unrefined, shabby abode is extremely chic.
09 – Cork Flooring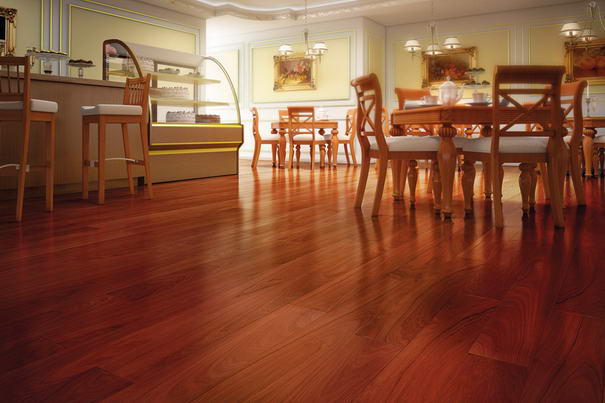 Now who would have ever thought that cork could provide a decent flooring solution? Cork flooring has become popular over the years, especially for use in the kitchen where people are expected to stand for long periods of time. Cork flooring is said to provide comfort to the legs so this could be a great choice if you're a comfort lover.
08 – Artificial Grass
Creatives may find this choice to be more within their comfort zone but Innocent Smoothies were amongst the first companies to find alternative uses for artificial grass. And before you knew it, other creative agencies were following suit. Today's artificial grass is so advanced that it's designed to look and feel real to touch, making it safe for children and pets.
07 – Glass Floors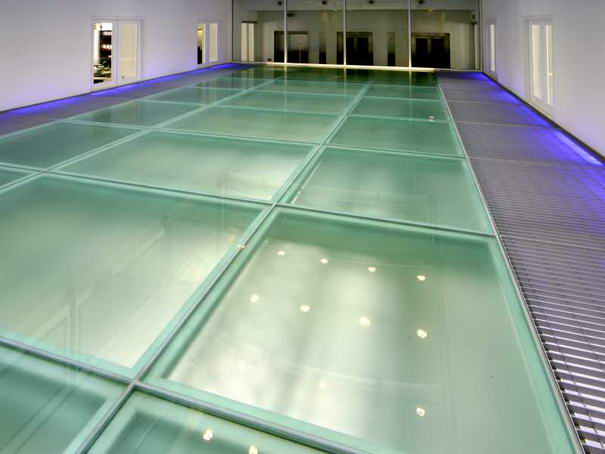 Glass floors have been making their mark with property developers and they make fantastic first level floors for open plan living or mezzanine balconies.
06 – Bamboo Flooring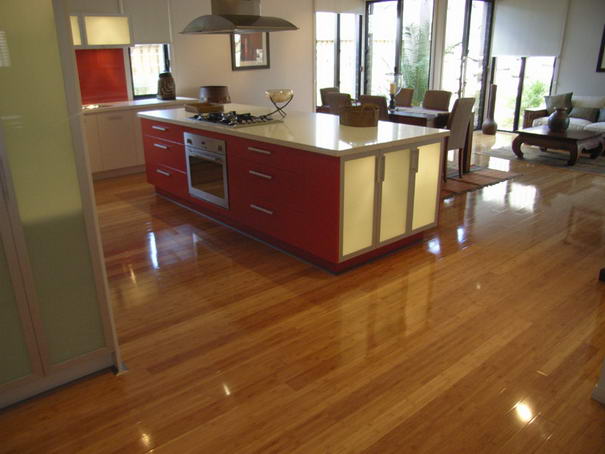 Hardwood flooring has long been a favourite amongst homeowners but now we have the genius creation of bamboo flooring. It's ever so slightly kinder to the environment as it is manufactured from grass instead of wood. As grass grows back much faster, homeowners can sleep at night with the comfort that their bamboo flooring is not as hurtful as the next door neighbour's solid oak kitchen.
05 – Glitter Floor Tiles
Glam or tack? You decide. Glitter tiles, sparkly tiles and glitter grout are all available in the creative flooring market these days.
04 – The Puzzle Floor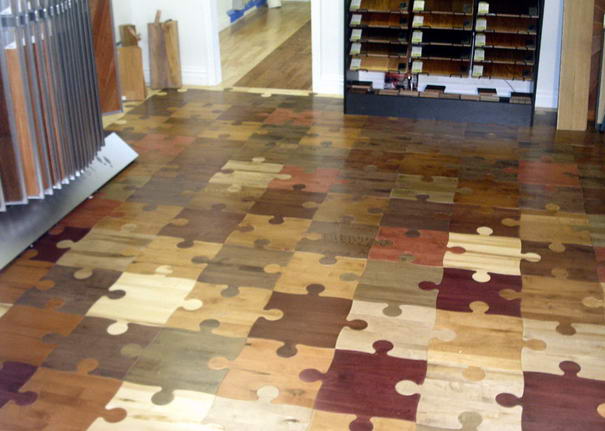 Seen on some of the coolest interior design blogs out there, puzzle wooden floors have made several appearances over the years. Stylish and mesmerizing, yet still donning the crown for being classic.
03 – 3D Artwork Flooring
We've all seen the 3D street graffiti left there to play tricks on our eyes. This crazy artwork doesn't just have to be left to the street artists. If you're a fan of artwork in the home, maybe attempt to give your floors a new lease of life by treating it with some 3D imagery. This could be a fantastic conversation starter for your next dinner party.
02 – Luxtouch
This is one of the most expensive flooring solutions you could ever choose for your home. Created by Pietra Firma, this floor is encrusted with diamonds, abalone shell, Mother of Pearl and Black Onyx and is a whopping £625,000 per square meter.
01 – The Coin Floor
There's something quite primitive and fun about a cement and coin floor. A floor made from silver coins or copper coins is the ultimate test for any sticky-fingered guests. One of the best example of creative flooring.