All service dogs are important and play an integral role. They help out with daily tasks, from the mundane to the complex, and make the lives of thousands easier every day. Many people have a rough idea of what service dogs do, but do you know how varied their jobs are?
From assisting with domestic routines all the way up to flying with a service dog, there are numerous roles these career canines play. Here is our list of the top 10 most important roles these animals play in the lives of thousands.
10 – Medical Assistance
Some of the most important work service dogs do relates to the medical care of their owners. This role is diverse and unique to the individual. Some dogs are even trained to lay across the chest of their owners to reduce the duration of a seizure.
09 – Domestic Chores
Service dogs aren't capable of doing the dishes just yet, but they still play an important role within the home. These jobs can include opening and closing drawers, cabinets, and even the fridge! They help to keep a home tidy, which in turn can minimize the risk of injuries.
08 – Helping Owners Get Dressed
Some individuals who require a service dog can experience difficulty when getting dressed on a morning. For this purpose, the animals are trained to gather and retrieving clothing. They are also taught how to helpfully tug on items to get them on or off (such as with coats, socks, or t-shirts).
07 – Mobility Assistance
Many service dog owners live with limited mobility. To this end, the animals help their owners in and out of wheelchairs, climbing in and out of bed, and even providing stabilizing assistance for when they're walking.
06 – Visual Assistance
While guide dogs and service dogs are two separate things, the roles of the two often interlink. Service dogs often help their owners navigate streets they may be unfamiliar with, in addition to helping them find empty seats in establishments. They can also indicate roads, stairways, and handrails to their owners.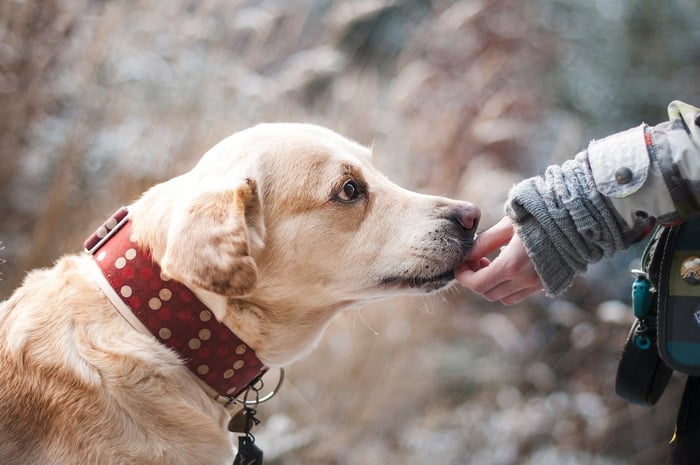 05 – Mental Health Relief
There are a variety of ways a service dog can help a sufferer of mental illness. From reminders to take necessary medication, to providing physical comfort during panic attacks, man's best friend lives up to its title when performing this role.
04 – Recovery Position Placement
If an owner is prone to collapsing or sporadically falling unconscious, the service dog may put them in the recovery position. This is usually achieved through a series of tactile nose-nudges. This can make all the difference in emergency circumstances.
03 – Recycling Responsibilities
We all need to play our part to improve the climate, and service dogs are chipping in too! With the necessary training, animals are capable of separating ordinary trash from the recyclable components. A physically or vision impaired person may struggle with this task, so it's a great help for those who want to be more environmentally conscious.
02 – Providing Care Alerts
Is the owner in trouble? Then a service dog can immediately seek help from the nearest caregiver. This training means that no owner requires 24/7 care that they may have needed in the past. They can be left with their pup instead, who can provide them with both company and assistance when required.
01 – Emotional Support
The roles of service dogs vary enormously, but there's one role they all perform. Arguably the most important, the emotional support that service dogs provide through their partnership is invaluable to all owners. It's a unique bond that goes beyond practical merits.