When it comes to human-powered transportation, you can't beat a skateboard for its advantages. Here are 10 Most Sensational Skateboarding Cities …
10 – San Francisco
Photo credit: Thomas Hawk / CC BY-NC
San Francisco is home to some of skateboarding's most famous hills. What sort of skater would you be if you didn't go 'hill bombing' in San Francisco?
09 – New York City (NYC)
Photo credit: ChrisGoldNY / CC BY-NC
NYC is the city that never sleeps. This energy makes NYC the perfect skateboarding location as the energy transfers itself to you and your board. It's the perfect place to get caught up in the skating scene.
08 – Melbourne
Photo credit: soleir / CC BY-NC-ND
Sydney used to be the hub of Australian skateboarding but Melbourne has definitely taken the crown. The skate scene in Melbourne is bustling and it is the perfect place for young skaters to learn their craft.
07 – London
Photo credit: Fouquier ॐ / CC BY-NC
Yes, London, the city of rain. Although the weather may be depressing, the skate scene certainly isn't. There are plenty of indoor skateboarding centres, as well as outdoor ones for when the weather perks up.
06 – Lisbon
Photo credit: Pensiero / CC BY-NC-ND
Portugal is hot on the heels of its Spanish counterparts for skating excellence. Lisbon is one of the hidden gems of the skating world and, as a result, you can skate free from the crowds and the hustle and bustle of somewhere like NYC.
05 – Rio De Janeiro
Photo credit: soleir / CC BY-NC-ND
Brazilian beaches are home to some incredible skate parks and, if you fancy going off the beaten track, some of Brazil's less touristy areas are home to some incredibly vibrant skate scenes.
04 – Barcelona
Photo credit: JulianBleecker / CC BY-NC-ND
Known as the 'European Skateboarding Mecca', Barcelona has everything you could ever need. Its architecture, history and attractions make it the perfect holiday destination for millions and, if you're a skater, Barcelona is the perfect place for you to go 'shred'.
03 – Paris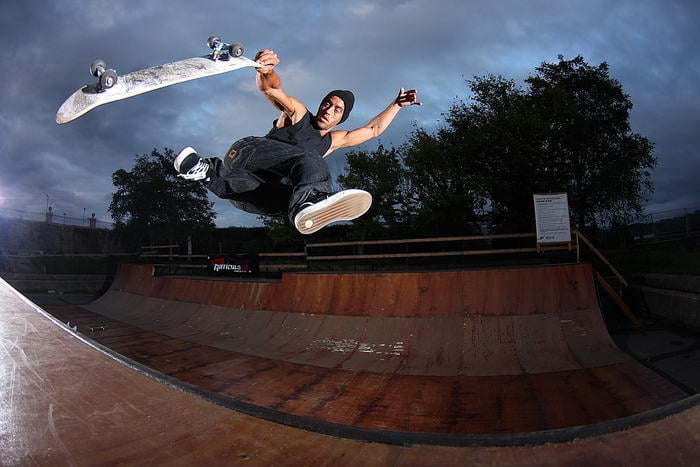 Photo credit: soleir / CC BY-NC-ND
The now legendary Eiffel Tower basins provide the ideal skating area in one of the world's most beautiful cities. Paris may be famous for romance and culture but it is also the perfect skating location too.
02 – Berlin
Photo credit: graphistolage / CC BY-NC-ND
Berlin is the city of graffiti and, due to this, you feel right at home skating there. Adidas have filmed a lot of their advertising in Berlin of late and, if you're looking for a cheap holiday location, Berlin is the place for you.
01 – Los Angeles (LA)
Photo credit: San Diego Shooter / CC BY-NC-ND
LA is widely thought to be the birthplace of modern skateboarding so, isn't it time that you went to go pay homage to the scene that created the sport you love?
If you're visiting one of these famous locations, remember to take all of your skate accessories with you.