In today's fast-paced, technologically advanced world, it is still nice to get some retro gaming action in. As good as modern consoles and titles are, there is something about those old games from the 1990's that is unique. Indeed, many older gamers will fervently tell you they are much better and well-designed than modern games that rely on fancy graphics and sound. From blocky animation to blowing into game cartridges to get them working again, games from the past just had that certain something about them.
Here are ten of the most amazing retro games to play:
10 – Super Mario World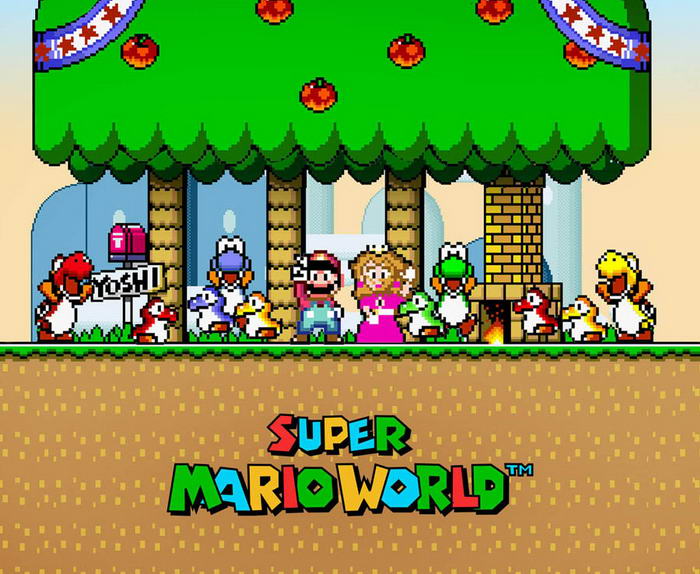 With over 20 million sales and a fondly remembered legacy, this was the game that kicked it all off in 1990. If you weren't seriously into this when young, then chances are someone you knew was! The 2-D graphics were super-cute and the music was catchy as hell. It had some great gameplay too with its story of the courageous Mario Bros. trying to rescue Princess Toadstool. Along the way there were power-ups and coins to collect which keep players entertained for hours. This was a brilliant game and helped get the video game movement into the mainstream.
09 – GoldenEye

Selling over 8 million copies worldwide, this was a mega-successful game based on the James Bond film of the same name. In it, players were the super suave British agent and had to safely get him through 20 missions which mirrored the film plot. What was great about this was not only the fun, shoot-em-up action but also the first-person perspective. That was actually quite ahead of its time and one of the first shooter games to put you right in the action. The ability to play with three friends and different difficulty settings all led to this being a really fun game to play.
08 – Pokemon Red and Blue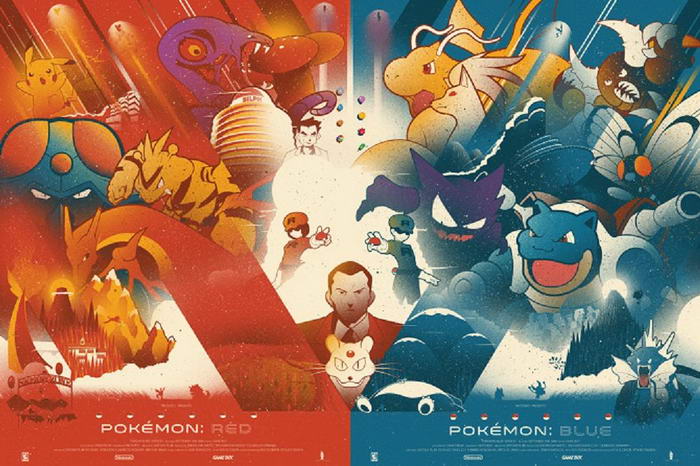 To say that Pokemon was a roaring success when first released (and still to this day really) was an understatement. Kids went crazy for it which naturally led its creators to franchise this video game based on the characters in 1996. Although many more Pokemon games have been released since, these were the first two in the series and some would say the best. Players would have to wander around the on-screen world to collect and trade Pokemon as well as battling. These were surprisingly involving games to play even if you weren't a Pokemon fan and many lost hours were spent traveling the game world with Pikachu.
07 – DOOM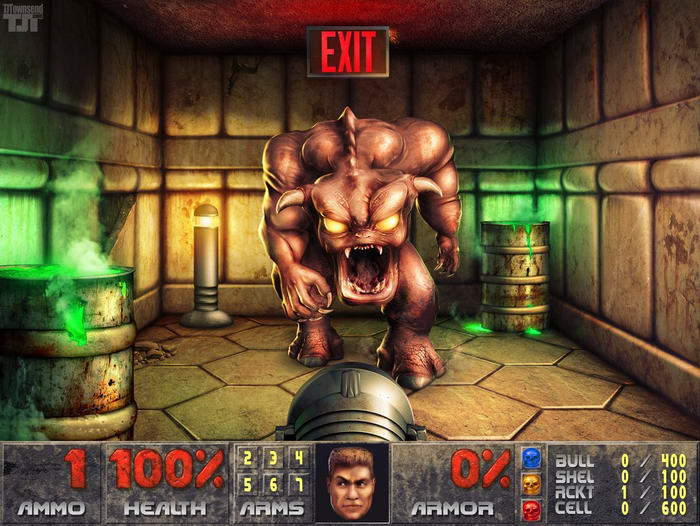 We go right back to 1993 for this classic title which many will remember. It made a huge noise at the time and was extremely popular, especially the PC version. Indeed, many companies had to ban employees from playing it on work time such were the hours being lost to it! The game centred on players taking control of an off-duty soldier who you would have to save the world from invading aliens with. The real success of the game lay in its fast-paced, shoot-em-up joy. It also had a first-person perspective on the action which was unusual for the time. For many gamers this is one of the most influential titles in gaming history.
06 – Sonic The Hedgehog 2

In the gaming world of the 1990's, the two big companies were Nintendo and Sega. Both wanted to be top dog and a fierce rivalry ensued for much of the decade. While the Nintendo star was Mario, Sega had Sonic. This sequel was released in 1992 and Sega spent a huge $10 million on promoting it. The game itself was worth the money though as it was blast to play. As you would expect, you played as Sonic and raced around the in-game world, doing your tricks and trying to stop Dr Robotnik. Chances are that if you had a Sega in the 1990's, this is one game you would have loved playing.
05 – Mortal Kombat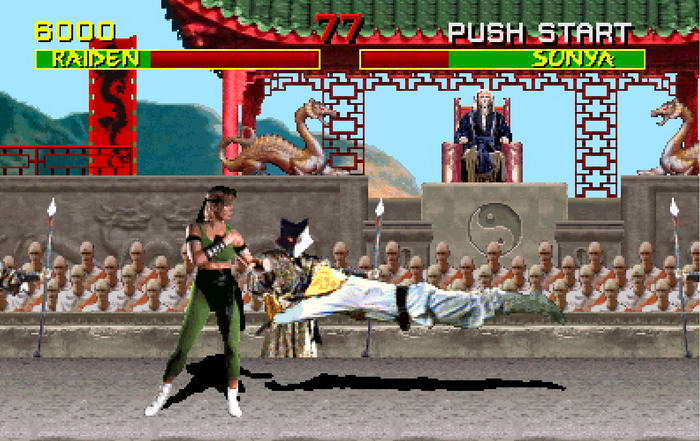 This game is a true retro classic and caused a big stir when it first came out in 1992. The basic premise was almost like 'Enter The Dragon' on steroids. An ancient sorcerer named as Shang Tsung invites all the best martial artists in the world to his secret island to find out who is the best. Players would choose one of the 7 invited candidates to battle it out as and try to complete the game. The action was very gory (hence the controversy) and each character had a brutal finishing move to kill off opponents with. Along with Street Fighter, this was one of the truly iconic beat-em-up games of the retro console years.
04 – NBA Jam

This may not be one that is remembered much now but, when it came out in 1993, NBA Jam was a monster hit. It managed the neat trick of making sports fans and non-sports fans want to play it. This was mainly due to the fact that it looked great and played even better. Many of the rules in proper basketball were forgotten which also made it more fun for non-sports geeks to play. It was also the first sports game to be properly licensed so had real teams and players in it. All this added up to a game that could keep you entertained for hours as you heard the in-game commentary tell you 'He's Heating Up!"
03 – The Legend of Zelda: Ocarina Of Time

One of the later retro games from 1998 was this classic. It was the latest in the Zelda series that had already got gaming fans hooked. What made this edition stand out was the breadth of gameplay and ability to set your own adventure. Starting as a child in a forest, you could set off and become many things according to your choices from mask salesman to errand boy. All this took place in an innovative 3-D game engine that saw you trying to rescue Princess Zelda.
02 – Mario Kart 64

To say that this game made a big impact when it came out in 1996 is an understatement. This racing game had it all from amazing music to superb playability and cute graphics. A really neat feature of this game was that you could pick your character and the kart you wanted to race in. This give it a real feeling of freedom and extra longevity. Of course, the racing itself was where the action truly came alive! From trying to stay on the course to avoiding the many hazards, players had so much fun racing to come first.
01 – Sensible Soccer / Sensible World of Soccer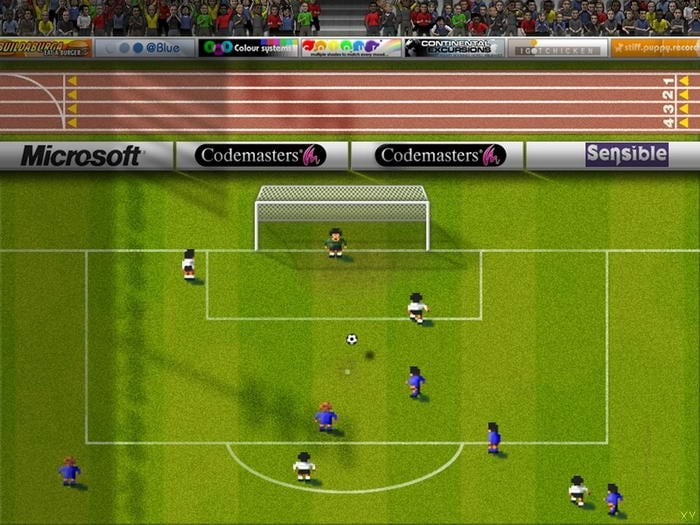 If anyone out there played a Commodore Amiga when they were at their peak, then this game will be well-known to you. Knocking spots off modern pretenders like FIFA, this was a proper football game that actually involved serious amount of skill. The innovative design meant it had a top down perspective and a ball that didn't stick to your feet. This made for fast-paced and fun gameplay that was addictive once you got the hang of it.
The other great thing was the unreal amounts of swerve you could put on shots to score some incredible goals. Many will also remember just how realistic it was with each player having noticeably different attributes like their speed or shot strength. The first version was great but Sensible World of Soccer is the one to play. With added features like a transfer market and injuries, it is the best football game ever made.
If you want to go back to a time when games were about the neat, unique touches in them and how well they played, then retro games are a blast. You will have so much fun playing them and, if you remember them the first time, a real nostalgic hit from seeing them again. Just be warned – the classics above can set you back some serious money now!