Games consoles are massively popular and have been for a long time now. From the original Atari to Commodore Amigas and the Sega Mega Drive, people just love spending their spare time playing video games. Not only is this fun but it also allows you to do things you never could in real life. Of course, modern video gaming is all about the big consoles. The Sony PlayStation 4 is certainly up there with the best and has sold over 90 million units globally! Building on the good work of previous PlayStation consoles, its awesome graphics and superb sound make it a popular choice for modern gamers.
Of course, any machine is only as good as the games you play on it. Luckily, the PS4 has lot of great titles to play. Sports is always a very popular niche for people to enjoy when gaming and this makes finding out the ten most amazing PS4 sports games a worthwhile task.
10 – AO International Tennis
BUY HERE: AO International Tennis
There are not a lot of tennis games on the PS4 to date but this one is good enough for this to not matter much. The way it looks is awesome and the famous faces you can play against or as all look just like the real thing. There is also a great variety of surfaces to play on here with grass, clay and hard court all showing up. The gameplay is very intuitive and easy to pick up but also quite tough. The computer AI will certainly be enough to give you a few things to think about! There is even a Career mode where you can create a player and guide them along the way to success. Players who like to play online against friends will also love the online gaming option here.
09 – MLB The Show 2017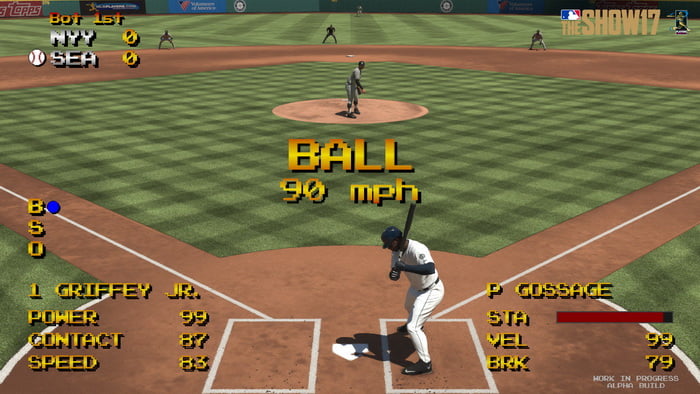 BUY HERE: MLB The Show 2017
Baseball is one sport that has always struggled to really capture the attention of most people and certainly not had the best history in video games. With MLB The Show 2017 though, this all changed! It helped to make baseball interesting to even the casual observer and fun to play. Whacking the ball for a homerun is very satisfying as is pitching the ball or pulling off an awesome catch. The game menus are a joy to use to as they are quick to operate and get to where you need to be. AI has been greatly revamped in this version to offer a more realistic experience and the graphics are very well drawn. There are even different conditions and lighting to impact on how the match pans out! With a neat MLB in-game network to provide analysis and commentary, this is a real winner.
08 – PES 2016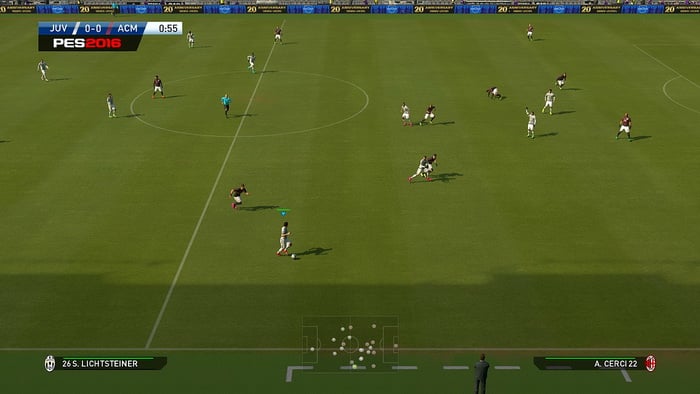 BUY HERE: PES 2016
When it comes to footballing video game franchises, Pro Evolution Soccer has found itself behind FIFA in most cases recently. This does not mean the game are not good though – in fact, they offer a unique take on football which is different to the FIFA experience. The 2016 version of PES is many people's favourite on the PS4 and it is easy to see why. It packs in a lot of cool features and is just great fun to play. Whether you are going on mazy dribbles, scoring long range stunners or putting in a hard tackle, it really feels like you are playing football. The animation is superb too as the human motion engine was updated for this version to make players move more realistically. AI is also great with more intelligent opponents to pit your wits against. With a new Master league function to enjoy too, it certainly hits all the right notes.
07 – Rocket League
BUY HERE: Rocket League
Have you ever wondered what would happen if you mixed football with cars? Well, you need wonder no more – one play on Rocket League tells you all you need to know! This game see you get behind the wheel of a high-octane car which is ready to whizz around the pitch come game time. There are loads to choose from and all can be customized for even more fun. Gameplay is fairly basic but that is half the enjoyment – instead of worrying about complex button combo's, you simply focus on winning. The in-game music and FX are great too which really helps to set the scene. With aggressive takedown's of other teams vehicles possible, it is also a great game for those who like to win ugly!
06 – Madden NFL 2016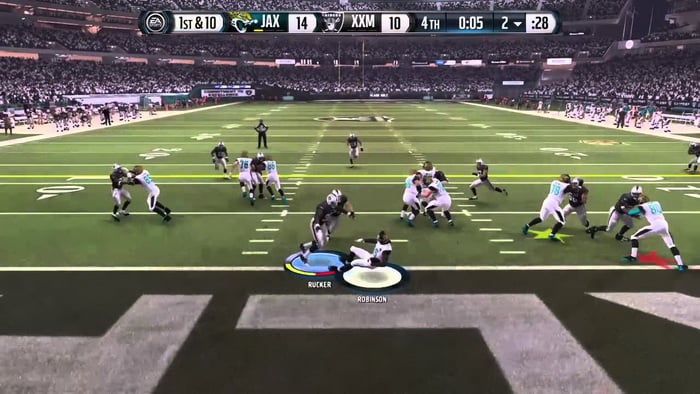 BUY HERE: Madden NFL 2016
There is only one king in town when it come to NFL games – the Madden series which is backed by legendary coach John Madden. The 2016 version is probably the best loved because it really gave the franchise a fresh update and introduced new, authentic gameplay. Changes to the offensive side of the game for example mean that there are even greater options to use when catching the ball. New options for controlling the QB are also here with a special touchdown pass button included. All this makes for a satisfying experience when you add in the usual raft of crunching tackles. With a cool Franchise mode to get involved with, this is American football on a whole new level.
05 – NHL 2017
BUY HERE: NHL 2017
When it comes to ice hockey, then the NFL series of games from EA Sports is the only choice in town. The good news is that they are all pretty awesome to play – arguably though this 2017 version is the pick of the bunch. The main selling point is the graphics and animation of players – it all just looks so realistic. You feel like you can practically reach out and touch the ice on screen! Of course, there is some hard hits and tough tackling to enjoy here which is what most people want from an ice hockey game. The goalie behavior is more authentic in this version too with new save animations to employ. As with all modern sports games, there is in-game commentary which adds an extra appeal to proceedings.
04 – UFC 2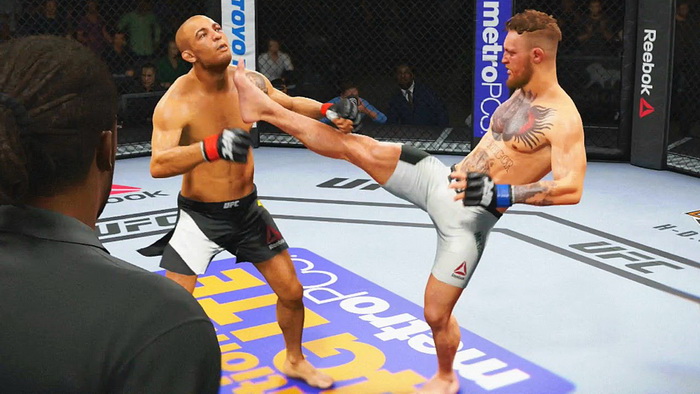 BUY HERE: UFC 2
EA Sports are real leaders when it comes to console sports games and this fighting simulation is a real winner. Based on the famous UFC championship, it allows you to get right into the action and have fun battling it out in the octagon. The main appeal here is the awesome gameplay which sees you have lot of moves to defeat your opponent with. The fighters also look amazing and move around the ring well. With over 250 real-life fighters to choose from, it is very enjoyable for even the most casual player. The Career mode is also a welcome touch and adds real longevity to this game as you make your way in the UFC game. This mode allows you to create your own fighter to guide through a career which makes it even more immersive.
03 – WWE 2K16
BUY HERE: WWE 2K16
Next to games like UFC 2 above, the most popular sports/fighting ones on PS4 are wrestling games. Among these, WWE 2K16 is perhaps the best and most widely loved. Compared to previous versions, this was a more of a realistic simulation of wrestling, rather than a pure arcade title. Many prefer this though and love how much more immersive it makes the game. The new reversal system for example adds a new layer of gameplay which is more complex than just beating people up. There are also Working Holds included here which allow you to get some stamina back while draining your opponents. This is a good-looking game and all the usual trash talking and histrionics are present as well. With hundred of wrestlers to play as and some great commentary, this is a top PS4 sports game.
02 – NBA 2K16
BUY HERE: NBA 2K16
One of the biggest sports in the USA and around Europe is basketball. There have been quite a few basketball games released for the PS4 by now but this is just about the pick of the bunch. Developers Visual Concepts and 2K Games have done a great job of capturing the excitement and fast pace of the real-life sport. It has a very realistic feel as a result with some truly fluid gameplay to recommend it. The visuals are on point too with players moving well around the court and looking like their real-life counterparts. The range of options in this version is also very good – you can guide one player through an entire career or manage a whole franchise to success.
01 – FIFA 2014
BUY HERE: FIFA 2014
With the latest FIFA only just coming out, it may seem strange to go back to 2014 for our number 1 choice. However, this is arguably the best FIFA on the PS4 still and one that no version since has quite matched. Much of this is due to the EA Sports Ignite game engine which makes the players behave and move like they do in real life. The stadiums are also superb in this version and really make the matches more authentic.
The animation and detail are simply superb in this version too and it marks a year when EA Sports really got it right. You will love the way players seem more agile and can pivot or turn at will! Players who like to really get into gameplay will also love the many cool skill moves packed into this version of FIFA. FIFA Ultimate Team mode also made its return here which was also a great move by EA Sports. Of course, as with all FIFA titles the presence of all the top leagues, teams and players is something that makes it all more exciting.
Sports is one genre that will always be big for video games. If you own a PS4, then the above are some of the ones you should have in your collection to enjoy. With a good spread of sports represented, you will always have something fun and enjoyable to try your hand at.