Football (or soccer for our American cousins) is still the world's most popular game with about 4 billion global fans. Whether you follow the Premier League, La Liga in Spain or Serie A in Italy, there is always a game on to catch. With the modern football player being a real athlete and modern coverage being full of pizazz, the beautiful game gets better with every passing year.
Of course, if you are a football fan who likes playing video games then football video games have always been immense. Not only do they involve less effort than actually playing football yourself, they give you chance to score the winning Champions League final goal or set your favourite team up exactly how you think it should be done.
Over the years, there have been many fine football titles. From early efforts on Commodore 64's and Amiga's to later games for the X-Box or PlayStation, you have always been spoilt for choice as a football fan.
Here are the ten most amazing to have graced our monitors until now.
10 – Tracksuit Manager
With all the bells and whistles that modern football games like the Football Manager series have, it can be easy to forget how ace the early football games were. What they lacked in graphics or sound, they made up for in sheer playability. This 1988 title on the C64 is a great example of just why! Based on the international game, you took over an England team in disarray that had just missed out on going to a World Cup. Your job was then to build the team back up and get them through qualifying into the next one. Once there you could also steer them to World Cup glory! The gameplay was full of depth and even the very basic text-based match highlights were interesting to read.
09 – Ultimate Soccer Manager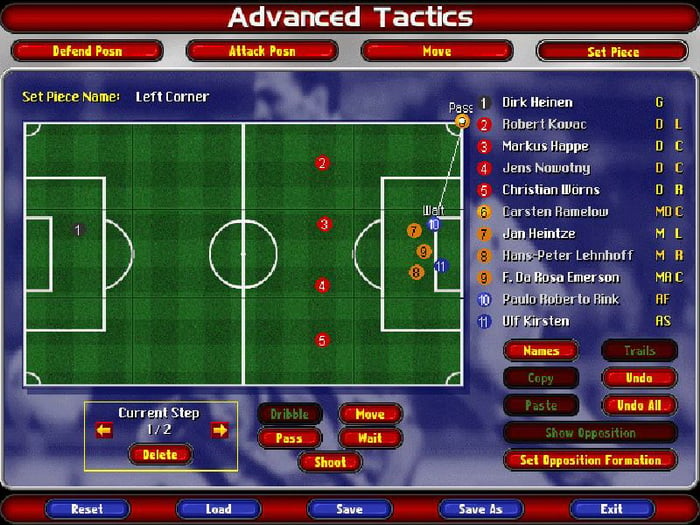 Moving on a few years, football games had already developed in terms of how they looked, sounded and played. This was another management sim that put you in the coaches dug-out but with domestic teams. Released in 1995 on the Amiga, it competed with the fabulous Championship Manager series and perhaps unfairly never got the praise it was due.
The great thing about this was not just the standard jobs of picking the team, setting your tactics etc… but also extras like offering bungs to opposition teams! This extra depth to the gameplay really worked as did the quirky graphical rendering of your office, complete with fax machine.
08 – Actua Soccer
This next football classic sees us leap forward to the next-gen of video gaming as it was on the original PlayStation. Although out at the same time as USM on the Amiga, it was light years ahead in terms of what it could do thanks to the PS1's higher spec. Of course, this was a game that put you on the pitch and allowed you to play the games. One stand-out point here was the full-on 3D players and fast paced gameplay. When you added in cool looking sliding challenges and bend on shots then you had a real winner.
07 – Pro Evolution Soccer 2017
We all know that FIFA is THE big franchise now in football video games but Pro Evo was once not that far behind. This 2017 version was their attempt to bridge the gap and it did a pretty good job. Many enjoyed it as it was a little less frantic and less reliant on flashy moves or players being quick. Instead, it placed more emphasis on team-work and proper build up play to succeed. The graphics were naturally top draw as was the animation of the players. The main letdown here was the lack of official licenses which is the trump card FIFA still holds over it.
06 – International Superstar Soccer
This was a belter of a title on the SNES and known by many simply as 'ISS'. In many ways, this is so good because it combines the best features of older side-on titles with new innovations that now seem common. Various button combinations allowed for a wide array of moves from feints to shoulder barges. It looked the business too and played really well in a fast, arcade way. This type of gameplay is perhaps its real secret – it shunned the hyper-realism many football titles would go on to rely on for something more enjoyable and entertaining.
05 – Emlyn Hughes International Soccer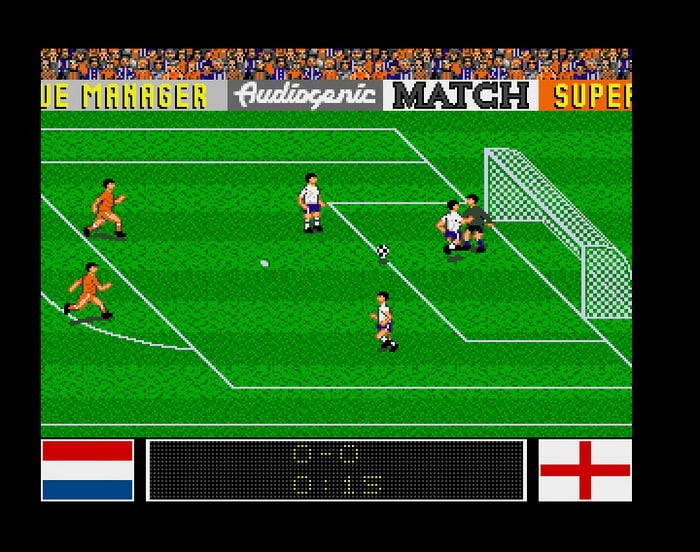 What made the older football games so amazing was what they did with such limited technology. This often inspired much more creative ways of playing the game and a much more interesting experience. This game is a classic example as it allowed you to pass in 5 directions, backheel, shoot and tackle all with one single button on your joystick! A classic side-on game, you could build up to some amazing goals here with the fluid, accurate playability.
04 – Football Manager 2011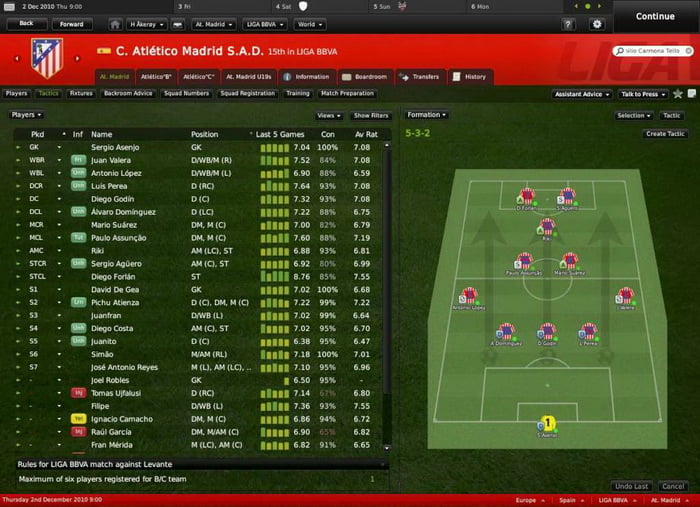 The Football Manager franchise is a big player in the football video game scene now. While all the individual releases have their merits, this is perhaps the best one to try. As the name suggests, it sees you managing your favourite team to glory rather than actually playing the games yourself. The biggest reason this and the whole franchise is so good is the realism. It has so many features and options that make you really feel like a true football manager. The press conferences for example are a great touch. The 3D game engine in this one was pretty special too.
03 – FIFA 18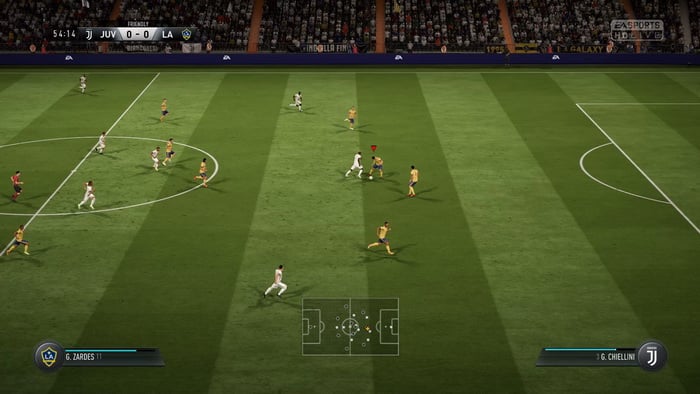 We all know that FIFA is the king when you want a football game to play as your favourite team or player. This recent version did not do anything greatly different to its predecessors but that is no bad thing. This still gave it wonderful graphics, slick animation, amazing sound and a fabulous gameplay experience. What this version did do was up the tempo slightly and make lighting quick counter-attacks easier. Many loved this as it made for a quicker, more exciting FIFA than in the past.
02 – Championship Manager 97/98
For many people, it is the football management sim that floats their boat. If this is the case, then you cannot really beat the Championship Manager series from Eidos. While earlier incarnations on the Amiga and PC were superb, this effort was perhaps the pinnacle. It had all the classic Champ Manager features wrapped up in a modern package. Reams of accurate player data, lots of teams and leagues all made for a superb playing experience. When you added in the famous match highlights engine and the depth of the gameplay then you can see why it was so popular.
01 – Sensible World Of Soccer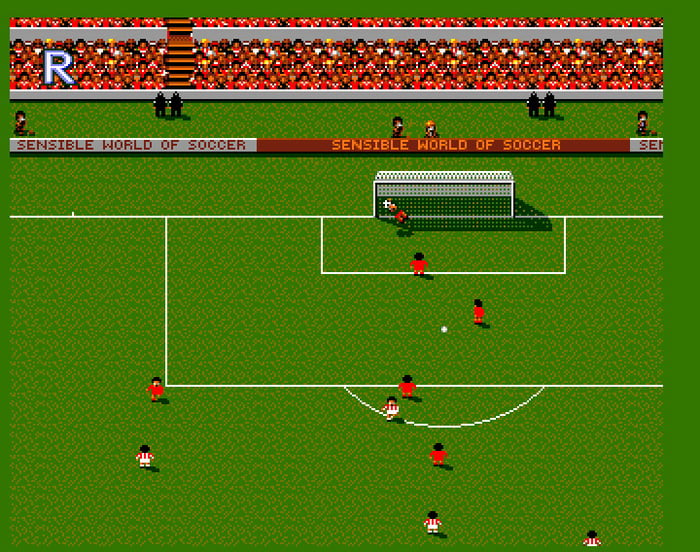 At number one spot we have the most well-loved and amazing football game ever made – Sensible World of Soccer on the Amiga. While lots of other games have come and gone since, this little gem is still superior in every way. Building on the already fabulous gameplay in the original Sensi Soccer, this added a managerial aspect to give that true player-manager experience. You could buy and sell players before setting the formation. Once in play, the game really came alive with a fast pace, sliding tackles and the famous ball not stuck to players foot control system. Add in the amazing aftertouch feature that enabled some truly brilliant goals and you had a winner.
As you can see there has been some truly amazing football video games to enjoy over the years. Whether you liked to simply manage or be out there controlling the players, you have had a wealth of choice. With video gaming and football only getting more popular these days, it looks certain that even more will continue to be released.