In 1950's sunny California, surfing was so popular. The only problem was to catch good waves. But what could a surfer do if there weren't any good waves to catch? That's how skateboarding was born. Something like surfing on land. The first skateboards started out as wooden boxes or boards with roller skate wheels attached to the bottom. Today, with the help of technology, skateboarding has taken many forms. Here are some examples.
Check out 10 Most Innovative Skateboards.
10 – IPSVM Skateboard by Loren Kulesus

It is just a concept design by Loren Kulesus inspired by NYC wildstyle graffiti. Doesn't look that much useable but still looks cool!
Source: behance
09 – Freeline Skates

BUY HERE: Freeline Skates

Completely unique single-piece construction skates are made from military- and aircraft-grade case aluminum which will provide maximum durability.
08 – BMW StreetCarver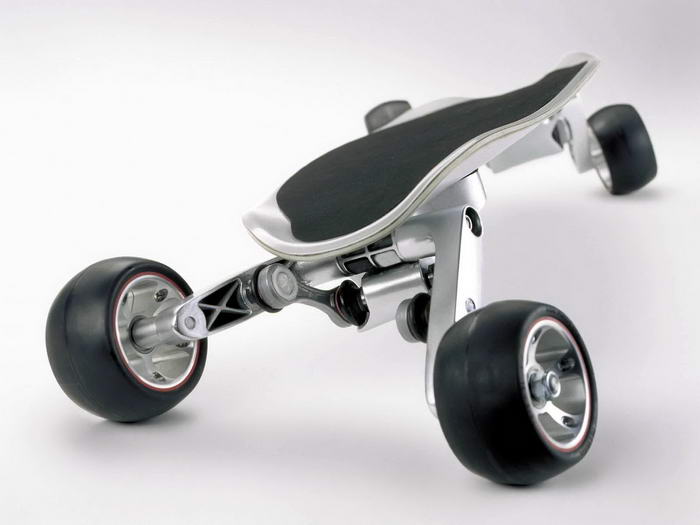 Produced from mid-2001 to 2004, Street Carver had an extremely stiff wood and fiberglass deck and a unique suspension system derived from parts from a BMW 5 Series car and was designed by DesignworksUSA.
07 – Snow Skateboard

BUY HERE: Snow Skateboard

As you can understand from its name and look, it is a skateboard especially designed for ''riding'' on snow.
06 – Marbel Electric Skateboard

Announced as the world's lightest electric skateboard, Marbel Electric Skateboard is 9.9 pounds and it has a mobile app for tracking its battery level.
More info: Ridemarbel
05 – ZBoard Classic Electric Skateboard

BUY HERE: ZBoard Classic Electric Skateboard

ZBoard is the world's first weight-sensing electric skateboard. To ride you simply lean forward to go and lean back to stop. No controller necessary. With a top speed of 17 mph and a range of 5 miles per charge, the ZBoard Classic is an awesome way to get around.
04 – The Stair-Rover by Po-Chih Lai

Stair-Rover is a longboard unlike any other. It's designed from the ground up to surf the entire city. The unique eight-wheeled mechanism makes the board equally at home cruising smooth pavements or gliding down steps. From the curb outside your house to a double flight of stairs.
More info: Stair-Rover
03 – Onewheel Skateboard by Kyle Doerksen

Onewheel is a a self-balancing electric skateboard that lets you fly over pavement on only a single wheel using self-balancing technology. You can find more info on their official website rideonewheel.com.
02 – GnarBoard Electric Skateboard

GnarBoard electric skateboard uses a unique rocking-motion to input throttle and braking actions, making it ergonomic and intuitive to use.
More info: Gnarboards
01 – Flowboard

Designed by Mike Simonian and Pieter Schouten, Flowboards have 7 wheels each on the front and rear, making it look like a mutated skateboard. Riding one is like snowboarding or surfing on land. Unfortunately they don't sell it anymore.