Are you looking for inspiration for your next trip or just want to marvel at the most impressive and futuristic buildings in the world? Look no further! In this article, we will take you on a journey to explore some of the most striking futuristic buildings around the globe.
From shimmering towers to gravity-defying structures, these architectural masterpieces will leave you in awe. So, grab a cup of coffee, sit back, and let's dive into the world of futuristic buildings.
10 – Spaceport America – New Mexico
Designed by Foster + Partners, this commercial spaceport in New Mexico resembles a spaceship, which gives it a very futuristic look. 12 flight tests have been hosted at its vertical launch area since 2006, including the annual student launch project. The site is not yet completed, but in a few years it will have loads of other facilities for tourists in particular.
09 – Hermitage Plaza – Paris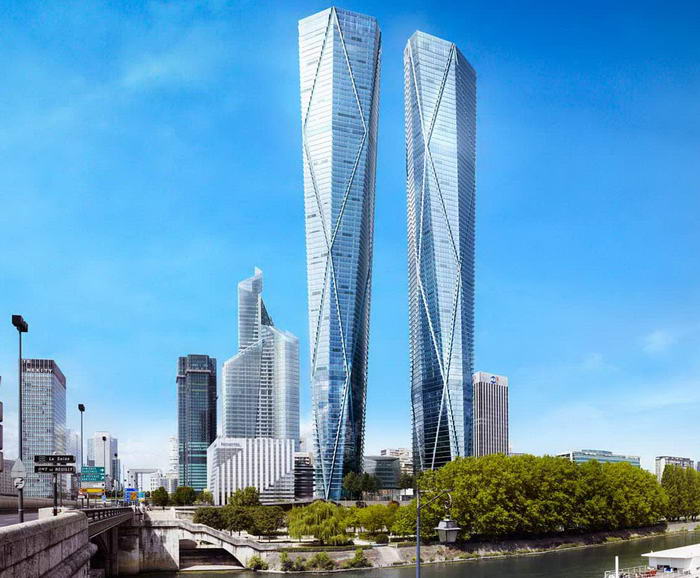 These twin skyscrapers are designed by Foster + Partners. The project will be completed in 2017 and they are going to be the tallest building in the European Union, with the impressive height of 1,050 feet. There will also be a riverfront park lined by shops and restaurants. With high-tech insulation and solar shading the towers will be energy efficient too.
08 – Absolute World Towers – Canada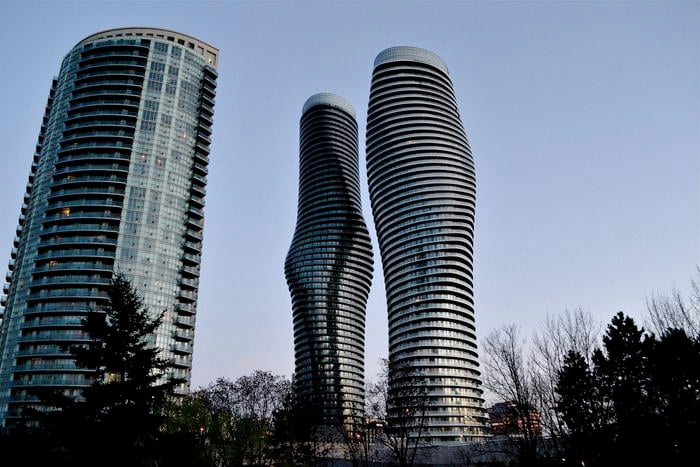 By n.karim (Absolute Towers) [CC BY 2.0], via Wikimedia Commons
Created by the Beijing-based architectural firm MAD, these twin residential towers were completed in 2012. They are also called the 'Marilyn Monroe Towers' due to their curvaceous design. 518 feet and 589 feet tall with 209 degrees twist from the base to the top, these skyscrapers have already been recognized as the tallest buildings in America.
07 – Gardens by the Bay – Singapore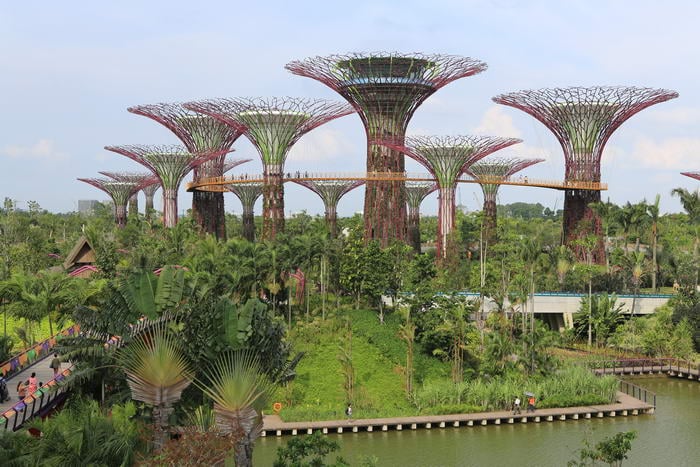 By Shiny Things. (Flickr: Supertree Forest.) [CC BY 2.0], via Wikimedia Commons
A well known garden fantasyland opened in 2011, this is one of the most visited touristic sites in Singapore due to its various botanical attractions. The "Super-tree Grove" is a collection of 16-story-high man-made structures that are covered in living plants and photovoltaic cells that generate solar energy. They are beautifully illuminated at night.
06 – One Bligh Street – Sydney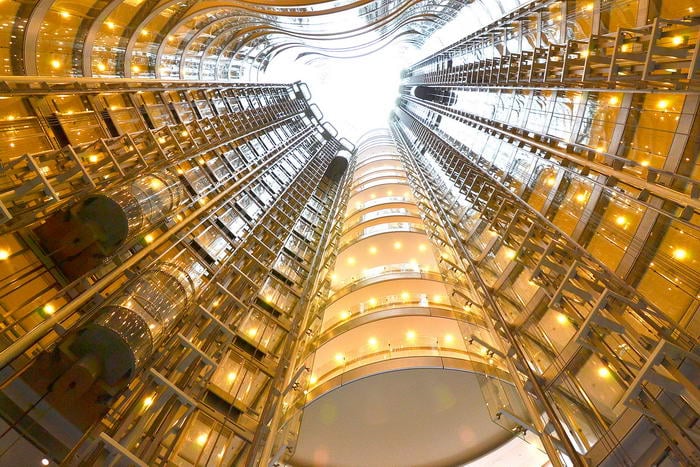 By Sardaka (talk) 11:02, 11 November 2011 (UTC) (Own work) [GFDL or CC BY 3.0], via Wikimedia Commons
Situated in Sydney's Central Business District, this futuristic building has a unique double-skin glass facade along with a naturally ventilated central atrium and computer-controlled shades to illuminate the building with natural light while maintaining comfortable temperatures. The building also has an outdoor "living wall" covered with plants.
05 – Twenty Five Lusk – San Francisco
A former smokehouse of 1917 has been turned into this amazing restaurant that reopened in 2012 after being reconstructed by the brilliant architect Cass Calder Smith. Now it is a 2-story and 9,800-square-feet space mixing industrial aesthetics with warmth and coziness.
04 – Palazzo Lombardia – Milan
By Kokky92 (Own work) [CC BY-SA 3.0], via Wikimedia Commons
Palazzo Lombardia is a commercial tower designed by Pei Cobb Freed & Partners that was completed in 2012. This eco-friendly, 525 feet tall building is covered by a very interesting roof having transparent "pillows" made of a flourine based plastic, ETFE film.It is a very popular building among tourists that visit Milan.
03 – Saadiyat Cultural District – Abu Dhabi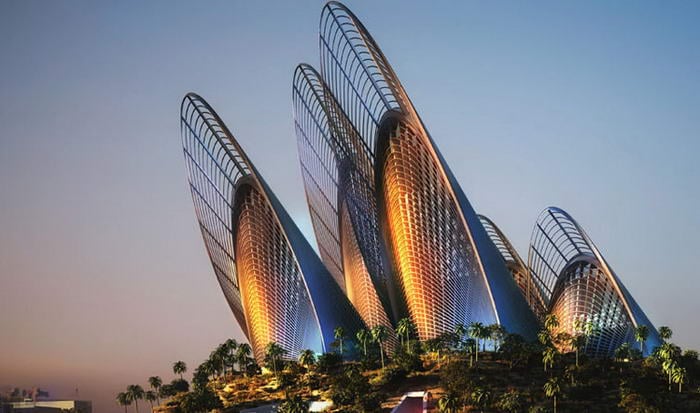 Situated on the Saadiyat Island, this amazing building will become a leading cultural district. The Foster+ Partners designed the steel tower that resembles the flight of a falcon. The residential tower is going to accommodate about 145,000 people after completion in 2015.
02 – Ordos Museum – China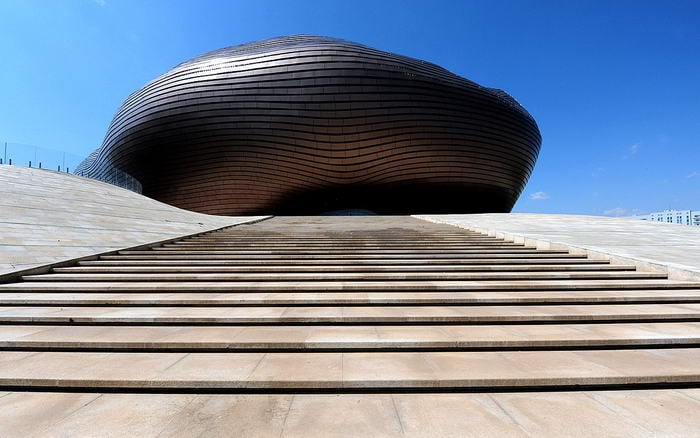 This is an outstanding building with undulating shape and copper-toned metal finish that reflect the Gobi Desert of Inner Mongolia surrounding it. It is constructed by MAD, a Beijing based architectural firm. The large scale museum is newly developed in 2011.
01 – W57 Pyramid – New York City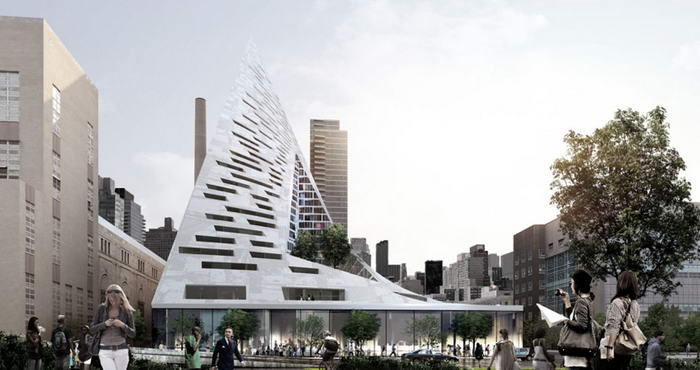 This 600-unit residential building between 10th and 11th avenues in New York,has been developed by a Danish firm called BIG. It is the first North American project by the Bjarke Ingels, head architect at BIG. The high rise appears like a squashed pyramid from the West Side Highway and each of its apartments receives natural daylight.
These futuristic buildings are not only stunning architectural masterpieces but also offer a glimpse into the future of sustainable and innovative design. Whether you're a fan of modern architecture or just looking to marvel at the world's most striking buildings, these destinations are sure to leave you in awe.