Inspiration is everywhere. It could come when you are listening a song , it could come as you're staring at the sky. When it comes to designing a sports car, main focus is to create a vehicle that depicts speed and is aerodynamically sound. As far as those characteristics are concerned, few things can compete with the designs of fighter jets and airplanes. Car designers often cite fighter jets and planes as the models for their vehicles. Here are 10 examples.
Check out 10 Most Impressive Car Designs Inspired By Airplanes…
10 – Lamborghini Indomable
The car has been envisioned as a V10-powered monster, with the engine is visible through a Y-shaped glass surface. The bonnet of the car features elements borrowed from the F22, while the two rectangular intakes provide cooling to the brakes. At the back, the tail light acts as a ⌕ Lamborghini Indomablewing and integrates LED lights with a honeycomb shape.
09 – 2025 Aerius EV hypercar
The Aerius is a design study by Pei-Cheng "Patrick" Hseih. A high performance EV with electric motors in the wheel hubs, carbon nanotube super-capacitors for energy storage and solar panels to recharge them on the go.
08 – Marussia B2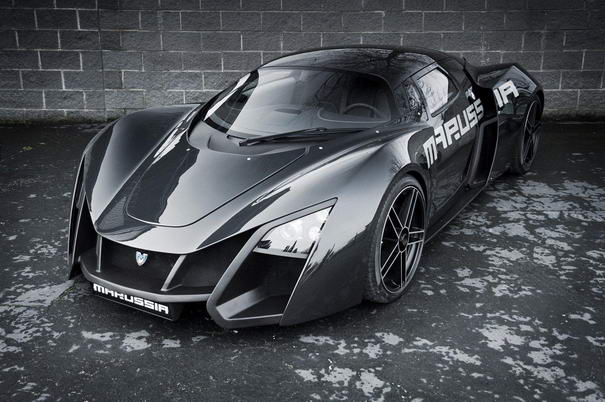 Armed with V6 engine from Cosworth 3.6-liter capacity, Marussia B2 comes with three versions engine power that is 300 hp, 360 hp and 420 hp.
07 – Chevrolet Mi-Ray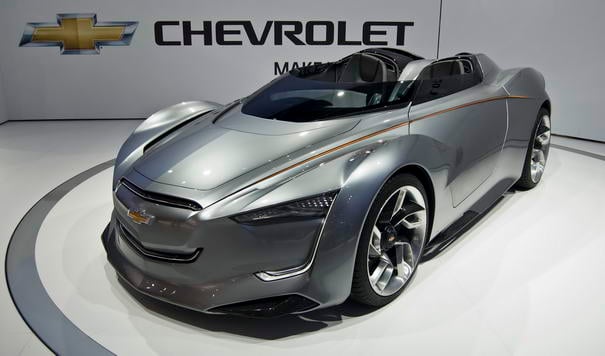 The Mi-Ray, which means "future" in Korean debuted in Seoul in 2011. The hybrid sports car was developed in the GM Advanced Design Studio in Korea and had two front-mounted 15-kW electric motors that are powered by a 1.6-kWh lithium-ion battery.
06 – Lamborghini Gallardo WWII Bomber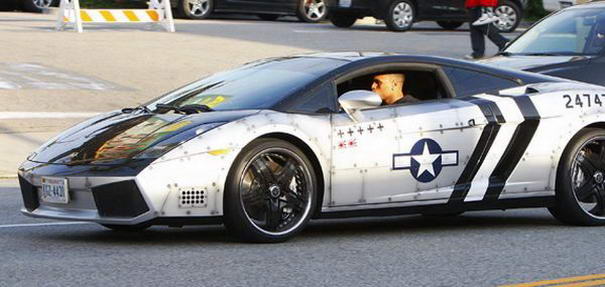 This car design by Sean Burnley, the Georgia Customizer. Italian supercar (originally Gallardo) gets a paint spray painted with leather design P-51 Mustang Fighter.
05 – Lamborghini Reventon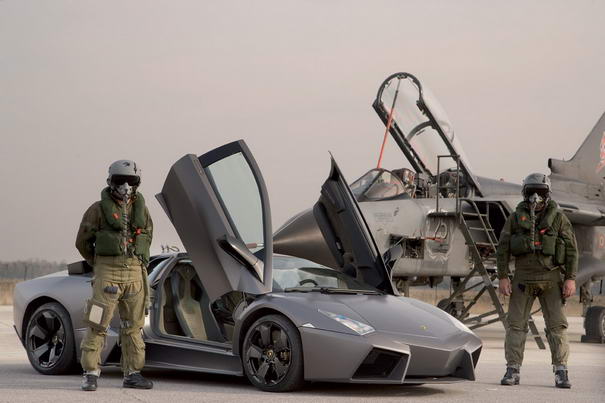 Lamborghini Reventon is a Limited Edition car with production of only 20 cars and one additional car was produced for display purposes at the Lamborghini Museum.The car was launched at 2007 Frankfurt Motor Show.With a price tag of $ 1.5 Million it became the most expensive Lamborghini car at that point of time and also one of the costliest cars in the world.
04 – USAF Challenger Vapor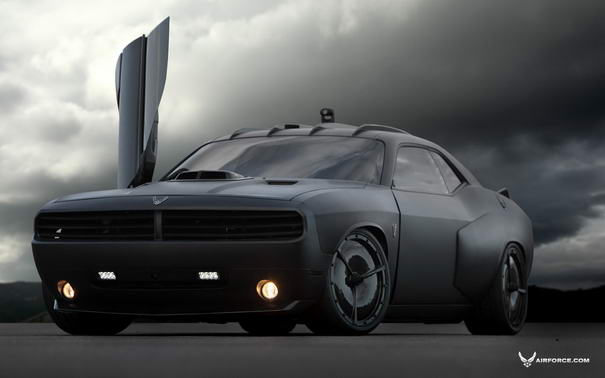 The Dodge Challenger Vapor takes a different approach and features an all black matte finish designed to create a stealth bomber affect. Everything is black except for the headlights and tail lamps. Even the wheels are completely covered.
03 – Ferrari Fx1 RR
The turbines that power fighter jets are one of the main points of design integration into all of these cars, and few have more evident cues than this Ferrari Concept. Aside from looking nothing like a Ferrari, the car draws from the Ferrari 250 Testarossa prototype, and the twin-turbined F-18. Thank Albanian designer Marin Myftiu for this one.
02 – Lamborghini Perdigón
The Perdigón concept takes Lamborghini's stealth jet inspired design language and turns the dial up to 11. The whole concept features sharp angles and polygonal surfaces reminiscent of aircraft like the F117 Nighthawk and F22 Raptor.
01 – USAF Mustang X-1
The USAF hired Galpin Auto Sports to transform a Mustang and a Challenger into two serious supercars in hopes of attracting gearheads to Air Force recruiting events.