Animal Migration is one of the great wonders of the world. It is moving of long distances in search of a new habitat. The reason for the migration may be local climate, availability of food or can be the season of the year. For example, bird migration is the regular seasonal travel undertaken by many breeds of birds. Bird migrations include those made in response to changes in food availability, habitat or weather. Fish generally migrate because of diet or breeding needs, but for some species the reason for migration is still unknown. Insect migration is the seasonal movement, especially those by species of dragonflies, beetles and butterflies. Below is a list of migration photos from National Geographic.
Have you ever wondered about the incredible journeys that animals undertake every year? From the mighty whales swimming across oceans to the tiny birds flitting across continents, animal migration is truly a wonder of nature. Check out 10 Most Impressive Animal Migration Photos from National Geographic from random photographers.
10 – Monarch Butterflies
09 – Pronghorns
08 – Zebras
07 – Snow Geeses
06 – White Pelicans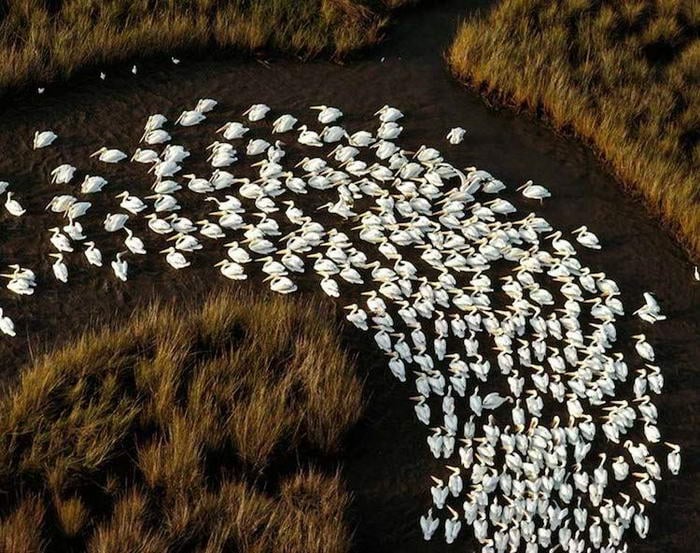 05 – Walruses
04 – Gentoo Penguins
03 – Free-tailed Bats
02 – White Eared Cobs
01 – Wildebeests
All photos © National Geographic
In conclusion, animal migration is truly a remarkable feat of nature, and these 10 impressive photos from National Geographic capture the beauty and drama of these incredible journeys. Whether it's the wildebeest migration in Serengeti or the monarch butterfly migration in Mexico, these photos remind us of the importance of preserving the natural world and the many wonders it contains.