Bicycles are both a great way of transportation and at the same time an exercise tool. Depending on the bicycle's primary aim, a bike can be designed for making speed or it can be designed for burning calories. Either way, bicycles can be in various shapes, sizes, height and look, depending on the creativity and imagination of their designer. In this most 10 list, I have rounded up 10 extraordinary bicycle designs for you.
Here are 10 Most Creative and Unique Concept Bicycles.if you have anything to share along this line, please don't hesitate to give your thoughts.
10 – Circular Bike By Robert Wechsler
Nine salvaged bikes were reassembled into a carousel formation. The bike is modular and can be dismantled, transported and reassembled. It is normally left in public places where it can attract a variety of riders and spectators.
09 – Horsey by Eungi Kim
'Horsey' is an attachable bicycle ornament/accessory which makes one's bicycle look horsey! The 'horsey' package includes wooden ornaments (horsey shape body), metal parts, and screws. The manual is very simple so that anyone can easily arrange it according to one's needs.
08 – Treadmill Bike
Treadmill Bike is an innovative fitness device that promises to revolutionize urban transportation. It is part treadmill, part scooter, which combines two of the most common gym equipments together. This invention lets you run and bike together.
07 – Trailer bike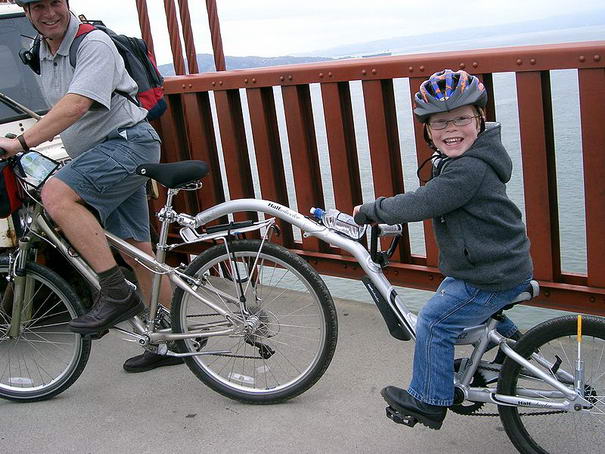 The trailer bike was patented by Canadian entrepreneur Delbert Adams. It is a bike attached to a bicycle at either the seatpost or on a special rear rack by a linkage that allows for pivoting.
06 – Tandem Bicycle
The tandem bicycle is a form of bicycle which is designed to be ridden by more than one person.
05 – Champiot Ultra
The Champiot Ultra is a quad cycle, which couples rowing and cycling and uses arm power instead of leg power to drive the vehicle forward.
04 – Ski Bike
Ktrax has designed the adaptors for both adult bikes and kids bikes, so you should find one to fit your bike.
03 – Skeleton Bicycle
Designed by Eric Tryon, the skeleton bicycle is actually functional. Its arms and head even move when you make turns and the demon horn handlebars coming out of the skull are a nice touch.
02 – ThisWay By Torkel Dohmers
A comfortable pedal powered bicycle with weather protection. Emphasis is on automotive qualities in the design, to attract non-cyclists who currently rely on cars and motorcycles. Another selling point to attract more potential cyclists is weather protection – ThisWay has a roof.
01 – Pi Cycle
Electric bike from San Francisco-based manufacturer Electrobike. Every single detail and aspect of the PiCycle design has been thought and rethought to not just create a stunning design that's attractive, but one that is tuned from every single performance aspect.