If you are looking for inspiration in garden designs, you have come to the right place. For many of us, our gardens are an extension of our living spaces, so when you think of home decor, don't forget about decorating your garden, too! Check out 10 Most Practical Ways To Improve Your Garden With Minimum Effort.
10 – Be creative with lighting
Lighting in any form can improve your garden immeasurably as lights can make your garden useful 24/7.
It is totally up to you what scale you'd like this to happen on and it can be anything from spotlights to tea lights and everything in between!
09 – Minimalism: less is more
We don't over clutter our bedrooms so why would we do it with our gardens? If you keep it simple then your garden will speak for itself and it'll look cleaner and more professional as a result.
08 – Go green
Nothing is more eco-friendly than a garden and you can use yours as the eco-hub of your home.
Start by creating your own compost bin and take it from there. You can even use your garden to grow your own fruit and vegetables if you 'catch the green bug'.
07 – Add a water feature
Water features ooze style and sophistication. Anything from a pond to a waterfall will enhance your garden. If you're out reading then your pond or feature will attract new wildlife and will make it sound like you're at one with nature.
06 – Plant vertically
Remember you can plant vertically as well as horizontally. Use trellising and hanging baskets to cover your walls and fences to create an all round effect.
05 – Add a touch of romance
Private benches with trellising or beds of roses will all add romance to your garden, so why not make it a private area for you and your partner to relax with a bottle of wine?
04 – Be bold not bland
Greenery is great but endless green bushes can be a little bland. Instead, plant bold and vibrant colours as these will make your garden look striking and it will stand out on the street.
03 – Be the host with the most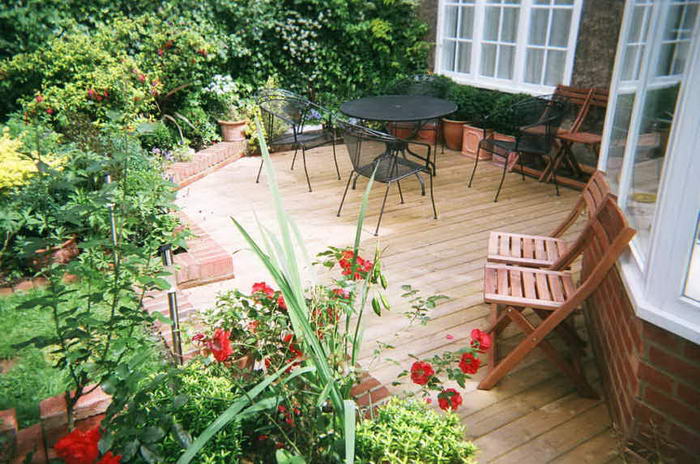 A patio area for barbeques and evenings out will turn you into the host with the most! This will also improve the functionality of your garden and it means that you can use it all year round for parties.
02 – Create an early impression
The exterior of your home provides people with their first impressions of you. Make sure it is clean and tidy and maybe even consider adding a statement gate to wow your guests.
01 – Spend time manicuring your lawn
Uncut lawns look shabby and undo all of your hard work! Don't make changes that you can't keep up with and never over-commit as any form of gardening is time consuming.