Football is still the world's best loved sport with billions of fans around the planet. The mixture of drama, goals, controversy and skill is just so appealing to watch after all. The attraction of football also rests on a number of huge, elite level clubs who make the game what it is. Of these, FC Barcelona in Spain's La Liga stand proud. Next to other top clubs like Manchester United, Paris St Germain and Bayern Munich, FC Barcelona have built up an impressive legacy over the years.
Much of this has been down to the array of world-class players who have turned out for them. But who are the ten most legendary FC Barcelona players ever?
10 – Rivaldo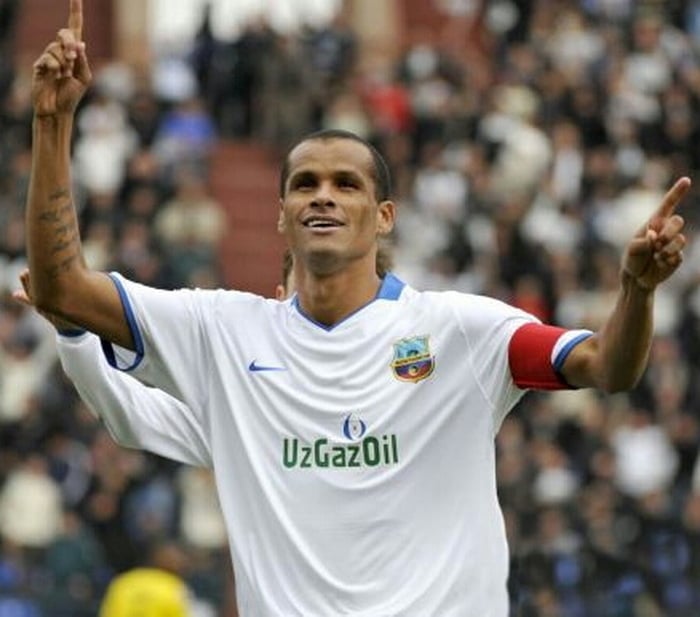 We stat our countdown with a masterful Brazilian midfield maestro – Rivaldo. Barca signed him from fellow La Liga side Deportivo La Coruna in 1997 for around 20 million Euros. Although seen as an expensive gamble at the time, this supremely talented player left a historic legacy at the club during his time there. In his 6 years at the Nou Camp, Rivaldo scored 130 goals and assisted with many more. He also won both the Ballon d'Or and FIFA Player of the year for guiding Barca to the title in 1999.
Many of the goals he scored were truly amazing and showed just how skilled he was. Who can forget the bicycle kick from outside the box against Valencia in 2001 for example?! When you take into account his dribbling, accurate passing and quick football brain, he is certainly someone Barca fans remember.
09 – Pep Guardiola
People may now know him as one of the best and most tactically astute coaches around – but Pep was also a pretty decent player in his prime. A tough-tackling and no-nonsense defensive midfielder, Guardiola also had a decent range of passing in his locker too. Combined with a fierce will to win, this made him a key player for Barca in the early/mid 1990's.
He was the backbone which coach at the time Johann Cruyff built the side around. This saw Barcelona win 4 straight titles from 1991 to 1994 with Guardiola pulling the strings. This run also saw Barca nab the double in 1992, when Pep was only 20. Of course, his legendary status has only being helped by his stint in the dugout at Barca but his exploits as a player there should also be recognised.
08 – Cesar
While the recent dominance of the Catalan giants might mean this list is full of modern names, you cannot totally forget anyone from further back. Cesar is definitely a name which lives on in the clubs history and which fans still pay homage to.
Cesar played for Barca from 1939 to 1955 and was a world-class striker. In just 351 games, he netted 235 goals – making him Barca's leading all-time goalscorer. As this suggests, Cesar had a true instinct for scoring goals and a powerful shot. Combined with bravery and good ability in the air, he will always be remembered fondly by fans of the Blaugranes.
07 – Carlos Puyol
Just as Real Madrid have Sergio Ramos as an ever-present figure to rely on, Barca had Carlos Puyol until fairly recently. Puyol actually hung his boots up in 2014 but enjoyed a very successful spell with the club before then. His leadership, will to win and energy were truly legendary for any supporter who saw him play. These qualities also seemed to inspire his teammates and push them onto even greater feats.
A tough-tackling centre-back, Puyol marshalled one of the best defensive units in world football in his prime. This tight defensive unit is essentially what allowed people like Iniesta and Xavi to play so freely. With 4 La Liga titles and 2 European Cups to his name, you can see just what a good team Barca were with Puyol there. The fans also seemed to love him too – not only for his no-nonsense approach and passion but also for the fact he stayed with Barcelona for his whole career.
06 – Samuel Eto'o
Although he only stayed for 5 seasons (which is not long compared to some names on our list), Eto'o had a massive impact in that time. The stats back this up and show why fans still talk about him to this day. In the 5 years he graced the club, Eto'o scored over 100 goals, won 3 league titles, 2 Champions League trophies and 2 African Footballer of the Year awards. Indeed, many fans of Barca still wonder why the club were so keen to let him go after all this success!
But what made Eto'o so special? It was really down to his lethal finishing, good movement and ability to score goals in big games. You just knew that, if he got a a good chance, he would bury it! This type of goalscoring prowess made him a real favorite not only with the supporters but with his fellow players too.
05 – Ronaldinho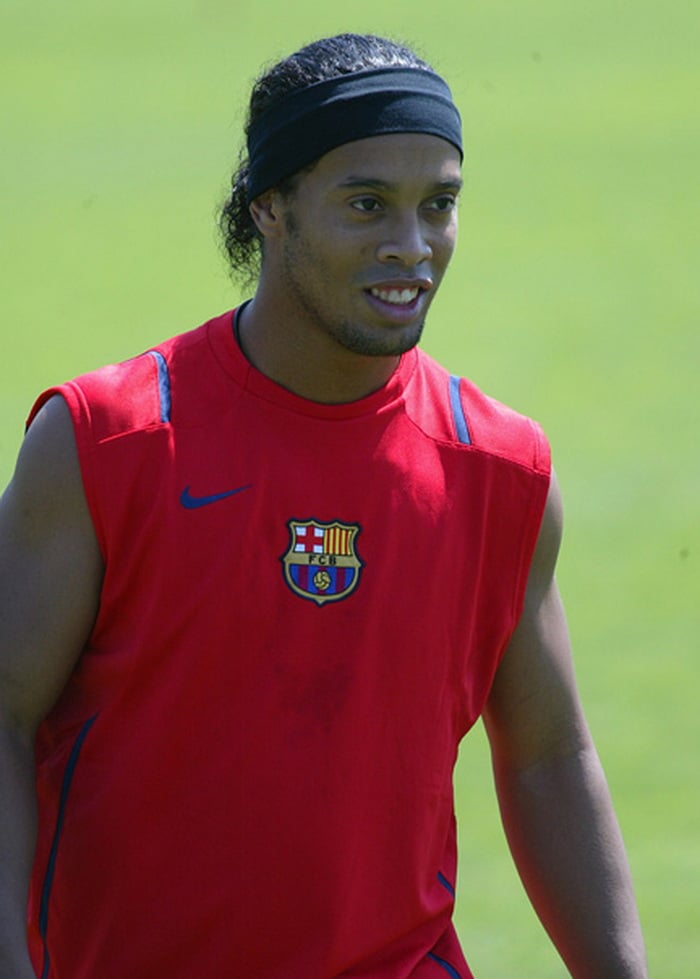 You know that you are talking about a top side when Brazilian playmaker Ronaldinho only scrapes in at number 5! This is no reflection on his outstanding abilities though and simply reflects the awesome quality players Barca have signed over the years. There was something so free and liberating about watching this guy play that it was almost a religious experience.
He played with so much joy and happiness that you could not fail to get excited when he was on the ball. Full of tricks and flicks, his close control and dribbling enabled him to go past opponents with ease. With great vision and powerful finishing also in his arsenal, he was truly world-class when at Barcelona. 95 goals and 80 assists in 5 seasons are testament to this – as are his 2 La Liga and European Cup titles.
04 – Andreas Iniesta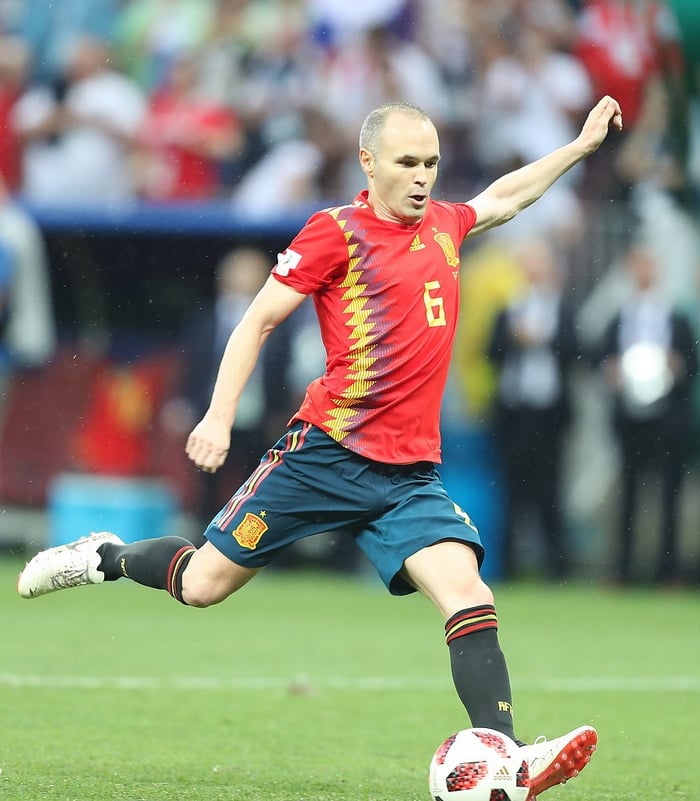 From 2002 to 2018, this was a player who lit up the Nou Camp with his key goals, passing, movement, interplay and assists. Iniesta is undoubtedly an iconic figure for Barca fans and one who will be fondly remembered as a legend forever. He was so good that top pro's like Wayne Rooney labelled him as the best player in the world at various times.
Although he has now left Barca, the impact he had will not be forgotten. So revolutionary was his style of play, that he almost redefined what a wide midfielder did. Not an out and out winger, Iniesta instead loved to cut inside and use his reading of the game to unlock defences. A key member of the treble winning Barca sides of 2009 and 2015, he also has many La Liga and personal accolades to his name. Although only 5 feet 7 inches, the close control and agility Iniesta showed made his size a non-issue.
03 – Xavi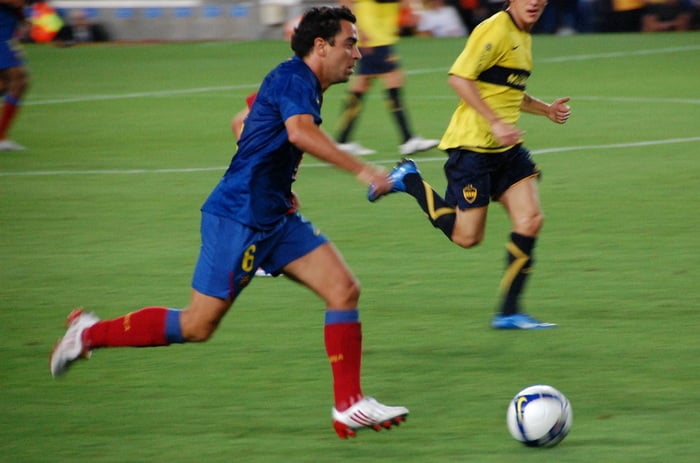 One of the reasons Barca have risen to dominance and popularity in world football is their famed tiki-taka style of play. This basically involves short passes, constant movement and possession football. The man who was king of this style and made Barca so good at it was Xavi. One of the greatest central midfield players ever, Xavi kept Barca ticking over with his accurate passing and vision. He is also close to Barca fans hearts as they see him as one of their own. This is due to him joining the team as a youth player in 1991 and sticking with them for his whole playing career.
After starring at youth and B team level, Xavi made it into the first team in 1998 and never looked back! 8 league titles and 4 Champions League trophies show just how successful the team were with him in the lineup. Although not the flashiest or quickest player, Xavi's composure and decision making allied with his vision is what made him a true legend when playing at Barca.
02 – Johan Cruyff
The simple truth is that Cruyff was one of the most iconic players to have ever graced the game, never mind just for Barcelona. When it comes to true legends then, he deserves to be high up on our list. His time at the club certainly endeared him to fans and his subsequent spell as coach also helped. Many fans believe that Cruyff was the player who started the Barca legend and paved the way for future success. When you look at what he brough to the side, it is hard to argue.
A flying winger, Cruyff was quick, direct, full of creativity and great at beating his man. With goals in his locker also, he was a player who had many fabulous games at the Nou Camp. Indeed, Cruyff was so good that he even invented a turn in football that was named after him! 48 goals in 143 appearances also show just how talented he was. Perhaps the real reason for Cruyff's legendary status among Barca fans though is that he chose them over Real Madrid when moving from Ajax in 1973!
01 – Lionel Messi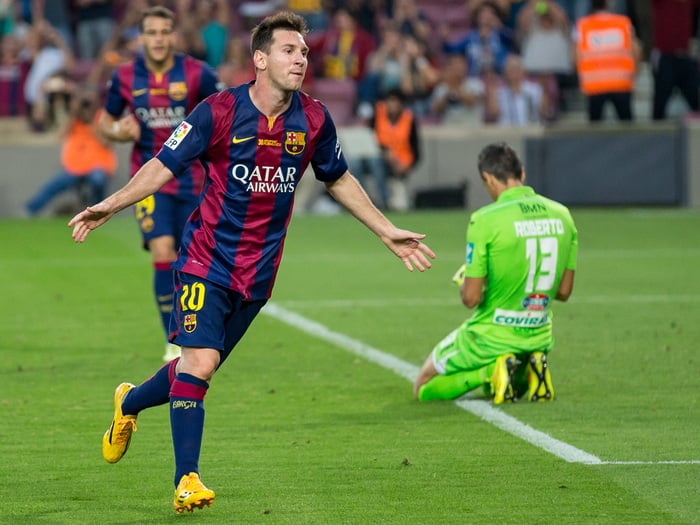 Just like Highlander, there can only be one at the top of our rundown – and it has to be the Argentinian magician Lionel Messi. While other players have all made their mark, none have quite achieved the same legendary status in world football when at Barca as this man. Messi is just a name that everyone knows and that stands alone.
Known for his quick feet, decent speed, accurate passing and fierce shot, this is a player with it all. Able to ghost past opponents with ease, his balance and dribbling ability is also second to none. Widely regarded as the best player around in the modern game, he has won just about everything going whilst at the Nou Camp. This ranges from Ballon d'Or's to numerous league titles, many Copa del Rey trophies and multiple Champions League trophies. With 467 goals in 511 games to date, he is already a Barca legend – before he has even hung his boots up.
As the above shows, FC Barcelona have (and in Messi's case still have) seen some awesome players pull on the famous shirt over time. Whether it is tough tackling defenders, creative midfield players or goalscorers, they have fielded some of the best players n world football at various points in their history.