Most of the world's armies have specialised, elite special forces troops contained within them. These special forces are the best of the best made up of the top soldiers around and trained for maximum impact. In the public's mind, these groups are fascinating with their closely guarded secrecy and almost superhuman like powers.
Whether coming out of the sea to ambush an enemy base or storming a building to rescue hostages, these are the guys you want to see when you're in trouble. We round up the ten most secretive and elite there are around today:
10 – GIGN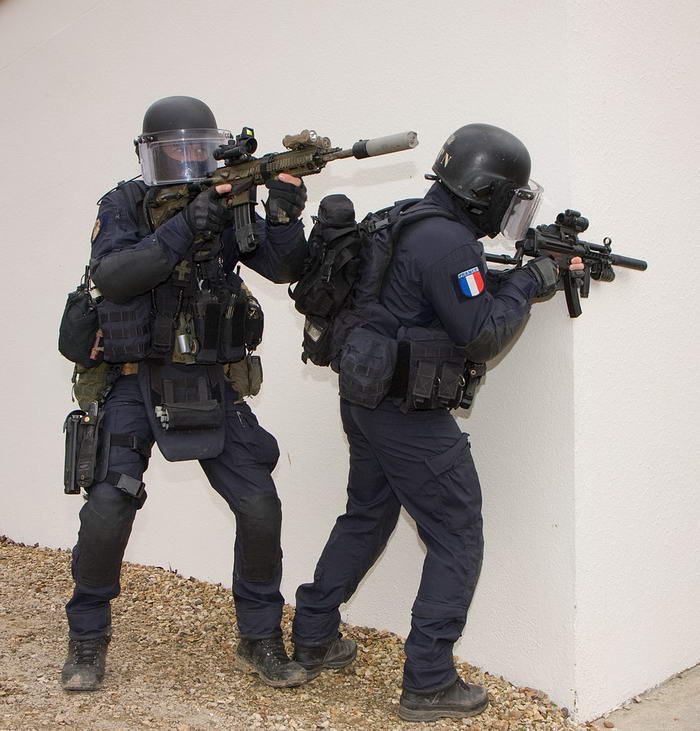 The French National Gendarmerie Intervention Group is one of the top special forces units deployed for action currently. Formed after the famous Munich Olympic incident in 1972 where athletes were taken hostage and killed, they number around 400 members. Trained to specialise in anti-terror and hostage situations, they are fully able to deal with any problems and have the weapons to do it. A very active unit, they have seen many operations including rescuing school children in Djibouti and hunting down war criminals in Bosnia.
09 – Eko-Cobra
In a similar way to the GIGN above, Eko-Cobra was also set up after the massacre at the 1972 Munich Olympics. These special forces belong to Austria and is made up of roughly 450 soldiers who have previously served in the Austrian army or Federal Police force. Training consists of passing physical and psychological testing as with many of the elite special forces units. Subjects such as marksmanship, languages and hand to hand combat are taught in general training before successful soldiers move onto more specialised training. Their most publicised mission was the successful stopping of a hijack while the plane was still in mid-air in 1996!
08 – JTF2
Created in 1993, the Canadian Joint Task Force 2 is one of the newest special forces troop out there. Expanded after the 9/11 Terror attacks in America, they now have several hundred serving members. Specialising in counter-terrorism and special operations, their duties have ranged from VIP protection to serving time in many of the world's toughest regions. One of the more secretive units on our list, even the Canadian Prime Minister didn't know they had been deployed to Afghanistan in the early days of the military operation there!
07 – UOE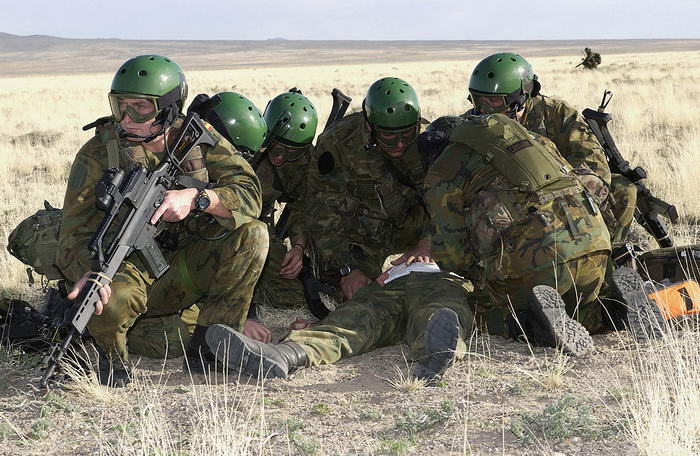 Spain's Unidad de Operaciones Especiales is one of the most respected special forces in Europe. Formed in 1952, it is one of the hardest units to get into with a fall out rate of around 80% for most applicants. Indeed, it is not unheard for 100% of candidates to be rejected if they're not felt good enough! Those that do gain the famous green beret of the UOE are some of the best trained and toughest soldiers out there.
06 – SSG
Pakistan's Special Services Group was modelled on the British and US special forces units such as the SAS and Delta Force. Famous for the black headgear they wear which has given them the nickname of 'The Storks', they train extensively in hand to hand combat and for all terrains. Only 1 in 4 candidates make it through training and this high standard ensures only the best gain entry. It is alleged that members of the SSG fought alongside the Mujahedeen against Soviet forces in the 1980's.
05 – Delta Force
Set up in 1977, the American Delta Force is designed to cover raids, hostage rescue, less direct covert missions and anti-terrorism situations. Composed of soldiers from the top divisions of the regular US Army such as the Rangers, you must be male and over 21 to join. Applicants undergo an intensive series of selection tests before being allowed to even start proper training for the force. Many are weeded out at this stage with only 1 in 10 going into training proper. Not many details of their past missions are known as they are kept well-guarded but you can bet if the US Army is there, then they are!
04 – Alpha Group
Hailing from Russia, these guys are one of the toughest and meanest special forces out there. Many people have heard of the Spetsnaz which is the general term for Russian special forces but the Alpha group is the cream of the crop within that. Formed in the mid-1970's, they were prominent in the Russian invasion of Afghanistan when storming the Presidential palace in Kabul and killing everyone inside. One of their most infamous moments was after four soviet diplomats had been taken hostage and killed in Beirut during 1985. In revenge, the Alpha group hunted down the hostage takers and sent them back to their families in very small pieces as a warning to any would be terrorists. What they lack in finesse they make up for in pure brutality!
03 – Sayeret Matkal
An elite unit in every sense of the word, the Sayeret Matkal is the Israeli armies special force. Not to be confused with Mossad who are the Israeli secret service, these guys undergo 18 months of gruelling physical and mental training to join. Focused on surveillance, anti-terrorism and hostage rescue outside of Israel, they are one of the best in the world at what they do. Since forming in the 1960's, their most famous operation was the raid at Entebbe airport. Pro-Palestinian hijackers had taken over a plane full of Israeli citizens and landed at Entebbe airport in Uganda where they thought they'd be safe. Unbeknown to them, the Israeli army and troops from Sayeret Matkal flew over to Uganda and effected a successful hostage rescue, killing all the terrorist involved.
02 – Navy SEALs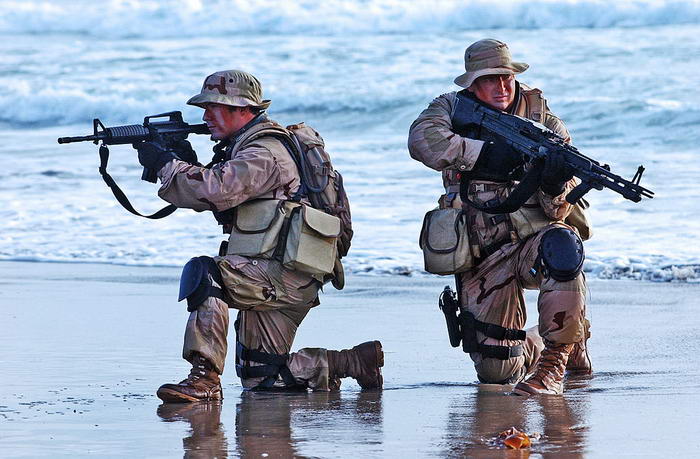 You just couldn't have a list of the world's top special forces without these guys in it! Sort of like a naval version of the Delta Force, the demands to get into the SEALs are even higher. Initial training takes over a year and involves timed swims, timed runs and lots of push-ups! If you get through that, then you go into general training which allows you to move into SEAL qualification training subsequently. After this, the final part of training is the specialised section where you concentrate on or two things to become expert at. Most famous for the 2011 operation that killed Osama Bin Laden, they are some of the most highly trained and toughest solders in the world.
01 – SAS
Created in 1941, the top of the tree when it comes to special forces is still the British SAS. They have all the best characteristics of the others, like physical toughness and mental agility, rolled into one bad guy busting package. Indeed, many of the other special forces in the world were set up as a copy of the SAS in terms of training and organisation such is their standing. Most famous for the Iranian Embassy hostage rescue in the 1980's, the image of balaclava masked SAS troops abseiling into the building and taking out the baddies is one that a lot of people remember to this day.
The Special Forces units throughout the world will always hold a place in our hearts due to their ability to protect us and wipe out any nasty people who want to cause trouble. With their mix of superhuman physical strength, high ranking mental reasoning and firepower, they are well placed to do just that for years to come.