School is out for the summer and a vacation awaits your arrival! Do you know where you are heading? It's time to get your bags packed and start making awesome memories. From kid-friendly to adults only, look at the Top 10 Most Popular Summer Vacations that has a little something for everyone!
10 – Euro Disney Resort, Paris
We all need a little magic in our lives, and who does the spirit of magic better than Disney? You can stay in one of seven themed hotels, explore the fantastic Disney Village, enjoy breakfast with Mickey, or relax in one of the tranquil spas. Both adults and children alike will experience new thrills with every heart-pounding ride. A magical adventure is waiting right around the corner!
09 – Atlantis Paradise Island, Bahamas
Sun, sand, and fun are all you will find here! It won't be hard to fall in love with island living. You can visit incredible marine habitats, explore a new cuisine, and swim all day at their 140-acre water park. Top the night off with delicious foods from inviting restaurants. It is perfect for a newlywed honeymoon or a family bonding experience!
08 – Steamboat Springs, Colorado
Do you have a hankering for the old west? If you do, Steamboat Springs is the perfect place to get in touch with that inner cowboy – or girl! Old-fashioned cookouts, horseback riding, and barn dances are just some of many wild west activities on the agenda. You can also spend time outdoors by rock climbing, white-water rafting, and fishing. These are a handful of popular activities after visiting the amusement parks. Get completely back to nature!
07 – Little Palm Island, Florida Keys
Famous for no phone and no TV! Spend the day relaxing on the beach, or the more adventurous can try spear fishing, skydiving, or kite boarding. Either way, you and your family will get a break from technology for good, quality time together. Have you ever swum with a dolphin before? Lovers of marine animals can visit the Dolphin Research Center and learn about these remarkable mammals as you float alongside them! Both educational and exciting.
06 – Arctic Cruise Lines
How far North have you been? Well, you can brag to your friends about finding a unique way to keep cool as you head to the Arctic this summer. Don't worry, the chill won't put a damper on your vacation. Can you imagine a floating resort cruising past icebergs and polar bears? Not only does the Arctic Cruise Lines give you this experience but it can also entertain you with numerous onboard activities.
05 – National Park Lodges, Grand Canyon, Arizona
Another option to visit the wild west, this must on everyone who loves the cowboy era's bucket list! Get around by rafting, riding a mule, or travel back in time on the horse-pulled stagecoach. You can also buy local Native American crafts to bring back for an interesting souvenir and take your very first bite of a grilled rattlesnake!
04 – Sandals Halcyon Beach, St. Lucia
Sandals is truly a romantic paradise for couples wanting to experience Caribbean luxury! Experience intimacy lying side-by-side on pristine beaches, private dining catered by a personal chef, or shut out the world from your private pool suite complete with butler. Leave the room or not – the choice is up to you! However, you may want to step outside and enjoy other amazing things Sandals has to offer – Catamaran sailing, water sports, scuba diving, golf, land sports, exotic night entertainment and more!
03 – Kaua'i, Hawaii
Are you looking to spend your vacation in another world from which you know? Stunning is the only word to describe this island hot spot. Hawaii has fabulous beaches and fun themed activities abound in nature at its best. You should make sure you experience the views on Kalalau Trail and try your hand at surfing the world-famous waves. Also, you can go to native-themed parties, enjoy delicious barbecue, and explore and island ready to welcome you to all the festivities it has to offer!
02 – Beaches Resort, Turks and Caicos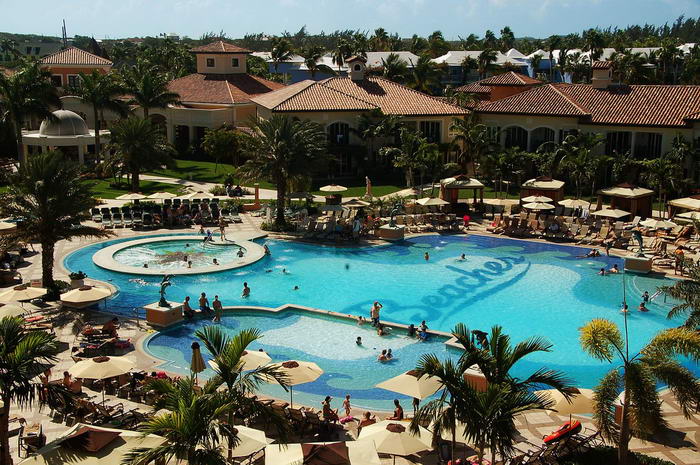 Ready to get the family out for an adventure they never had before? This is an exciting vacation for kids of all ages – the immense water park is a huge draw. White sand beaches lead to turquoise waters perfect for sports. Parents can learn to scuba dive while the kids enjoy the disco, Xbox play lounge; or, meet up with some of their favorite characters from Sesame Street! There is also a supervised "kids camp" that is tailored for fun, age-appropriate activities. You can enjoy the land sports while the kids are preoccupied!
01 – Cancun, Mexico
This trendy spot is a popular vacation destination for college students but also does has plenty of appeal for families; making it one of the top destinations in the world for vacations. Who doesn't love tacos and tequila? Exciting nightlife, ocean swimming, and beach fun are all available at your desire. You will never want to go back to the "real" world! Visitors can also go see an underwater museum, explore ruins and a cave, snorkel, bird watch, see an archaeological park and site, and even climb a pyramid! Plus, it is a cheaper option when compared to some of the other vacation resorts listed.