Derbies are the most important matches because they mean much more than just 3 points. They mean prestige. Rivals are usually based on location, but also they could be based on their success in the league over a long period, religious or controversial factors. Check out 10 Most Important Derbies In World Football.
10 – Partizan Belgrade vs. Red Star Belgrade (Belgrade Derby)
The biggest match in Serbia takes place in the capital of Serbia. The derby's most infamous day came in 1999 when a 17 year old boy was killed when he was hit by a flare let off in the opposition stand. Anyways Red Star have been more successful with numbers, as they are the only Serbian team to win a European trophy.
09 – Celtic vs. Rangers (Old Firm Derby)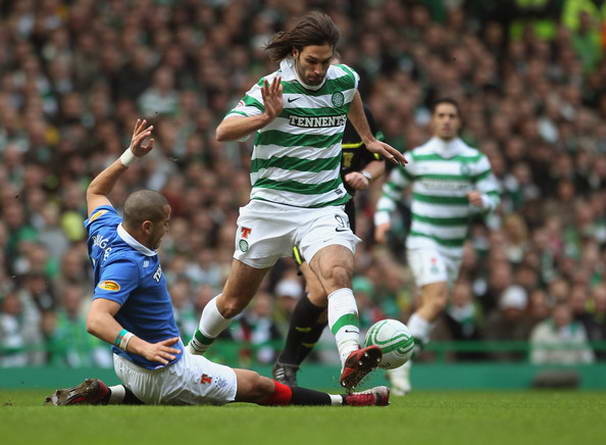 This is one of the oldest derbies in the world. They have played each other nearly 300 times. These two team is in the same location but their fans have different religious beliefs. Celtic fans are Catholics and Rangers are Protestants. This difference increases competition.
08 – Flamengo vs. Fluminese (The Fla-Flu)
Flamengo is the most successful team in Rio State Championship by one championship. Flamengo has won it 32 times while Fluminense has won 30. However, at the national level, the difference is larger. The derby was the scene of one of the highest recorded football crowds in history at 177000, but some people say it was 200000.
07 – Olympiakos Piraeus vs. Panathinaikos (Eternal Enemies)
Famous greek derby. They are two the most successful football clubs in Greece. Rivalry began due to class differences. Olympiakos fans are more from the working class district and Panathinaikos fans are from the richer district. Olympiakos have won more, especially in the past.
06 – AC Milan vs. Inter Milan (Derby Della Madonnina)
Most important italian derby. This derby is one of the most watched derbies in the world and both teams share the same stadium San Siro. The two sides do have ultras but they concentrate their hostility on Juventus.
05 – AS Roma vs. Lazio Roma (Derby Della Capitale)
These two teams both located in capital of Italy ,Rome. Also they share the same stadium Stadio Olimpico. The fans are divided socioeconomically. Roma's fans being more working class and Lazio fans from the wealthier portion of the city. This derby saw the first death in Italian football when a Lazio fan was struck in the eye in 1979 by a Roma fired flare.
04 – Liverpool vs. Manchester United (North West derby)
The fixture between Liverpool and Manchester United is one of the most significant sporting rivalries in football, sometimes referred to as the North West derby. Both clubs hail from the North West of England. Liverpool dominated from the 70's through to the 80's but Manchester United have dominated from the 90's to the current time.
03 – Barcelona vs. Real Madrid (El Clasico)
They aren't just the two biggest clubs in Spain,also they are two biggest football clubs in the world. That's why this derby is so important. Greatest players in football history played in this clubs. The fans are divided with political positions. Real Madrid is Spanish and Barcelona is Catalan. These matches are always entertaining and most watched in the world.
02 – Fenerbahce vs. Galatasary (Istanbul Derby)
Two most successful football clubs in Turkey. They have played each other more than 365 times. Many matches provide many intense clashes and both sets of fans are extremely passionate. There has been many fights during matches because of how important they are. According to numbers, Fenerbahce is more successful then Galatasaray especially in their stadium Sukru Saracoglu.
01 – Boca Juniors vs. River Plate (Superclasico)
Two most successful teams in Argentina. . This rivalry is well known all across the world and arguably the biggest rivalry outside of Europe. With numbers, Boca Juniors have edged this fixture in history, winning 117 times compared to River Plate winning 99 times. The most famous incident at this derby was the Puerta 12 tragedy in 1968. 71 fans were killed and 150 fans injured in a huge crush at one of the gates. No one was ever found guilty in history.