Nothing in boxing can quite match the unpredictability and danger of the pre-fight press conference. Whether it's the weeks of intense training, verbal sparring or just for fun the fighters involved seem to love causing chaos at these events. Indeed, there can be more action and fisticuffs at the pre-fight meet up then at the actual bout later!
There have been many infamous examples over the years involving all the usual suspects like Mike Tyson and Muhammed Ali. Fans just loving going to these things as the never know exactly what will happen. Here's the ten most off the hook of all time:
10 – Danny Williams v Audley Harrison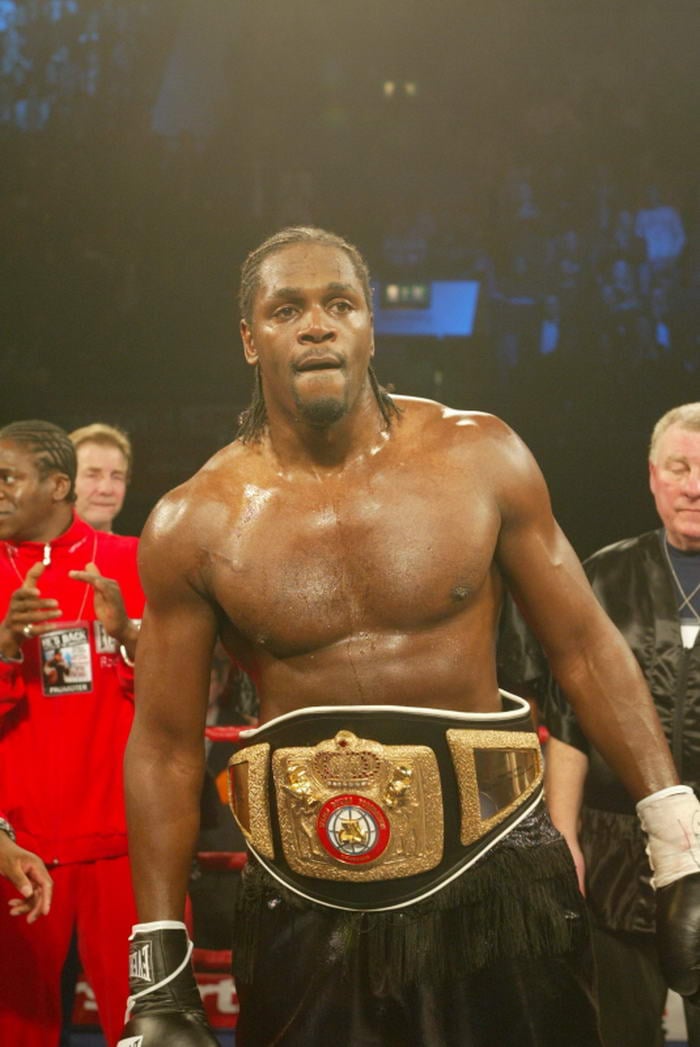 Proving that boxing in the UK can provide plenty of excitement, our first entry is this blow out between British fighters, Audley Harrison and Danny 'Sweet D' Williams. Having lost to a rank outside in his last fight, Williams had endured Harrison taunting him about it mercilessly in the build up to the fight. He finally snapped at the press conference and went to headbutt Harrison when face to face. Cue punches thrown by both men and both entourages becoming involved.
09 – Joe Frazier v Muhammed Ali
This was not so much at a press conference but went down after both men appeared on a TV show to discuss highlights of their first fight. I'm sure it seemed a good idea to the TV producers at the time but what they didn't count on was that both fighters genuinely hated each other. After a heated argument broke out between the two, Frazier stood up to confront Ali with only one thing on his mind. Cue Ali grabbing Frazier and absolute carnage following while both fighters rolled on the floor. The funniest moment of the whole thing is when Ali's bodyguard tries to step in at the start to keep Frazier away from his boss and Joe offers him out too!
08 – David Haye v Dereck Chisora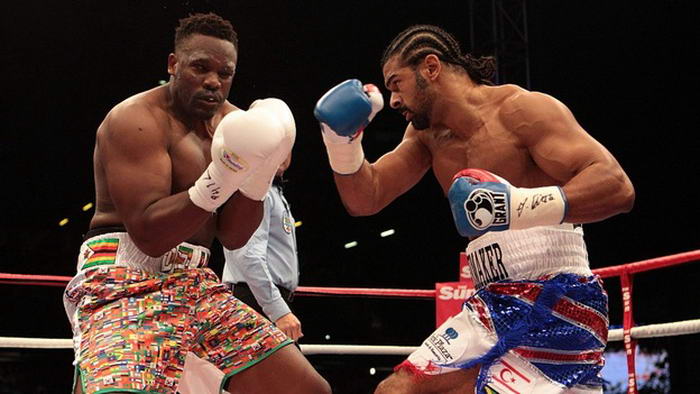 What a classic confrontation this was! Although it happened at a press conference, it wasn't one for a fight involving them. Chisora had just fought Vitali Kiltschko and was conducting the post-fight interviews for that. For reasons best known to himself, Haye arrived in the audience and caused major hassle by shouting his mouth off at Chisora and demanding a fight against Klitschko himself. Running out of patience Chisora went into the audience to sort Haye out and a fight broke out with both exchanging punches. This then escalated into a near riot as both entourages jumped in to help their man.
07 – Fernando Vargas v Ricardo Mayorga
Taking place in 2007, before their scheduled fight, this came about mainly due to Mayorga's insatiable thirst for trash talking. Vargas had gone on record before the press conference as saying he would not tolerate any such behaviour there so only one thing was ever going to happen! Mayorga started mouthing off in his speech to the press which led Vargas to respond and a heated argument to ensue. Crazily, Mayorga then gave Vargas a massive back handed slap and all hell broke loose.
06 – Bernard Hopkins v Felix Trinidad
How do you upset a Puerto Rican quickly? If you're not sure, then ask Bernard Hopkins because he managed to enrage a whole nation with his antic before his fight with Felix Trinidad. Hailing from Puerto Rico, Trinidad was very proud of his roots. Hopkins, feeling aggrieved that the American national anthem had been booed at a previous Trinidad fight by Puerto Rican fans, decided to use that to get his own personal revenge. This culminated at the Roberto Clemente stadium where B-Hop threw the Puerto Rican flag on the ground. Cue numerous bottles and objects being thrown in his direction and a quick exit while Trinidad and his fans tried to catch up with him.
05 – Marco Antonio Barrera v Erik Morales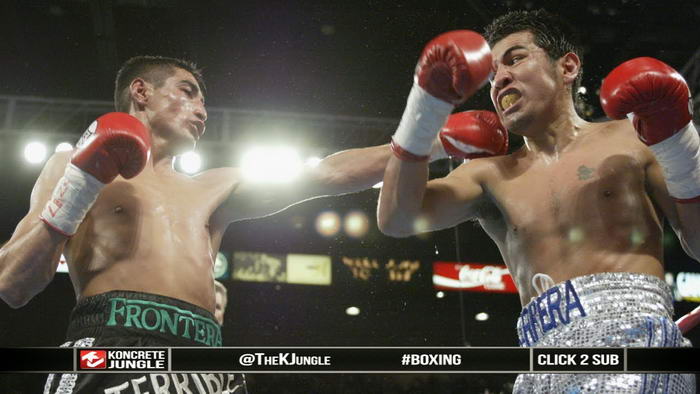 2002 would be somewhat of a vintage year for pre-fight dust-ups and this was another one. Having already fought, tensions between the two fighters was high due to a very close decision in that initial bout. A lot of trash talking was done in the lead up to the second fight and it all culminated in a brutal exchange when they came face to face. Started by Barrera, who caught Morales with a sly hook out of the blue when facing off, Morale replied with a flurry off his own.
04 – Larry Donald v Riddick Bowe
Along with Mike Tyson and Mitch 'Blood' Green, Riddick 'Big Daddy' Bowe is one of the craziest boxers of recent times. Once a promising fighter with big expectations on his shoulders, he seemed destined for greatness. In Larry Donald though, he was up against a quality opponent with a 16-0 record. Tensions between the two bubbled over at the press conference though and Bowe landed a solid left hook-right cross combination on Donald to kick off a huge melee.
03 – Mike Tyson v Mitch 'Blood' Green
Before we go on, I know I have cheated a bit with this one. It's not actually a press conference brawl but is so good it had to go in. The two fighters had met in the ring previously though with Tyson gaining the points decision to win. Green, apparently still upset at what he considered an unfair decision and claiming to be owed money from the fight still, confronted Tyson two years later at a clothes shop in Harlem. After a fierce row broke out, both men squared up with Tyson unleashing a straight right that split open Green's nose and completely shut his left eye!
02 – Trevor Berbick v Larry Holmes
This is an absolute classic and runs the Tyson v Lewis one close in terms of pure craziness. The background to it was that Larry Holmes had been less than complimentary about Berbick's wife in the weeks leading up to their fight. Berbick, incensed by this and wanting to defend his wife's honour, showed up at a Holmes press conference and berated him from the audience. Much shouting and pushing followed before everyone made a quick exit. The best part of this story is the end though – Larry Holmes, not wanting to let it go, ran outside after Berbick and dropkicked him off the roof of a car, like a pro-wrestler.
01 – Mike Tyson v Lennox Lewis
Occurring before their much-anticipated fight in 2002, this is the absolute mother of all press conference bust ups! It is important to note that by this point Tyson was at the end of his career and had been through many troubles such as stints in prison and biting Evander Holyfield's ear off in the ring. As a result, he probably wasn't in the best frame of mind coming into this.
The boxing authorities, knowing this, did what seemed a sensible thing and kept them at each end of the room on separate podiums, far apart. After all, if they weren't next to each other, surely nothing could go wrong? Unfortunately this was so far from the truth, it's living in a different country!
Tyson, apparently upset that Lewis had made him wait before coming on stage, stormed over to the opposite side of the room with aggressive intent. Seeing this, Lewis and his bodyguards got ready for trouble and tried to stop Iron Mike once he got too close to Lewis. What ensued was a massive on stage brawl, Lennox Lewis getting his leg bitten and a now notorious post-riot speech from Tyson to the assembled press watching.
As you can see, while there have been some amazing fights through boxings rich history, sometimes the best action happens out of the ring. I guess whenever you have testosterone fuelled men whose sole purpose is to fight, then you will always get tempers flaring as in these cases. One thing's for sure, boxing fans will be hoping it continues for years to come yet!