Broccoli is one of the most healthiest vegetable you can find around. Broccoli is high in vitamin C, as well as dietary fiber; it also contains multiple nutrients with potent anti-cancer properties, such as diindolylmethane and small amounts of selenium. But it tastes bad as much as it looks ugly. But if you know how to use it, you can cook delicious meals with broccoli. Check out "10 Most Delicious Broccoli Recipes" for healthier life.
10 – Cream of Broccoli Soup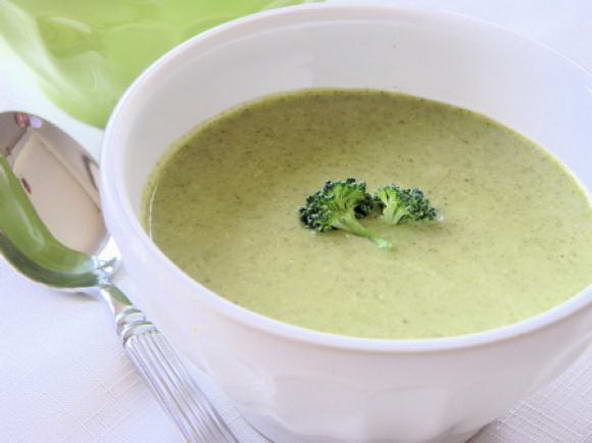 Ingredients:
2 tablespoons butter,1 onion , chopped,1 garlic clove , chopped,1 stalk celery , chopped,2 (14 1/2 ounce) cans chicken broth,4 cups broccoli,3 tablespoons butter,3 tablespoons flour,2 cups milk (or 1 1/2 cups milk and 1/2 cup evaporated milk),Pepper,1/2 cup Velveeta cheese (or more).
Directions:
Melt 2 tablespoons butter in medium sized stock pot, and sauté onion, garlic and celery until tender.
Add broccoli and broth; cover and simmer for 10 minutes.
Purée soup (I use a hand blender) or mash with potato masher.
Return to heat.
In small saucepan, over medium heat melt 3 tablespoons butter, stir in flour and add milk.
Stir until thick and bubbly, add to soup.
Add cheese; stir until melted.
Season with pepper and serve.
09 – Broccoli Salad
08 – Pan-Roasted Broccoli
Ingredients:
3 tablespoons water,1/4 teaspoon salt,1/8 teaspoon pepper,2 tablespoons vegetable oil,1 1/4 lbs broccoli ,
Directions:
Stir water, salt, and pepper together in small bowl, til salt dissolves.
In a large skillet, heat oil over medium high then add the broccoli stems in an even layer.
Don't stir for about two minutes until they get light browned.
Add the florets and toss to combine and don't stir for another two minutes, until they just begin to brown.
Add water spice mixture and cover pan with lid, cooking for two minutes.
Uncover and cook until desired doneness.
07 – Broccoli Casserole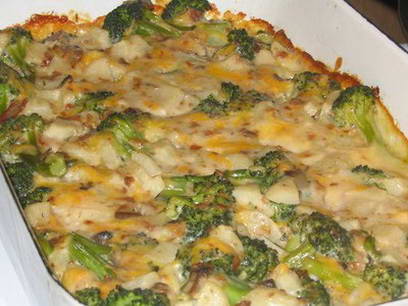 Ingredients:
2 (10 ounce) packages chopped frozen broccoli,1 cup chopped onion,1 (8 ounce) package shredded cheddar cheese,1 cup mayonnaise,1 can mushroom soup,2 eggs
Directions:
In a medium sauce pan, cook broccoli and onion until tender, drain.
In large bowl add remaining ingredients.
Add broccoli and onion.
Mix well.
Put in a 13×9 baking dish.
Bake at 350 for 30-45 minutes .
06 – Fried Broccoli
Ingredients:
1 bunch broccoli , cut into bite sized pieces,1 pinch rosemary,1 -2 tablespoon olive oil,1/2 cup breadcrumbs ,white pepper,salt
Directions:
In a frying pan heat olive oil.
Put in a pinch of rosemary and saute until the scent gets very pungent.
Add broccoli and a couple of dashes of white pepper (2-4).
Saute until the broccoli gets very green but looks crunchy/cooked.
Lastly, toss in bread crumbs a bit at a time while still sauteing.
The crumbs will start to stick into the broccoli.
Once all or most of the crumbs are in the broccoli, saute for 1 or 2 minutes longer to brown.
05 – Broccoli & Cheese Soup
Ingredients:
1/4 cup onion ,1/4 cup margarine or 1/4 cup butter,1/4 cup flour,1 teaspoon salt (or to taste),1/4 teaspoon white pepper ,1 cup chicken broth,2 1/2 cups milk,2 cups chopped broccoli , cooked crisp-tender,1 -2 cup shredded cheddar cheese,1/4 cup chopped celery
Directions:
Saute onion and celery in butter in saucepan over medium heat until tender.
Add flour, and salt and pepper, cooking and stirring until mixture is smooth and bubbly.
Add broth and milk (all at once), stirring constantly until mixture comes to a boil and begins to thicken.
Add cooked broccoli , stirring until all is heated through.
Remove from heat and stir in cheese until melted and smooth.
04 – Broccoli Chicken Dijon
Ingredients:
1/2 cup reduced-sodium chicken broth,1 tablespoon light soy sauce,4 cups broccoli florets,1 garlic clove , minced,1 tablespoon olive oil,1 lb boneless skinless chicken breast,2 tablespoons Dijon mustard
Directions:
Mix chicken broth and soy sauce; set aside.
Cook and stir broccoli and garlic in hot oil in large skillet on medium-high heat until crisp-tender.
Remove from skillet; cover to keep warm.
Add chicken to skillet; cook and stir 3 to 4 minutes or until cooked through.
Add broth mixture; mix well.
Bring to boil.
Reduce heat to medium-low.
Stir in mustard until well blended.
Return broccoli mixture to skillet; mix lightly.
Cook until heated through, stirring occasionally.
03 – Broccoli Parmesan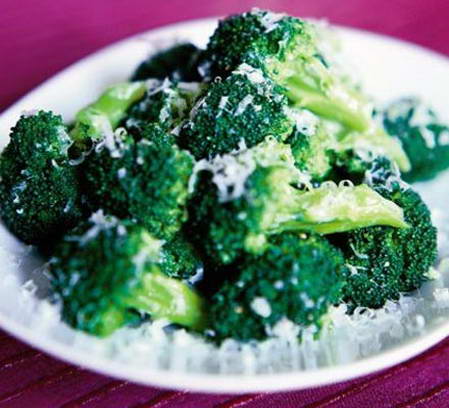 Ingredients:
2 1/2 lbs broccoli , cooked,butter,salt and pepper,3/4 cup parmesan cheese , grated
Directions:
Arrange broccoli on serving plates, season with butter, salt and pepper.
Sprinkle generously with parmesan.
02 – Broccoli Slaw
Ingredients:
1 (12 ounce) package broccoli coleslaw mix,2 bunches green onion tops , chopped,2 (3 ounce) packages chicken-flavored ramen noodles,1 cup slivered almond,1 cup sunflower seed,1 cup oil (I used olive),1/2 cup white vinegar,1/2 cup sugar
Directions:
Mix slaw, chopped onions, noodles only from Ramen noodles (crush them with your hands), almonds and sunflower seeds together in bowl.
Make dressing w/oil, vinegar, sugar, and add the 2 packets of flavoring from the Ramen noodles.
Add dressing to your taste.You can use about half.
01 – Easy Broccoli Soup
Ingredients:
10 ounces frozen chopped broccoli,1 cup water,10 ounces cream of mushroom soup or 10 ounces cream of chicken soup,1 1/4 cups milk,2 tablespoons butter or 2 tablespoons margarine,1/2 teaspoon salt,1/8 teaspoon pepper,1 cup cheddar cheese (optional)
Directions:
Cook broccoli in water until tender.
Do not drain.
Add remaining ingredients except cheese and simmer for 3 or 4 minutes.
Run through blender until you have desired consistency. ( you can set aside a few flowerettes for garnish).
Stir in cheese if using.
For Vegetarian do not use Cream of Chicken.
Source:http://www.food.com/