Get ready to break free from the conventional museum experience! We all love exploring renowned art galleries and historical sites, but why not take a detour and dive into the world of quirky museums? Traveling to offbeat destinations is not only a refreshing change of pace, but it also allows you to discover fascinating and unusual aspects of history and culture. From England to the far corners of the globe, we've compiled a list of 10 must-visit quirky museums that'll pique your curiosity and leave you amused, intrigued, and maybe even slightly bewildered.
10 – The S*x Museum – Amsterdam, Netherlands
Perhaps unsurprisingly, the museum dedicated to nookie is situated in a busy area of Amsterdam, in the Netherlands. Some might say that having a whole museum dedicated to s*x is distasteful, but others could say that being able to look at something so natural is refreshing – despite the fact that it's still a taboo subject. Whatever your view, this is a place where you can enjoy a tasteful, non-p*rnographic exploration of the history of hanky panky.
09 – Cockroach Hall of Fame Museum – Arizona, USA
Prepare to squirm and chuckle at the same time! The Cockroach Hall of Fame Museum in Plano, Texas, is the brainchild of pest control specialist Michael Bohdan. Featuring an impressive collection of roaches dressed up as celebrities, politicians, and historical figures, this bizarre museum is equal parts creepy and hilarious. Snap a photo with the likes of "Liberoachi" or "Roachzilla" and marvel at the strange charm of this offbeat destination. Trust us; it's an experience you won't soon forget.
08 – Museum of Bad Art – Massachusetts, USA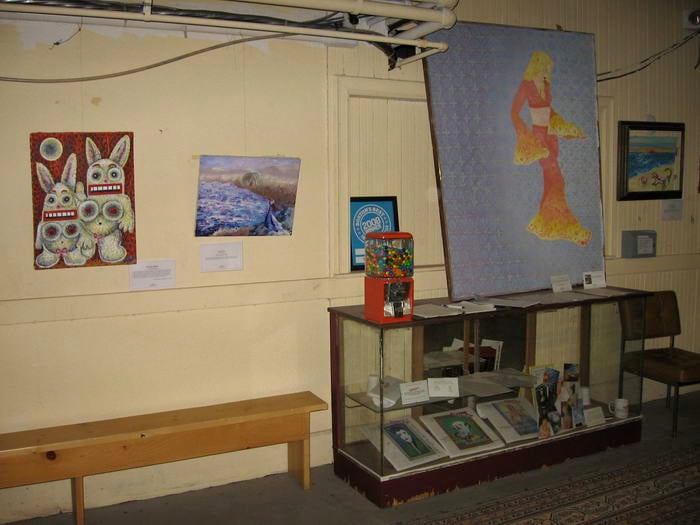 So many museums and galleries around the world are dedicated to the most talented artists' work, so it seems a shame to ignore the less talented art! Luckily, there's a place you can go to view some of the least skilled work that has ever been produced: the Museum of Bad Art in Massachusetts, USA. Even better is that they take submissions! Remember your terrible attempt at watercolour painting all those years ago? There's still hope that it could become part of an exhibition!
07 – C*ndom museum – Nonthaburi, Thailand
We've had a museum about s*x, but Nonthaburi in Thailand has taken it one step further by opening a museum dedicated to c*ndoms. They're the world's biggest c*ndom producers,and the aim of this museum is to give these forms of contraception a more positive image. With a room dedicated to showcasing and demonstrating tools which are used to test c*ndoms' strength, it's certainly guaranteed to raise a giggle!
06 – Sulabh International Museum of Toilets – New Delhi, India
Hold on to your toilet seats, because the Sulabh International Museum of Toilets in New Delhi, India, is a must-see for anyone with a quirky sense of humor and curiosity! Founded by Dr. Bindeshwar Pathak, this unique museum showcases the fascinating history of toilets, from ancient to modern times. Get ready to flush away your preconceived notions as you explore an array of commodes, from lavishly decorated Victorian models to ingenious medieval designs. This offbeat museum will have you laughing, learning, and truly appreciating the evolution of the humble toilet.
05 – Museum of Broken Relationships – Zagreb, Croatia
Love gone awry finds a home at the Museum of Broken Relationships in Zagreb, Croatia. This poignant museum showcases a global collection of personal items left behind after breakups, each accompanied by a touching story. From love letters to wedding dresses, the exhibits offer a raw and honest insight into the complexity of human emotions. Though heart-wrenching at times, the museum serves as a testament to the resilience of the human spirit. So, take a deep breath and venture into this thought-provoking world of lost love and healing.
04 – Idaho Potato Museum – Idaho, USA
Who would have thought that there could be so much to discover about potatoes? Yet there it all is, assembled in the USA's Idaho Potato Museum. It is covering everything potato-related, from details about its farming, to different potato plants, to all the different things that can be made from potatoes. The highlight has got to be the world's largest Pringle, which is enough to make your mouth water! Chips, anyone?
03 – Momofuku Ando Instant Ramen Museum – Osaka, Japan
Noodle lovers, unite! The Momofuku Ando Instant Ramen Museum in Osaka, Japan, pays tribute to the creator of the humble instant ramen, Momofuku Ando. This fascinating museum takes you on a culinary journey through the history of instant noodles, starting with the first-ever Chicken Ramen developed in 1958. With interactive exhibits, you'll learn about the manufacturing process and even have the opportunity to create your very own custom cup of noodles. So, slurp up the knowledge and fun at this flavorful attraction!
02 – The Pencil Museum – Cumbria, England
Only in England could you find a museum which celebrates being the 'home of the world's first pencil'. However, don't fall asleep just yet – the Pencil Museum is more interesting than it sounds! It's full of really interesting information about the history of graphite, writing and pencils that most of us don't even know about. This is a great place to take the kids. Visitors can even get stuck in with some hands-on pencil activities.
01 – Beijing Museum of Tap Water – Beijing, China
One of the most quirky museums you'll ever come across is located in Beijing, China. It's the Museum of Tap Water – and there you were thinking that museums couldn't get any more banal. However, by the time you've finished exploring this museum, hopefully you'll come to realise that tap water isn't something which we should take for granted. Engineering it was a long process – a story which you'll discover along the way during your visit.
So, there you have it – 10 of the quirkiest museums you simply can't miss while globetrotting. These unconventional destinations offer a unique perspective on art, history, and culture. Proving that museums don't have to be stuffy and solemn to be captivating. No matter where your travels take you, be sure to seek out the hidden gems that offer a fresh approach to exploring the world. With their peculiar exhibits and fascinating stories, these quirky museums are sure to leave a lasting impression on every traveler's heart.