The Victorian times in England were a period of immense creativity and artistic expression. The sudden explosion in science and technology had a significant effect not only in England but around the world. There were many great inventions produced during these years such as the telephone and camera that we take for granted today.
In amongst all the well-known inventions though are some more obscure ideas that never quite caught on. We take a look at the ten most weird and wonderful from the history books:
10 – Automatic Smoking Machine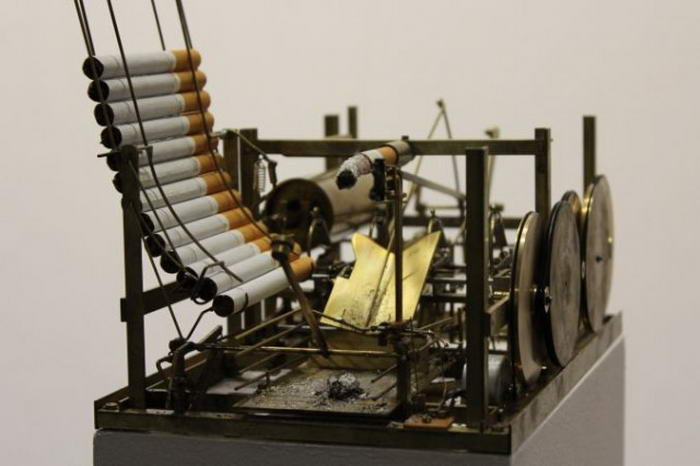 This is a simply insane invention in the modern-day context but I guess at the time it made sense! Unlike modern society, smoking was very popular in Victorian times and everything from tobacco to opium was freely flamed up in homes, office along with pubs across the land. But what if you didn't smoke but wanted that hazy atmosphere and recognisable stench in your place?
Let me introduce you to the Automatic Smoking Machine! This would puff away on cigars or cigarettes for you and give your establishment the murky visibility you required. For some reason, it didn't catch on?!
09 – Multi-Purpose Cane

In a way, this is a quite sensible invention and certainly one of the more normal of what Victorians came up with. As a forerunner to the Swiss Army Knife, it was a useful item that allowed the Victorian man to always be prepared whilst out and about.
As well as a normal cane for walking, it had many other tools in it and this is where it's a bit weird! After all, just how handy is a butterfly catcher, a flute or a horse measuring implement to you when in the centre of London?!
08 – Stamp Licker

In much the same way as the cane above, this is actually a good invention and one that has carried on in improved forms to this day. As with the cane though, the form and look of the original design is what makes it a bit strange. The idea itself is sound – if you have a lot of letters to send (which in Victorian times they did), it could get very tiring licking all the stamps yourself to put on the envelopes.
Enter the Stamp Licker! This mechanical device would wet the stamp glue for you, meaning it was ready to stick on without any saliva needed. Where it was a bit weird is in the shape – most common was in the shape of a dog's head which just didn't look right when they water came squirting out of its mouth.
07 – Mechanical Horse Brush

One of the great things about inventions from any period is if they simplify mundane or time-consuming tasks. The bad thing about inventions is if they do the opposite and make something simple very complicated!
Unfortunately for the Mechanical Horse Brush, the latter is true. With the cumbersome arms and levers it was made from and fiddly operating system, it really was easier to just grab a brush yourself!
06 – Writing Stabiliser

I actually think that this is a great idea especially for the time it was created in. In Victorian times, travel was mainly via horse drawn carriage and longer journeys could take days. As such, businessmen needed to complete their work on the move, in much the same way as many do still today.
The trouble was that the roads in Victorian times were so bad, the ride was very bumpy and made writing almost impossible. The Writing Stabiliser attempted to solve this problem and was a table top that attached to a person's seat via wire to give them a smooth surface to work on.
05 – Bigraph

In a world before photocopiers, needing more than one copy of the same document was a right pain! It meant writing out the same thing however many times which was obviously very dull and time consuming. To solve this problem, the Bigraph was invented.
Consisting of a wooden structure that would sit over two pieces of paper, it had two pens attached to it. One was held in the person's hand and used as normal to write the document with. The clever bit was that the second pen was attached to the first via the wooden frame. When the writer moved the first pen, the second would automatically follow thus copying out a second copy of what was being written.
04 – Spherical Velocipede

This is an absolute classic of the Victorian era! It seems the people who lived then loved unusual things – very often the weirder the better! The Spherical Velocipede certainly fitted that description and was almost a forerunner of zorbing in a way.
It consisted of a transparent spherical object that was large enough for someone to sit inside it. There was a bar that ran through the object with a seat on and the person inside could travel around inside the sphere whilst sitting comfortably on the seat.
03 – Electric Jewellery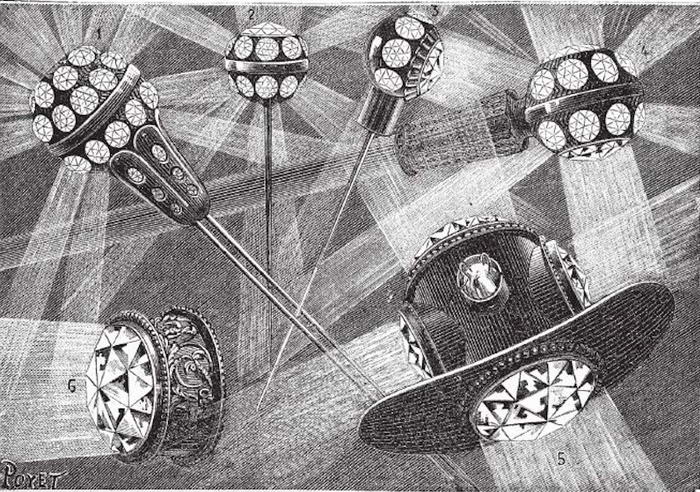 In an era where electricity was a revolutionary idea, this invention must have seemed other worldly! The basic concept was as it sounds – normal jewellery would be lit up by electricity to make it even more opulent and extravagant than it was anyway.
Of course, it was totally impractical but most of the things Victorians came up with for inventions were. It would have looked great if it were feasible though, with everyone's jewels shining in the night sky.
02 – The Bonafide Ventilating Hat

Victorian times were all about tradition and dressing in the expected manner and for men this meant formal. Suits were the norm and along with this, hats were expected to be worn also. The only trouble with this was that wearing a top hat could get pretty hot especially in the summer.
Developed by John Fuller and Co in 1849, the Ventilating Top Hat was a valiant attempt to solve this common problem. A standard top hat had ventilation holes sewn in at the top which allowed cool air to circulate round a gentleman's head. Although it never caught on, this was a fine attempt to solve a common problem at the time.
01 – Anti-Garrotting Collar

Although it seems fanciful now, people being strangled (or garrotted) was very common in Victorian London. It seems this was the method of choice for the Victorian mugger to set about his victim. Hence why the Anti-Garrotting Collar was invented!
Made from metal and with very sharp spikes on the outside, the wearer would put this around his neck when out and instantly be safe from anyone trying to grab him in that area. Very effective for its main purpose, it probably wasn't so great on a date or family picnic!
As you can see, the Victorians were not short of ideas or shy when it came to inventing new things! Although some of the products they devised did change the world, most of them were complete duds like the ones shown here. It seems that the entrepreneurial spirit of the age inspired everyone to have a go at using the new technology to make their fortune.