Murder by any definition is a heinous crime that rightly shocks and appals us all. Human life is the most precious commodity on earth and anything that takes that unnaturally is simply sickening. In the pantheon of murder, the serial killer reigns supreme as an example of pure evil. While some people may murder once in a fit of rage or passion, the serial killer will kill many people in an organised and brutal fashion.
Strangely enough, these twisted individuals hold a morbid fascination with the public who maybe try to find out more about them in an attempt to somehow understand their awful crimes. Here's ten of the most infamous serial killers in history:
10 – Richard Chase

Known as the 'Vampire of Sacramento', Richard Chase is the first name on our list. Operating in the 1970's in the USA, he killed six people in the space of one month in the state of California. He acquired his unusual nickname due to drinking his victims blood after killing them and also performing cannibalism. Obviously mentally unhinged, he believed that Nazi's were trying to turn his blood to powder via poison they hid under his soap dish at home. Chase thought that drinking human blood was the antidote to this hence his murderous spree.
Of the six people he butchered, maybe pregnant Teresa Wallin was the worst case. After breaking into her home and shooting her dead, he had sexual intercourse with the corpse and bathed in her blood. Arrested after fleeing the scene of his final crime, he had left enough forensic evidence behind to mean he was held fully accountable for what he did.
09 – Javed Iqbal

As can be expected for such a crime, serial killers are found worldwide. Nowhere illustrates this more than Javed Iqbal who was from Pakistan. Operating in the Lahore area, Iqbal claimed he had killed more than 100 boys during an 18-month period around 2000/01. In what was a shocking lapse, he had been arrested for a crime involving two young boys before his killing spree but had been allowed out on bail!
Iqbal would lure his poor victims to his house before drugging and strangling them to death. He would then dump the bodies in acid putting them down the drain outside his home. After neighbours began to complain of the strange smell coming from the sewers, he then used the nearby Ravi river as his dumping ground. Amazingly, no-on had noticed the boys who had gone missing and Iqbal claimed he could have killed more before confessing. Sentenced to hang, he was found dead in his cell at prison before this could be carried out.
08 – John Haigh

Proving that even seemingly respectable English gentlemen can be crazed psychopaths, John Haigh was known by his nickname of the 'Acid Bath Murderer'. Active during the 1940's, he was convicted of murdering six people although he actually claimed the figure to be nine! After killing them, he would dissolve the bodies in acid (hence his nickname) and then forge false papers to allow him to collect money on their behalf and sell their possessions.
His main undoing was the staunch belief that he could not be arrested or convicted without the police finding the victims' bodies. Unfortunately for him, this was not the case and enough forensic evidence was collected to convict him in 1949. After being found guilty, he was hung by the neck as was the law in England for murder at the time.
07 – Joachim Kroll

A German born serial killer, Kroll was known as the Ruhr cannibal after his tendency for eating parts of his victims' bodies after they died. Convicted of 8 murders, he actually confessed to a total of 13 during the 1970's including his final victim, young Marion Ketter. He was actually caught by German police on information from a neighbour as they conducted door to door searches for the missing girl. The neighbour had recently noticed his waste pipe was blocked and when asking Kroll what he thought might be the cause, the killer replied "Guts".
When the police heard this, they immediately searched Kroll's apartment where parts of Marion Ketter were found, including her hand cooking in a pan of boiling water. Sentenced to nine life sentences for all his crimes, Kroll believed he would be given an operation to cure his homicidal ills and then be released! This obviously did not happen and he has instead remained in prison since to serve his sentences.
06 – Andrei Chikatilo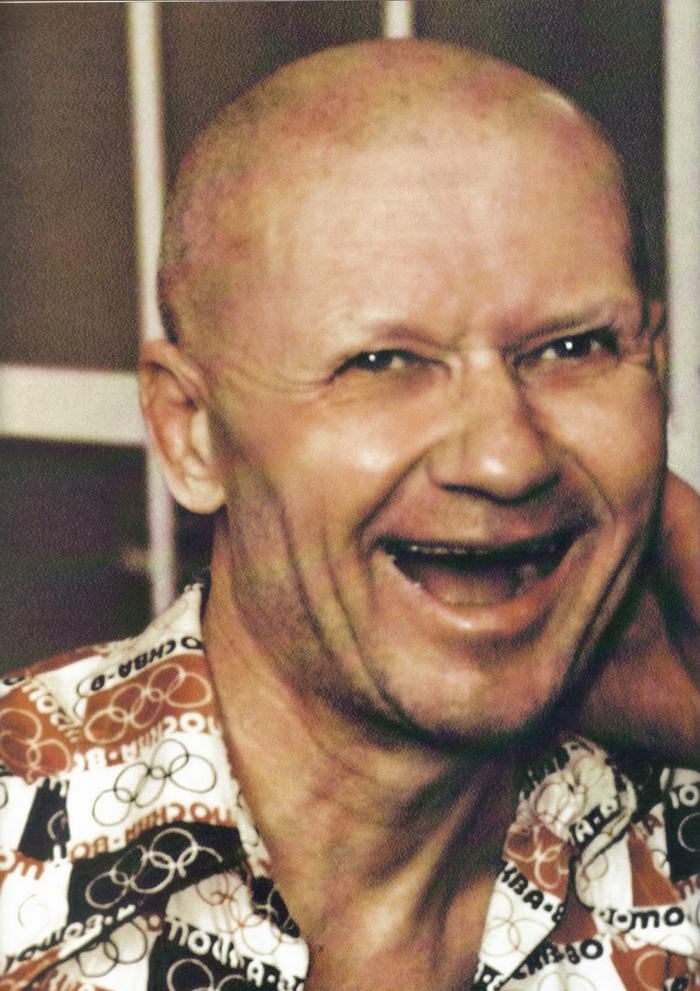 This crazy individual was so bad he had two names the public knew him by, 'The Red Ripper' or the 'Rostov Ripper'. Convicted of the murders of 53 people from the late 1970's until his capture in 1990, he operated in the Ukraine. Residing in the small coastal community of Shakhty, he killed his first victim in 1978 which then led on to his later crimes.
Chikatilo's usual modus operandi was to approach prostitutes or homeless women or children at public places like bus stations. On contact, he would lure them to a nearby forest where he would slash them to death with a knife. At the time, Soviet Russia covered up any reports of serial killers or serious crimes in the national media so as not to create undue public hysteria which helped killers like Chikatilo operate for long periods undetected. Finally caught, he was executed in 1994 via firing squad which was a well-deserved punishment for his terrible actions.
05 – Jeffrey Dahmer

One of the more recent killers on our list, this twisted lunatic was active between 1978 and 1991 before being caught. Particularly gruesome, his murders involved sodomy, cannibalism and necrophilia. A rather sad individual, Dahmer killed his first victim, hitch-hiker Steven Hicks, in 1978 as he simply didn't want him to leave and be alone. Dahmer was actually arrested in 1988 for a crime involving a young boy but was released after one year when he convinced the Judge that all he needed was some good therapy!
At the time, there was no register sexual offenders had to be placed on which meant he was free to resume his killing ways. Indeed, by the summer of 1991 Dahmer was murdering one person a week on average! His antics came to an end in July 1991 when would-be victim Traci Edwards escaped from Dahmer's apartment and flagged down a passing police car. When Edwards took them back to the killer's place, they were sickened at what they saw. Several corpses were found in acid-filled vats and skulls were stacked up in his closet. Found guilty, he was sentenced to 15 life terms in jail although he died after being beaten to death by a fellow inmate in 1994.
04 – Donald Gaskins

Another serial killer operating in North America, Gaskins began killing during the late 1960's in the coastal highways in the South of the country. Claiming to have murdered 80 to 90 people, he was an extremely dangerous and disturbed individual. Starting with killing hitch-hikers who he had picked up on the highway, he would torture and mutilate the victim before death.
His reign of terror might have gone on for longer if an associate had not seen him kill two young men and told the police about it. Although he was found guilty and sentenced to death originally, this was changed to life in prison without parole. In a gruesome twist, he is also the only inmate to have killed another convict when on death row which shows how crazy he was.
03 – Ahmad Suradji

This serial killer hailed from Indonesia and, even in the pantheon of insane people on this list, was very unusual and deranged. Suradji was a cattle-breeder by trade and was active from 1986 until his capture in 1997. He eventually confessed to killing 42 women and girls which shows just what a blood-lust he had.
It seems he also had some quasi-supernatural beliefs that drove his crimes though. Known as 'The Sorcerer', he would bury the corpses waist deep in a sugar-cane field outside his house. They would be positioned so they faced his house and this, he believed, would give him power and protection from evil spirits. Sentenced to death by firing squad, he finally met his end in 2008.
02 – Jack the Ripper

When you're thinking of infamous or notorious serial killers, Jack the Ripper is a name that most will know. Operating in the Whitechapel area of 19th century London, he is unique in never have being caught or identified. This is mainly due to the infancy of police investigation practice at the time although may speculate he was a high-ranking person who gained protection due to his status.
Targeting prostitutes, he would mutilate and kill his victims before dismembering their corpse and removing organs. This explains how he got his nickname and his victims looked as though they had been ripped apart. He was also famous for taunting the police desperate to catch him with letters to London newspapers, boasting of his actions. After killing a number of young women, his crimes suddenly stopped for reasons not known. Some say he himself died, some believe he left the country while others believe he simply gave up having achieved what he wanted.
01 – Ted Bundy

One of America's most infamous serial killers and arguably the world's most well-known is this man. Between 1974 and 1978, Bundy butchered and sexually assaulted scores of women across the country. Eventually confessing to 30 murders, it remains unknown as to the exact total number of his poor victims. His usual method was to sexually assault his female victims before strangling or bludgeoning them to death. A very cunning killer, he used a variety of ways to lure his victims to their fate from feigning injury to gain their trust to impersonating an authority figure. Once he had gotten his victim to his motor vehicle, he would knock them out with a crowbar hidden inside to take them away.
After death, he would use the same dumping ground for all his victims' bodies and often revisit it to lie with their corpses and put make-up on them. Caught when being routinely stopped by a police patrol car, he was so confident he even acted as his own attorney when setting out his defence in court. This didn't work however and he was sent to the electric chair after being found guilty of all he was accused of.
Serial killers have been around since the dawn of time and probably will be with us throughout future history too. The reasons which drive some twisted individuals to kill range from pure evil to mental instability but they all seem to present a morbid fascination to us. One thing to re-assure the public though is that, in the end, they all get caught. Well most of them anyway!