You know you've made it into the echelons of the super-rich when you can afford an all-singing, all-dancing yacht. These aren't just rafts to float you from island to island; these are veritable floating mansions, complete with every mod-con imaginable. Prepare to be blown away by the ten most expensive yachts ever built, that only the richest of the rich can afford.
10 – Al Salamah – $200 million
By Garitzko (Own work) [Public domain], via Wikimedia Commons
With a price tag of a cool $200 million, the Al Salamah comes complete with a glass-roofed swimming pool and its own library. It used to belong to Prince Sultan bun Abdul Aziz of Saudi Arabia before he died in 2011.
09 – Rising Sun – $200 million
'Oracle CEO yacht – Rising Sun' by Ken Teegardin
It goes without saying that every boat needs 82 rooms, a basketball court and a helipad, right? That's what DreamWorks founder David Geffen thinks, as he's the lucky owner of the yacht called Rising Sun. In order to take it off his hands you'll need no less than $200 million.
08 – Seven Seas – $200 million
'Seven Seas' by John Lambert
This $200 million super yacht is the property of Steven Spielberg, and comes equipped with – surprise, surprise – a movie theatre. It also has facilities such as a top-of-the-range gym and an infinity pool. It just seems a shame that after spending so much money, this yacht can only accommodate 12 guests!
07 – Lady Moura – $210 million
The Lady Moura is a yacht owned by a Saudi Arabian billionaire called Nassar Al-Rashid; it cost $210 million. The features and facilities of this yacht aren't well known, but what we do know is that the boat's name decorates the hull in 24 karat gold. If that's the kind of opulence that comes from just the name, you can only imagine the luxuries that are contained within!
06 – Al Mirqab – $250 million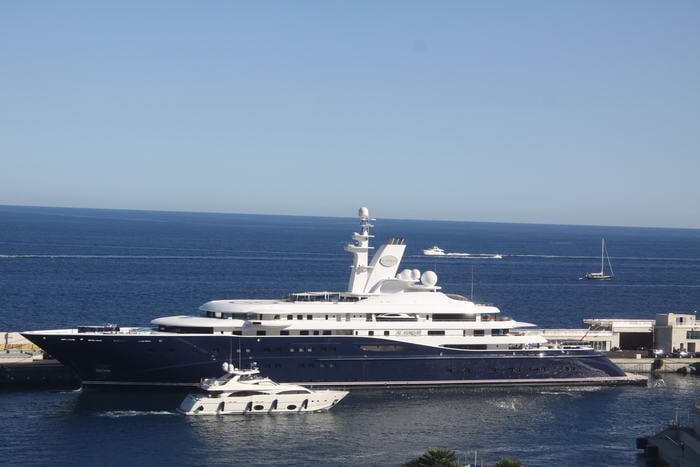 By Piponwa (Own work) [CC BY-SA 3.0], via Wikimedia Commons
A quarter of a billion dollars can get you Al Mirqab, a yacht complete with a sun deck, a pool, and room for 24 guests. Unfortunately, it already has an owner – the very lucky Qatari Prime Minister, Hamad bin Jassim bin Jaber Al Thani.
05 – Dilbar – $256 million
By Axou (Own work) [GFDL or CC BY-SA 3.0], via Wikimedia Commons
It wouldn't be a list of expensive possessions without a Russian billionaire owner. Alisher Usmanov is the owner of Dilbar, a yacht which he named after his mother. This yacht, which comes complete with all the extravagant luxuries, is one of the largest yachts in the world; it measures an impressive 360 feet long.
04 – Al Said – $300 million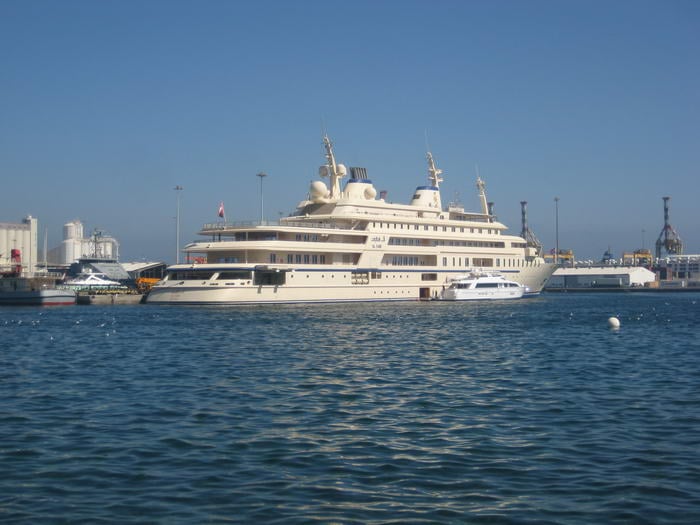 By Qatarperegrine (Own work) [CC BY 3.0], via Wikimedia Commons
If you're going to spend $300 million on a yacht, you may as well name it after yourself! Sultan Qaboos Bin Said Al Said of Oman owns this beauty; apparently there are no photographs of its interior, but rumour has it that it's home to a concert hall big enough to fit a full orchestra!
03 – Superyacht A – $323 million
'Super Yacht A' by Andym5855
Superyacht A is by far the coolest looking boat on this list, which is what you'd expect when you're spending $323 million! It belongs to Russian billionaire Andrei Melchenko, and contains three swimming pools – because just one pool and an entire ocean isn't enough.
02 – Dubai – $350 million
By Imre Solt [GFDL or CC-BY-SA-3.0], via Wikimedia Commons
This yacht has had a bit of a troubled start in life – its production was halted when funds ran out, and it's been renamed time after time. However, Sheikh Mohammed bin Rashid Al Maktoum now owns the Dubai, as it's now known. The third largest yacht in the world, it's known as a floating city because of its size and abundant facilities. There is even an onboard spa for the use of all 115 guests!
01 – Eclipse – $800 million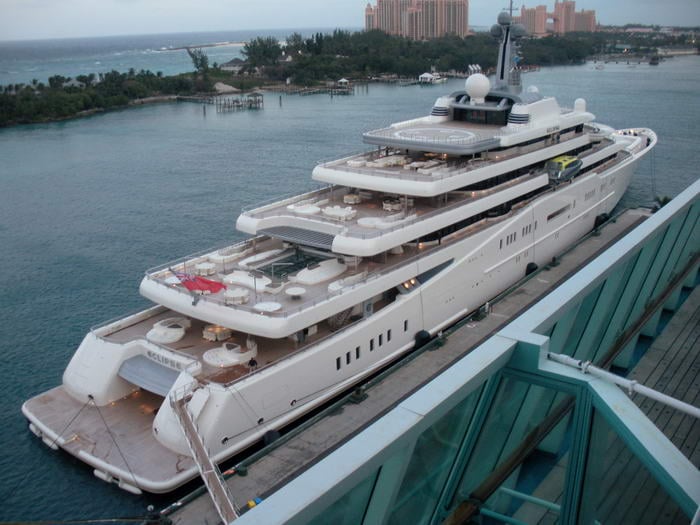 By DCwom (Own work) [CC BY-SA 3.0], via Wikimedia Commons
When your name is Roman Abramovich and you already have it all – including a world class sports team – what else can you spend nearly a billion dollars on? The superyacht called Eclipse is the answer! As well as having its own private submarine, the defence systems onboard this yacht are incredible. The technology scans the horizon for any prying camera lenses, and shoots a beam of light directly into them, meaning that nobody can get any sneaky paparazzi snaps. James Bond, eat your heart out.