Let's take a trip with us as we explore ten mesmerizing gardens around the world.
10 – Kew Gardens, London

By Diliff (Own work) [CC BY-SA 3.0 or GFDL], via Wikimedia Commons
The Kew Garden has 132 ha and it was developed by Princess Augusta, mother of king George III in 1759. These amazing English style gardens feature an impressive number of plant species: around 50.000 more exactly. Kew Gardens also display some famous buildings such as the Pagoda, the Temperate House and the Palm House. All over the garden there are incredible sights such as the Japanese Gateway, the Waterlily Pond, the Treetop Walkway and Kew Palace.
09 – Keukenhof Gardens, The Netherlands

By No machine-readable author provided. Cszmurlo assumed (based on copyright claims). [GFDL, CC-BY-SA-3.0 or CC BY 2.5], via Wikimedia Commons
These gardens are very popular among tourists for their unique beauty during spring. This colorful piece of heaven features more than 7 million tulips, daffodils and hyacinths. Tourists can enjoy the beauty and then relax in one of the restaurants or cafes from Keukenhof Gardens. Boat tours and bike tours are also popular amongst visitors.
08 – Suan Nong Nooch, Thailand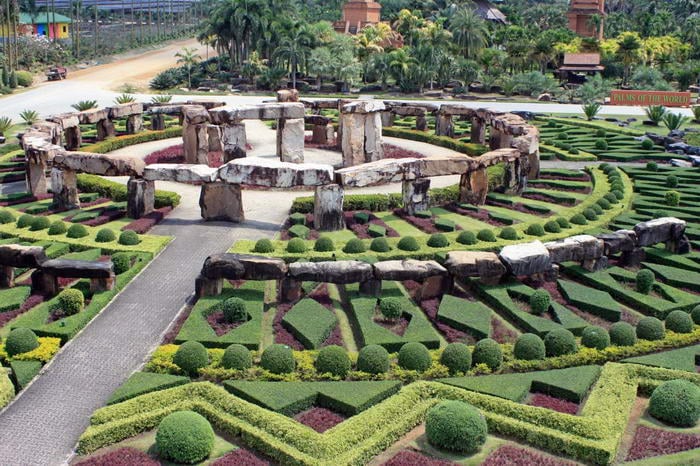 By Aleksasfi (Own work) [GFDL or CC BY-SA 4.0-3.0-2.5-2.0-1.0], via Wikimedia Commons
Opened in 1980, Suan Nong Nooch is a small paradise for tourists. The beautiful, exotic gardens feature the largest variety of Palms and Cycads in the world. Besides that, visitors can admire a variety of species of Orchid, which are absolutely breathtaking. Different types of shows and spectacles are also among the popular attractions that Suan Nong Nooch offers to its visitors.
07 – Versailles Gardens, France

By ToucanWings (Own work) [CC BY-SA 3.0], via Wikimedia Commons
The Versailles Gardens were founded by the French King, Louis XIV in 1661. Designed by André le Notre, the gardens are inscribes on the UNESCO Heritage List and they receive more than six million visitors per year. The gardens cover 800 ha of land, much of it being landscaped into the classic French style. On the weekends from late spring to early autumn, visitors can enjoy the spectacles during which all the fountains in the gardens are in full play.
06 – Butchart Gardens, Canada

By Robthepiper (Own work) [CC BY-SA 3.0], via Wikimedia Commons
Butchart Gardens were created by Robert Pim Butchart and his wife, Jennie. He moved to Owen Sound, Ontario, on the West Coast of Canada, to explore rich limestone deposits. The gardening started with small garden around his house, which later on became an international touristic attraction.
05 – Desert Botanical Gardens, Phoenix, Arizona

By Simeon87 (Own work) [CC BY-SA 3.0], via Wikimedia Commons
Founded by the Arizona Cactus and Native Flora Society in 1937, the garden now has more than 21,000 species of plants, including 139 species which are rare, threatened or endangered. The Desert Botanical Garden has been designated as a Phoenix Point of Pride and it is a popular touristic destination in the area.
04 – Yuyuan Garden, China

By Jakub Hałun (Own work) [CC BY-SA 3.0], via Wikimedia Commons
Yuyuan Garden is a renowned classical garden located in Shanghai. It was finished in 1577 by a government officer of the Ming Dynasty named Pan Yunduan. Yu in Chinese means pleasing and satisfying. Yuyuan Garden occupies an area of 20,000 square meters, but its size is not proportional with the number of attractions it displays. Each corner represents a small piece of the Chinese culture.
03 – Fairchild Tropical Botanic Garden: Coral Gables, Florida

The Fairchild Tropical Botanic Garden conserves a high number of tropical plant species. The garden's Center for Tropical Plant Conservation displays many group of plants from different places like South Florida, the Caribbean, Oceanic Islands, tropical Africa and Madagascar. The Garden is also the leading center of palm research, with more than 70 years of activity in the field.
02 – The Garden of Cosmic Speculation – Scotland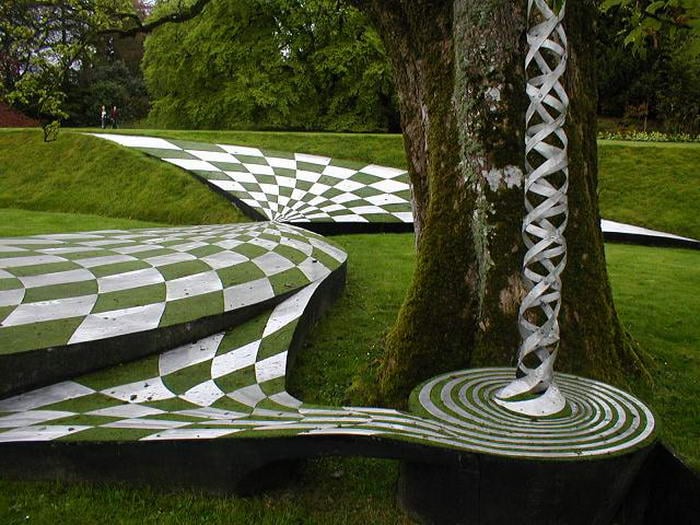 By Flexdream (Own work) [CC BY 3.0], via Wikimedia Commons
Created by Charles Jencks, the Garden of Cosmic Speculation is inspired by science and mathematics, with sculptures and landscaping on these themes, such as Black Holes and Fractals. This garden is unique. It is not abundant with plants, but sets mathematical formulae and scientific phenomena in a setting which elegantly combines natural features and artificial symmetry and curves.
01 – Jardin Majorelle, Marrakech, Morocco

By Viault (Own work) [GFDL or CC BY-SA 3.0], via Wikimedia Commons
The elegant Majorelle Garden features a beautiful shade of blue, which gives it an unique, oriental touch. The garden was created by the expatriate French artist Jacques Majorelle in the 1920s, but is was bought later on by the famous fashion designer, Yves Saint Laurent.The garden also houses the Islamic Art Museum of Marrakech, whose collection includes North African textiles from Saint-Laurent's personal collection and ceramics, jewelry, and paintings by Majorelle.