When moving in a new home, you may find a kitchen that seems to benefit from the entire basic equipment. This means you'll have a cook with an oven, table and chairs, even a microwave oven. You may already have plates, different-sized pans and skillets, including a non-glue one. You can use spoons, teaspoons, forks and knives. However, in terms of cooking, you will need further equipment. Here we will outline the 10 most essential kitchen tools that come in handy for every meal.
10 – Chef Knives
Chef knives help you cut meat that includes bones, and large vegetables. You can use them to slice ingredients for soup, steak, salad and much more. Chef knives are precise, balanced and long lasting. The 8'' chef knife is the easiest to handle for home cooking. The best knives are available online and come with chefs' recommendations.
09 – Cutting Board
Cutting boards allow you to cut your vegetables, without damaging the knife or your counter top. Although they might soon look scratched, cutting boards are resilient. The safest ones are made of silicone, plastic or bamboo. You can also choose a wooden cutting board. However, you need to protect them from humidity, as they may darken when exposed to water for more hours.
08 – Measuring Cup
When cooking by a recipe, you need to measure the ingredients. Measuring cups are precise for both solid and liquid quantities. Also, they also take volume in consideration, when showing a quantity. If you already have a scale, you might notice that it's not useful when baking cakes. You can also purchase a set that also contains measuring spoons that are practical especially for small quantities.
07 – Rubber Spatula
Spatulas are the tools you need for mixing food that's already on the cook. You can also use it to remove excess ingredients or pour food in plates. A rubber spatula doesn't heat or melt if forgotten in the cooking pan. You can best use this tool when mixing foods with sauce, ingredients in soups and pasta.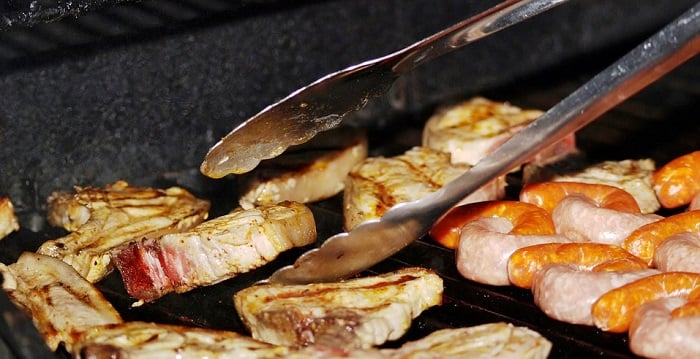 06 – Metal Tongs
Metal tongs are essential when you are making a barbeque, cooking stake or meat-based foods in the oven. They have long, non-slip handles that protect you from getting exposed to the meat's heat. Tongs are also precise, so food won't slip from your hands. They are responsible for turning ingredients on the barbeque or in the pan.
05 – Box Grater
The grater is useful for many types of food as it is multifunctional. Graters help you peel off citric fruit, and powder roots, such as ginger. The box grater usually offers you more options with different peeling sizes. You can also grate hard or light cheese while cooking. A metal box grater with silicone edges protects your hands if the food you want to cook is hot.
04 – Mixing Bowls
It's best if you have a set with more different-sized mixing bowls, with the same shape. Mixing bowls are usually round or have round corners that ease blending with fast movements. Metal bowls are easier to handle, lighter than glass, and they last longer. Moreover, they are more precise when you hold them with one hand.
03 – Strainer
Are you planning to make sauces, smoothies, creamy soups or even tea? You will need the right tool to remove the excess ingredients. So, the strainer is necessary in such cases. This is that kind of tool usage where you cannot improvise. You can also use them when extracting oil out of plants. If you purchase a larger one, it also serves as a tool to drain pasta.

02 – Veggie Peeler
The Y-shaped vegetable peeler is a classic tool in most kitchens. It successfully replaces knives when peeling carrots, tomatoes, potatoes, mango or any other veggies or fruit with soft slim crust. It removes the crust with precision, saving you larger quantities than the knife. The peeler is comfortable to use while cooking.
01 – Cooking Mitt
Cooking equipment is the leading cause of home accidents. Therefore, while finding the right tools to protect and cook your food, you also need to protect your hands. Cooking mitts are the best protection tools, as they are built to stop heat from passing through to your hands. Many use a simple towel, even though it doesn't guarantee protection. You can use these mitts while cooking any foods.
These are the essential kitchen tools you might need anytime soon. Depending on your preferences, you can also purchase large spoons, sheet trays, or oven thermometers. However, the above might save you from postponing cooking, due to lack of tools. See which ones you already have in your home. Then, enjoy what shops offer and buy tools in your favorite color or design!
Images: 1, 2, 3.