If you don't really like to spend time in kitchen but you have do do it anyways, chances are it will get really boring soon. May be you just need to shake things up a little bit to make your job easier and have fun with your everyday habits. This is the right list for you! Here are 10 fun kitchen tools that will make your cooking so much easier than before. If there is nothing for you in this list, we would like you to add your creative kitchen gadgets by using comments section.
10 – 5 Blade Herb Scissors
BUY HERE  5 Blade Herb Scissors

5 Blade Herb Scissors by Kitchen Basics, cuts herbs five times faster, thus makes chopping herbs a breeze. Simply snip the herbs over your sauté pan or directly on your salad for garnishing.
There's no need to bother with a cutting board and knife; you'll be able to cut fresh herbs directly into soups, salads, egg dishes, casseroles and more.
09 – Butter Spreader Push-Type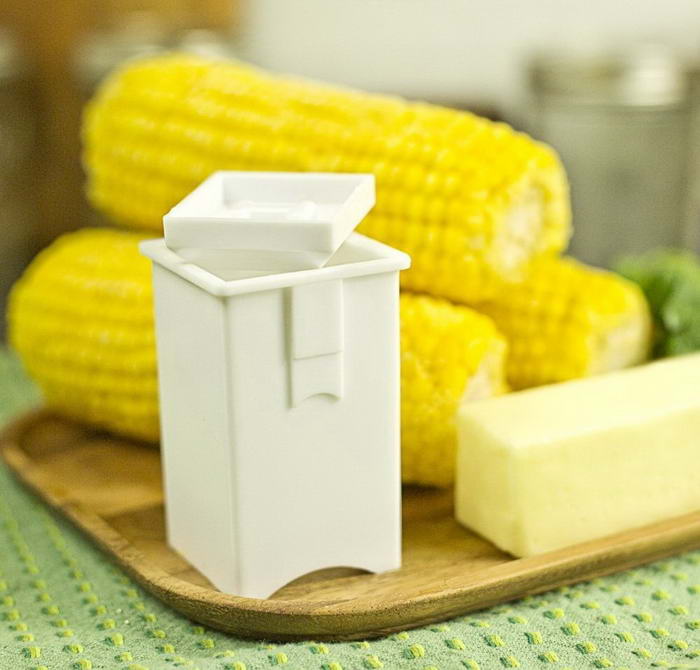 BUY HERE  Butter Spreader Push-Type

Just perfect for neatly buttering ears of corn. This plastic butter spreader holds 1/2 of a quarter pound of butter. The butter spreader includes a plastic pusher and cap for tabletop or refrigerator storage.
08 – Kitchen Pizza Scissors
BUY HERE Kitchen Pizza Scissors

Thanks to this ingenious invention cutting pizza will be as easy as cutting paper! Just cut the Pizza with the Pizza Scissors and serve them to your guests with the serving part.
07 – ROK Presso Manual Espresso Maker
BUY HERE ROK Presso Manual Espresso Maker

The Presso ROK is an environmentally friendly manual espresso maker created with durable engine-grade metal guaranteed to last at least 10 years. Going above and beyond simple espresso, the innovative ROK comes with a stainless steel frothier to produce rich milk for lattes, cappuccinos and macchiato — all without using one bit of electricity.
06 – Kettle Corn Maker
BUY HERE Nostalgia Electrics KCP100 Kettle Corn Maker

With the Nostalgia Electrics KCP100 Kettle Corn Maker you can skip the trip to the state fair and enjoy crunchy, sweet and salty kettle corn at home anytime. Simply pour vegetable oil, kernels, sugar and salt into the unit as directed.
05 – Portable Ice Maker by Avalon
BUY HERE Avalon Bay Portable Ice Maker

Portable Ice Maker By Avalon Bay produces an astonishing 26 lbs. of ice per day and each cycle takes 6-13 minutes. Most people wouldn't even make it to a grocery store in that time, to purchase a bag of ice.
04 – OXO Good Grips Countertop Cereal Dispenser
BUY HERE OXO Good Grips Countertop Cereal Dispenser

Conveniently store and dispense your favorite cereal with the OXO Good Grips Countertop Cereal Dispenser. The chute-design opening won't crush cereal as it is dispensed and the spring-loaded, non-slip levers allow for controlled, one-handed dispensing.
03 – Automatic Wine Opener with Foil Cutter
BUY HERE Automatic Wine Opener with Foil Cutter

The only wine opener you'll ever need. One-touch operation easily removes natural or synthetic corks. Foil cutter is built right in – can't be lost or misplaced. Rechargeable – opens 50 bottles on a single charge. Illuminated LED light ensures the unit is charging correctly.
02 – One-Touch Tea Maker
BUY HERE Breville One-Touch Tea Maker
This revolutionary tea maker brews tea in a wholly new way. Operated by a single touch, the fully automated tea basket moves down and up to gently agitate the leaves and allow the water to circulate around them, precisely infusing the hot water with just the right amount of flavor. The result is an aromatic tea infused with the pure essence of the leaves.
01 – FoodSaver Vacuum Sealing System
BUY HERE FoodSaver Vacuum Sealing System
You can keep food fresh up to five times longer with the FM2000 FoodSaver Vacuum Sealing Machine. The V2244 combines form and function with a sleek, compact design and easy-to-use manual operation to preserve a variety of food.
These 10 innovative kitchen gadgets are designed to revolutionize your culinary experience and make everyday life more convenient. From the versatile herb scissors and the handy pizza scissors to the time-saving automatic wine opener and the efficient tea maker, these ingenious devices will simplify food preparation and elevate your cooking skills. Moreover, the multi-functional ice maker, the ergonomic espresso maker, the adjustable vacuum sealing system are essential additions to your kitchen arsenal. By incorporating these practical and creative kitchen tools into your daily routine, you can not only save time and effort but also enhance the joy of cooking and dining. Explore these extraordinary gadgets today and transform your kitchen into a haven of innovation and efficiency.