With the U.S Supreme Court's recent ruling granting same-gender couples to officially marry and be recognized by law as a couple in all its fifty states, other countries are bound to follow suit. But, as you'll soon learn, the United States isn't the first country to legalize same-gender marriage on a Nationwide Scale.
In line with this monumental ruling that's bound to have a ripple-effect for years to come, here are a couple of interesting facts about same-gender marriage from the United States and other parts of the world.
10 – The First Country Ever To Legalize Same-Gender Marriage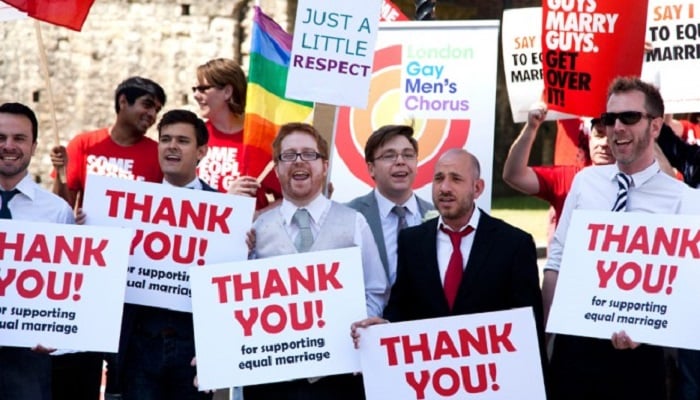 The Netherlands was the first to legalize same-gender marriage. The European country did so in 2001.
09 – Homosexual Marriage IS NOT a Civil Rights Issue
When defining marriage as the union of a man and a woman, it's clear that it does not violate the basic civil rights of homosexuals. In fact, you can search the Bill of Rights yourself and you'll find that in no way does it forbid homosexuals the rights enjoyed by any other citizen, included of which is the right to marry. However, it's important to take note that no citizen has the right to marry anyone he or she pleases. This is why a person can't marry a child, a close blood relative, have more than one spouse, or marry someone who's already married. These are restrictions based on the accumulated wisdom of the societies and culture of many civilizations around the world.
08 – Legalization of Same-Gender Marriage is Inevitable
According to a recent Pew Research Survey, 72% of people in America alone believed that it was inevitable for same-gender marriages to eventually gain legal recognition. This 72% included at least half of those who said that they opposed gay marriage.
07 – U.S President Obama Makes History
The Obama administration's official ruling on same-gender may have allowed President Obama to make history as the first U.S president to do so. But, it's actually been a long time coming.
In 2012, President Obama told ABC news that, "I think same-gender couples should be able to get married. Ask your friends and other social influences to show their support for LGBTQ rights. Sign up for Love it Forward."
06 – Grave Penalties for Homosexuals
Countries such as Iran, Saudi Arabia and Sudan have rather grave penalties for Homosexuals. In said countries, it's possible for people of the LGBT community to receive the death penalty as punishment.
Other countries that aren't so friendly with Homosexuals are Turkey, Afghanistan, Nigeria, Uganda, Jamaica, Russia, Singapore, Northern Cyprus and India.
05 – 20 Countries That Allow Same-Sex marriage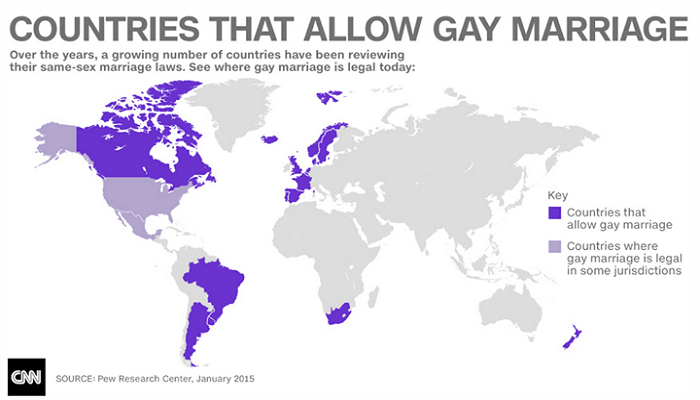 While United States may be one of the most prominent countries to ever allow Same-Gender Marriage, they're not alone.
Ireland, Finland, Luxembourg, Scotland, England and Wales, Brazil, France, New Zeland, Uruguay, Denmark, Argentina, Portugal, Iceland, Sweden, Norway, South Africa, Spain, Canada, Belgium and of course, as mentioned previously, The Netherlands, all legalized same-gender marriages before the United States.
04 – TV Shows and Same-Gender Marriages
Even if the United States government has long had a strong stance against the total legalization of same-gender marriage, TV shows have portrayed the opposite for quite some time.
In the 1990s, the sitcom "Roseanne" featured a same-gender marriage back in 1995. And, for a more famous example, "Friends", another sitcom, also featured a lesbian wedding back in 1996.
03 – Native American Tribes That Recognize Gay Marriage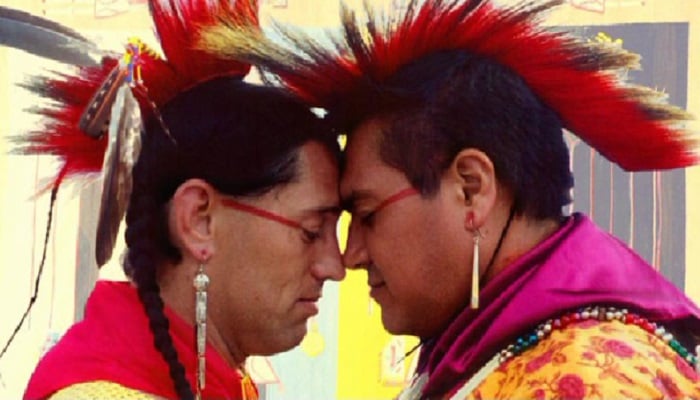 Native Americans actually have a different stand when it comes to gay marriage. In fact, about 11 different Native American tribes recognize same-gender marriage. Included are the Cheyenne and Arapaho tribes, the Mashantucket Pequot Tribe, the Puyallup Tribe and the Coquille Tribe.
It's also worth noting that Native American tribes are given jurisdiction over many of their affairs and this includes the right to form marriage laws exclusive only to them.
02 – The Legal Rights and Protections of Married Gay Couples
In the United States, married couples are entitled to about 1,138 legal rights and protections from the federal government. Same-sex marriage allows gay couples to enjoy the same benefits, no more and no less.
01 – U.S President Obama's Benefit From The Legalization of Same-Sex Marriage
Many political experts and analysts believed that U.S President Barrack Obama's term and how it would go down in history ultimately depended on what occurred in the past week.
With Obamacare and same-gender marriage on-the-line, The U.S President's ratings would've gone all the way down if the key provision wasn't upheld and the right to gay marriage wasn't declared by the Supreme Court.