Since rising to stardom through the Oscar-winning Good Will Hunting, Matt Damon has proven himself to be not only a skilled and versatile actor but one of Hollywood's most bankable stars. He's worked with some of the greatest directors of the past two decades, whilst being critically acclaimed for his own writing for the screen. Choosing which of Damon's 50+ films deserve a place in the top ten is no easy task, but we'll offer a few for consideration.
10 – Contagion (2011)

Thrilling and eerily realistic, Contagion documents the emergence and spread of a global pandemic. Through multiple narratives, the film portrays the efforts of medical authorities to quarantine and cure the seemingly unstoppable deadly virus, but also the plight of normal civilians trying to survive in a growingly archaic world. Damon plays one such civilian, a man who loses his wife and stepson to the supervirus. As the details of his deceased wife's last business trip come to light, and uncertainty over whether his teenage daughter has inherited his immunity mounts, Damon's character deals with overwhelming emotional conflict and fear – a portrayal which Damon perfects.
09 – Rounders (1998)

Released at the time of the big poker boom, Rounders was met with mixed reviews upon release, but is today regarded as something of a cult film. Its coincidence with the online poker boom helped popularize a number of big poker sites in the industry. Damon plays Mike, a law student and talented poker player who agrees to help fellow gambler and friend Worm (Edward Norton) to make the $15000 needed to pay off his outstanding debts. With the deadline looming the pair hit as many of New York's high-stake games as they can, with more than a few setbacks. The highlight of the film is undoubtedly the climactic game of heads-up Texas Hold'em between Mike and Teddy KGB, (John Malkovich) a repugnant Russian mobster.
08 – The Talented Mr Ripley (1999)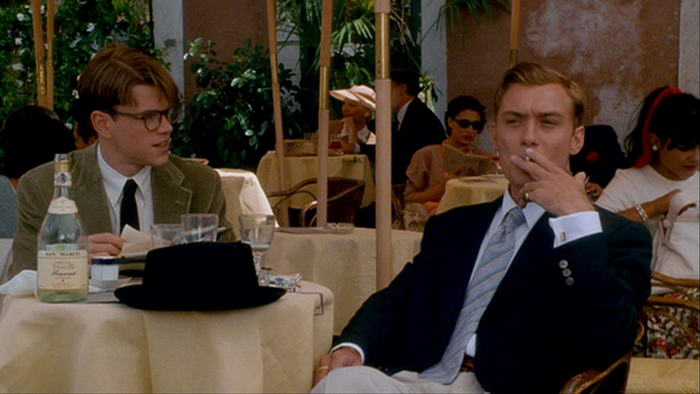 Even when he's playing a villain, Damon maintains that inescapable charm. In one of his most memorable villain roles, Damon plays Tom Ripley, an impoverished young man who, through a case of mistaken identity, finds himself transported to Europe and in the company of the rich and alluring Dickie (Jude Law). After killing him in a fit of rage Ripley assumes Dickie's identity, and what follows is a gripping suspense thriller in which Damon's enthralling protagonist is threatened by the steady unravelling of his own lies.
07 – The Bourne Identity (2002)

Waking up on a fishing boat with dissociative amnesia and two gunshot wounds in his back, Bourne burst onto the action scene at a time when Bond was faltering. With no recollection of who he is or what he has done, Bourne must uncover his identity through sheer resourcefulness and determination. Relentlessly pursued by European secret authorities and the espionage agency that created him, Damon plays not just a talented spy but a hunted man; all the more captivating for his realism.
06 – Ocean's Eleven (2001)

From the same director as Contagion, Steven Soderbergh's upbeat Ocean's Eleven also features an ensemble cast and slick pace. The movie follows the suave Danny Ocean (George Clooney) and his team of criminals as they attempt to pull off a grand heist of Vegas' Bellagio, the Mirage and the MGM Grand – all in one night. Damon plays Linus Caldwell, a young and somewhat naive member of the crime gang. Caldwell's overeager attempts to assert himself is the basis for a lot of the film's comedy. Though insecure and the cause of a few face palms, Damon's character is immensely likeable nonetheless.
05 – Saving Private Ryan (1998)

Saving Private Ryan tells the tale of four brothers sent to fight in the Second World War, only one of whom survives; Private Ryan. Ordered to bring him home, Captain John H. Miller assembles a group of men to retrieve Ryan from the front. By the time they find him, the Nazis are advancing on the strategically crucial bridge Ryan was deployed to secure, and they must defend it with what little resources and men they have. Although Damon only appears in the later acts of the film his performance as a character filled with grief and courage is unforgettable.
04 – Good Will Hunting (1997)

Written by Ben Affleck and Matt Damon, Good Will Hunting is the story of a self-taught genius who enters psychotherapy after assaulting a police officer. Here he meets Sean (Robin Williams), who challenges Will's limited world view and slowly pushes him to fulfill his incredible potential. Damon convincingly and touchingly portrays a character who at first might seem unlikeable, obnoxious even, but who ultimately wins our heart as he demonstrated immense personal growth.
03 – The Martian (2015)

One of the biggest hits of 2015, The Martian stars Damon as Mark Watney, an astronaut and botanist who gets caught in a Martian storm and left for dead after his crew members evacuate the planet. In what could essentially have been a terrifying and harrowing tale of survival against all odds, Damon's character brings heart-felt humour and optimism to the centre of the story as he uses science to combat his increasingly perilous situation.
02 – The Bourne Ultimatum (2007)

The Bourne Trilogy concludes in The Bourne Ultimatum. From the ashes of Treadstone a new organisation, Blackbriar, has emerged. It is this agency that Bourne must confront, travelling from Moscow to London to New York in order to lay his past to rest. It may have benefitted from a bigger budget but Damon remains true to the well-developed character, and all the physicality that comes with it.
01 – The Departed (2006)

An instant classic from Scorsese; The Departed is Matt Damon at his worst – and his best. He plays devious and immoral Colin Sullivan, a mole planted by Francis Costello (Jack Nicholson) within the FBI. Simultaneously the police assign William Costigan (Leonardo DiCaprio) to infiltrate Costello's crew. When both factions realise there is a traitor in their midst the race is on to expose the other before their own cover is blown – Damon's performance will keep you on the edge of your seat.