The latest Bond film "Spectre" was one of 2015's top grossing films, reaching $877.9 in the box office. It also is rumored to be Daniel Craig's last as 007 – who, by the way, has actually had his body insured. As Bond fans await the next appearance of the world's most famous spy, here's a look at the best moments the Bond films have given us through the years.
10 – Goldeneye – Opening Sequence
There is no doubt that the opening sequences in Bond films are among the most spectacular in film history. When Bond returned after a six-year absence with Goldeneye, the producers evidently wanted to show that 007 had lost none of his daring and did not have to rely on Q's inventions to get the job done. To set the stage for Bond's return, they staged a bungee jump (and broke a world record) by having Bond leap from the 220-metre-high Contra Dam in Switzerland.
09 – Thunderball – Jet Pack Escape
Sometimes Bond's signature Aston Martin is not the right vehicle for a quick getaway. In Thunderball, Bond makes his escape by taking to the sky in his personal jet pack. Connery's double for the stunt flew a real jet pack – a Bell Aerosystem "Rocket Belt" – for the scene but the rest of us are still waiting our chance to take to the sky, even though science fiction and Bond been promising it for decades.
08 – Casino Royale – Poker Tournament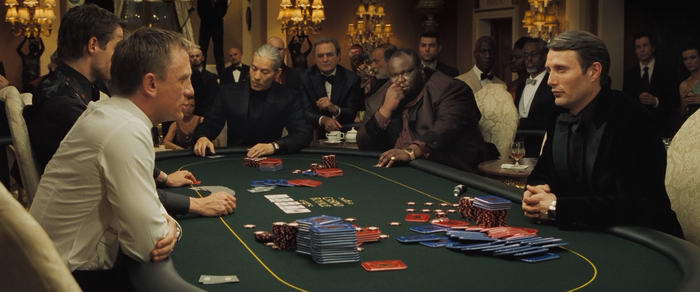 Casino games, from Licence to Kill's blackjack sequence to rolling the craps dice in and even taking a spin on the roulette wheel in Diamonds are Forever have always been featured in Bond films, acting perhaps as a character foil for the quintessential spy. Casino Royale finally showed Bond engaging in the perfect game for a fearless, calculating, elite secret agent, No-Limit Hold'em poker. The final hand, while a bit improbable, is one of the better casino scenes in the franchise's history. According to the producers, it was also one of the most difficult scenes in terms of continuity to film of any of the Bond films.
07 – Skyfall – Shanghai Fight Scene
There have been lots of great fight scenes in the Bond series. The most visually stunning is when Bond takes on the assassin Patrice in with the ever-changing neon skyscape of Shanghai. This was just one of the many segments that made Skyfall arguably the most visually breathtaking of the Bond films.
06 – Casino Royale – World Record Car Scene
Cars have been a major part of the Bond films and the car chases have been among some of the best outside of the one in Bullitt. In Casino Royale, Bond races off in his Aston Martin to rescue to kidnapped Vesper Lynd. When he spots her in the middle of the road, he swerves to avoid hitting her. The Aston Martin driven by stuntman Adam Kirley rolled seven times, establishing a new Guinness World Record.
05 – Goldfinger – Best Line By A Villain
Bond and co's dry sense of humor has been a staple since Dr. No. However, one of the best lines in all of the Bond films is delivered by the iconic villain Auric Goldfinger. While facing certain death by a laser beam, Sean Connery asks if he is supposed to talk. "No Mr. Bond, you are supposed to die."
04 – Thunderball – Title Montage
Free film franchises have the number of staples as the Bond films and the title montage for each film is one of the most famous. The montage featuring silhouettes of models in various moves ranging from acrobatic to Freudian first appeared in 1965's Thunderball.
03 – Casino Royale – Freerunning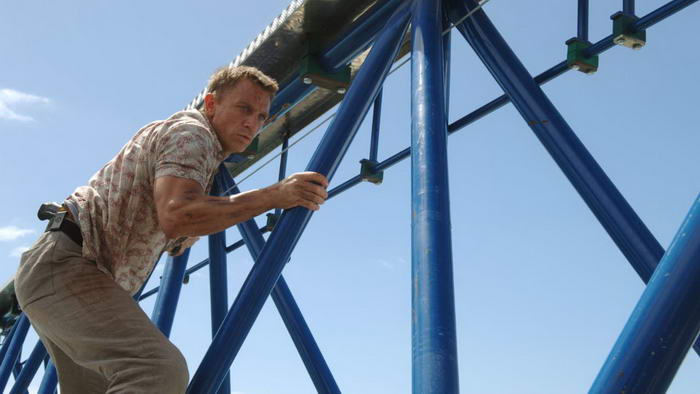 The opening scene from 2006's Casino Royale played a major part in establishing the Daniel Craig incarnation of Bond. Bond chases his adversary though a Madagascar building site and across buildings. In addition to his bomb making skills, Bond's quarry is also an expert freerunner, who nimbly jumps walls and runs across rooftops. Bond is less skilled an often chooses to go through walls rather than over them, reinforcing M's assessment that he is a "blunt instrument."
02 – Diamonds are Forever and From Russia with Love – Close Quarters Fighting
Picking a Bond fight scene is difficult. However, the ones that occur in tight settings are certainly among the best. From Russia with Love and Diamonds are Forever both feature superb fight scenes, one in a railroad car and the other in an elevator, that rank among the best in the action film genre.
01 – Dr. No – The Establishment of a Film Icon
It is hard to imagine a Bond film without a casino scene. The spy's association with gambling and one of the most iconic phrases in movie history can be traced to Dr. No. The first time we ever meet James Bond he is at a baccarat table, introducing himself as "Bond, James Bond." There are few other scenes in film history where such economy of action and words paint such a vivid picture of a character.
Credit Sources & References
Aston Martin:  James Bond an Iconic Relationship
Hemmings News Daily: "Bullitt," and one of the most famous car chase scenes ever filmed, turns 45
Sebastien Foucan Freerunner: The founder and pioneer of Freerunning