Attention all you high rollers and casino fanatics! Get ready to roll the dice and take a spin with the 10 most popular casino movies of all time. From the glitz and glamour of Las Vegas to the seedy underworld of organized crime, these films have it all. Join us as we explore the thrills, spills, and chills of the casino world, all from the comfort of your own couch. So grab your popcorn and get ready to experience the rush of the casino without ever leaving your living room.
10 – Showgirls (1995)
"Showgirls" is a film that promises glitter, glamour, and lots of skin, but ultimately falls flat on its high-heeled shoes. While the performances are as over-the-top as the Vegas Strip setting, the plot is as thin as a G-string and the dialogue is as cringe-worthy as a bad pick-up line. It's hard to know if the film is meant to be a satire or a serious drama, but either way, it's a hot mess that's more likely to make you groan than cheer. If you're looking for a good laugh and some outrageous dance numbers, then "Showgirls" might be worth a watch, but don't expect anything Oscar-worthy.
09 – Casino Royale (1967)
If you're a fan of James Bond films, then "Casino Royale" (1967) might just leave you shaken and stirred…but not necessarily in a good way. This spoof of the classic spy franchise is more silly than suave, with an all-star cast that's more interested in hamming it up than playing it straight. From the psychedelic visuals to the groovy soundtrack, the film feels like a relic of its time, but not necessarily in a good way. While it's fun to see the likes of Peter Sellers and Woody Allen hamming it up on screen, the movie's disjointed plot and hit-or-miss humor make it a bit of a mess. Overall, "Casino Royale" (1967) is worth watching if you're a Bond completist or a fan of campy comedies, but don't expect it to be on the level of the more serious Bond films.
08 – Rounders (1998)
If you're a fan of poker or just love a good underdog story, then "Rounders" is the movie for you. This 1998 classic follows the journey of Mike McDermott (played by Matt Damon), a law student and poker prodigy who risks it all to pay off his friend's debt. With a stellar supporting cast that includes John Malkovich and Edward Norton, the film is a tense and thrilling ride that will keep you on the edge of your seat. While some of the poker jargon might fly over your head, the movie's heart and soul are easy to understand: it's all about the thrill of the game and the people who play it. Overall, "Rounders" is a must-watch for any fan of gambling movies, and a reminder that sometimes the biggest risks can lead to the biggest rewards.
07 – The Hangover (2009)
Ready for a wild ride that will have you laughing until your sides hurt? Look no further than "The Hangover," the 2009 hit comedy that follows a group of friends on a wild bachelor party in Las Vegas. When they wake up the next morning with no memory of the previous night and the groom-to-be missing, the gang sets out on a hilarious adventure to retrace their steps and uncover the truth. With an all-star cast that includes Bradley Cooper, Zach Galifianakis, and Ed Helms, "The Hangover" is a raunchy, hilarious romp that will keep you laughing from beginning to end. Whether you're nursing your own hangover or just looking for a good time, this movie is the perfect pick-me-up. So grab some popcorn, settle in, and get ready to laugh your socks off with "The Hangover."
06 – National Lampoon's Vegas Vacation (1997)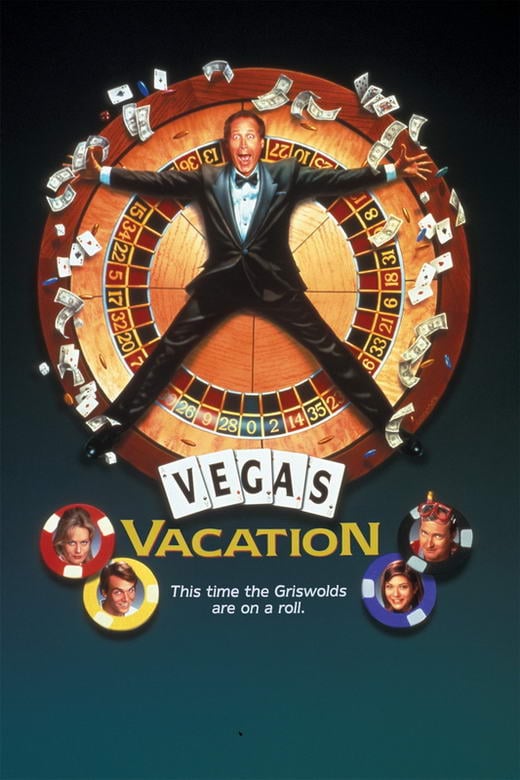 Looking for a classic comedy that captures the wild and wacky spirit of Las Vegas? Look no further than "National Lampoon's Vegas Vacation," the 1997 comedy starring Chevy Chase as the bumbling patriarch of the Griswold family. When the Griswolds head to Sin City for a vacation, they find themselves caught up in a series of outrageous misadventures that include everything from blackjack to Wayne Newton. With a cast that includes Beverly D'Angelo, Randy Quaid, and Ethan Embry, "Vegas Vacation" is a laugh-out-loud comedy that will have you rolling in the aisles. So whether you're a seasoned Vegas veteran or just looking for a taste of the high life, "National Lampoon's Vegas Vacation" is the perfect pick for a hilarious night in. Don't miss out on this classic comedy – it's sure to leave you in stitches!
05 – Fear and Loathing in Las Vegas (1998)
Buckle up, folks, because we're about to take a wild ride through the crazy world of "Fear and Loathing in Las Vegas." This psychedelic trip of a movie follows journalist Raoul Duke and his eccentric attorney Dr. Gonzo as they navigate the surreal landscape of Las Vegas. With mind-bending visuals, bizarre characters, and enough drugs to make Hunter S. Thompson proud, "Fear and Loathing" is a cinematic experience like no other. Whether you're a fan of the book or just looking for a trippy adventure, this movie is sure to leave you feeling like you just stumbled out of a desert haze. So grab your ether-soaked rag and join Duke and Gonzo on their journey into the heart of the American Dream.
04 – Hard Eight (Sydney)(1997)
In "Hard Eight," Paul Thomas Anderson's debut film, the director takes us on a journey through the underground world of gambling. With a cast of incredible actors including Philip Baker Hall, John C. Reilly, and Gwyneth Paltrow, the movie explores the highs and lows of the gambling life, while also delving into the complex relationships that exist between the characters. The story is gripping, the dialogue is sharp, and the performances are outstanding. If you're looking for a movie that's both entertaining and thought-provoking, "Hard Eight" is definitely worth a watch.
03 – 21 (2008)
If you're looking for a movie that will have you on the edge of your seat, then "21" is the perfect choice. This film tells the story of a group of MIT students who use their mathematical skills to win big at the blackjack table. But as the stakes get higher, so do the risks, and the students find themselves in over their heads. With a cast that includes Kevin Spacey and Jim Sturgess, "21" is a fast-paced thrill ride that is sure to keep you entertained from beginning to end. So grab some popcorn, sit back, and get ready to take on the house in this high-stakes game of chance.
02 – Oceans 11 (2001)
"Ocean's Eleven" – a classic heist movie that will keep you on the edge of your seat. Starring a stellar cast of A-listers, this movie is sure to entertain. The plot centers around Danny Ocean, a notorious thief who plans to rob three of the biggest casinos in Las Vegas. With the help of his team of eleven skilled criminals, they set out to pull off one of the greatest heists in history. The glitz and glamour of Sin City serve as the perfect backdrop for this stylish and suspenseful thriller. And with so many twists and turns, you never know what's going to happen next. So sit back, relax, and enjoy the ride with "Ocean's Eleven".
01 – Casino (1995)
"Casino" – the classic Scorsese film that brought the gritty world of Vegas casinos to life. Let me tell you, this movie is a rollercoaster of emotions. You'll laugh, you'll cry, and you'll definitely cringe at some of the violent scenes. But that's what makes it so compelling – the way it shows the seedy underbelly of the gambling world, with all its greed, deception, and backstabbing. Robert De Niro and Joe Pesci give powerhouse performances as two men who will stop at nothing to maintain their power in the casino world, while Sharon Stone shines as the fiery femme fatale who sets off a chain reaction of events that lead to the film's explosive climax. If you're a fan of mob movies, casinos, or just great filmmaking in general, "Casino" is definitely worth a watch. And if you're ever in Vegas, you might just think twice before stepping foot in one of those flashy, neon-lit casinos after seeing what goes on behind the scenes.
Source: http://www.imdb.com/