Throughout history, men have always needed places to let off some steam. The pressures of work and family life often see them seeking a refuge where they can simply relax with other members. While the public house does it for ordinary men who like a drink and a laugh, those more wealthy choose to frequent gentlemen's clubs. These clubs are still in operation today and provide a discreet and informal place for modern gentlemen and also women to escape the world. They are not a modern phenomenon alone though – gentlemen's clubs have been in operation for a long time, in some places since the 17th Century!
But what exactly are they? In simple terms, they are a private members club with strict rules on entry and complete discretion as to what happens inside the luxurious surroundings. This veil of secrecy and opulence made them ideal for wealthy celebrities or royalty to party without getting into trouble!
We take a look at the ten most well-known through history.
10 – White's
This London based club was set up in the 18th Century and is one of the oldest gentlemen's clubs around. Boasting fabulous interior design and an air of complete refinement, it is still going to this day. Found in the posh St James area, it was once known as an outrageous gambling den for members. While this is not true now, in the past members were known to bet on everything from which other members would die first to which raindrop would get to the bottom of a window first! All bets were recorded by the club staff and totaled up, ready to be settled. What is true still is the formal nature of a White's lunch or dinner with after-dinner cigars as standard.
09 – The Clermont Club
Found in an 18th Century building in London's swanky Mayfair, this club was originally opened in 1962 by eccentric millionaire John Aspinall. He was very well connected which soon saw many famous faces and wealthy aristocrats frequent the club. Primarily a casino, it allowed members to play high-stakes games like Chemin de Fer in the fanciest of surroundings. Famous members from the past were Roger Moore, Lord Lucan and Frank Sinatra. Although quieter now then its 1960's heyday, it is still open to play at. Just try not to lose half a county as the Earl of Derby did one infamous night!
08 – Boodle's
First establish in the late 1700's, Boodle's was named after one of the waiters who worked there. It is a very select club of which membership is decided on via election. This has seen many people apply to be a member but not get the votes needed from current members to make it. The original aim of this club was dining, drinking and gambling. This saw many famous faces like Beau Brummel indulge their passions here. Indeed, Brummel was a regular visitor until he fled from London to avoid paying off his huge gambling debts.
07 – Brooks's
As we have noted, membership to these types of clubs could be very select. Brook's was founded by two disgruntled people who had applied to join White's but been turned down! It now sits in a very grand building but was originally housed on the site of an old tavern. As with all gentlemen's clubs, it boasts luxurious furnishings, delicious food and a place to really unwind. As well as the free-flowing drink, there are plenty of gaming tables to enjoy. It was at one of these that an Earl bet a Duke 500 Guinea's that he could not have sex with a woman while riding through the sky in a hot air balloon!
06 – East India Club
This is one of the more recent clubs to have been founded but has seen scandal and infamy since then. Originally set-up to provide members a respite from the world, it is a very wealthy and finely decorated place. The club staff are the height of discretion while the food and drink are simply amazing. Many rich men have whiled away a few hours here with a newspaper and glass of scotch! This is a club firmly rooted in tradition with a refusal still to admit women members. It has seen its fair share of infamy such as one treasurer taking £500,000 from club funds to a British MP allegedly using it to conduct an affair in.
05 – The Reform Club
If you think you have heard of this club already then you must have read 'Around the World in 80 Days'. The Reform Club was the place Fogg took on his bet and also where he left from on his fateful journey before returning. Founded in 1836, members originally had to be in favour of Liberal politics, but this is no longer true. As a club, it is second to none with fabulous furnishings inside and an atmosphere of total refinement for members to enjoy. It is not without its dark side though – although not proven due to the inherent secrecy of the club, there have been claims of bullying by staff and elected officials there.
04 – The Albemarle Club
Somewhat unusually for a club of this type, The Albemarle opened its doors to women upon opening in 1874 and was not solely a place for the wealthiest to frequent. Indeed, this club was more of a haven for creative and artistic types to indulge their passions. Much drinking was done here and many used the club's lively atmosphere to get their creative juices flowing. Oscar Wilde was a notable member although when the Marquess of Queensbury came looking for him there one night he probably wished he was not! The Marquess believed that the homosexual Wilde had corrupted his son and was out for revenge. While he could not gain entry to confront Wilde, he later took him to task in court.
03 – The President's Club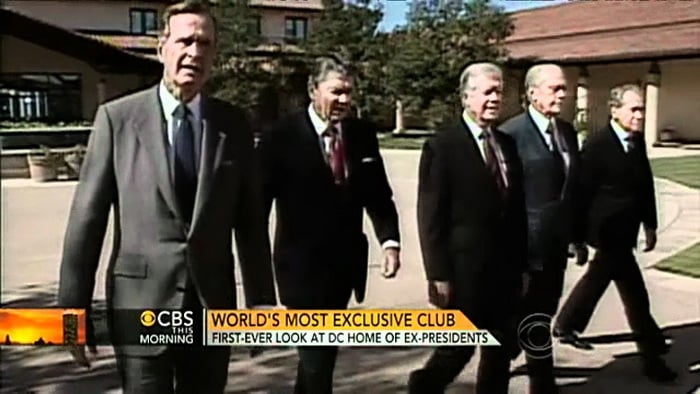 The name of this club is a bit mis-leading as it as more of a charity and not only for President's. What is true is that members were made up of the most wealthy and influential men in society and business. They would meet regularly to host fund-raising events and party. These events were always shrouded in secrecy for a long time but many believed them to be raucous and full of sexual misbehavior. This appeared to be confirmed at the last charity event they held when an undercover female journalist working as a waitress there filmed footage of inappropriate behavior. Since then the club is no more.
02 – The Bullingdon Club
Although more of a secret dining club, this warrants a mention as most of what goes on is similar to actual gentlemen's clubs. The main aim of the Club is drinking, outrageous behavior and fine dining with only select individuals being allowed entry. A Club that exists only for current Oxford University students in England, it is mostly made up of super-rich members who went to the best public schools beforehand. Members are known for their crazy nights out which often involves damage to the restaurants or bars they hold their meetings in.
01 – The Savile Club
Top of the list for opulent, extravagant and amazing gentlemen's clubs, there is The Savile Club. Full of comfy leather armchairs, the finest cognac and staff to satisfy every need, it is the classic gentlemen's club. Author H.G. Wells was a famous member who almost ran aground of a fellow member. Wells was having an affair with the man's daughter and would wait regularly for Wells to come in with a gun in hand. Naturally, the club officials felt this a poor situation after a while and advised Wells to resign his membership. This is one very exclusive and swanky club for only the richest people in society to enjoy.
Although they may seem an outdated idea, gentlemen's club are still going strong to this day. Indeed, many of those listed above are open still. This should not be a surprise – many now allow women to become members too and all offer a relaxing escape from the world for their members. Compared to the hustle and bustle of a pub or bar, there is certainly something different about them.