A person's final words before execution can often be prophetic, tragic, profound and poetic. There is an interesting blog which is called "Lasting Statement" collects the final statements and mugshots of individuals executed by the state of Texas since 1982. Some of them declined to make a statement. Here is 10 of them. Don't forget to visit the blog to see the rest…
10 – E.Green (30)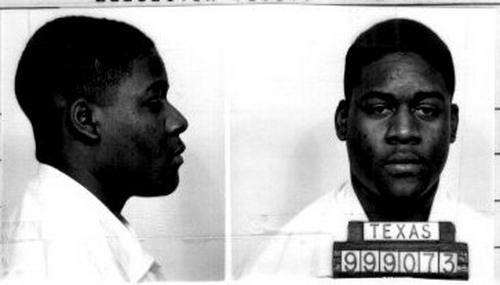 Yes I do. To my family, to my friends, and people who have accepted me for being the person that I am. To the Sullivan and Hayden families, I do not come here with the intention to make myself out to be a person that I am not. I never claimed to be the best person. I am not the best father, the best son, or the best friend in the world. I did the best I could with what I had. I come with no hate in my heart or bitterness. To my family and to you people, I can only apologize for all the pain I caused you. May God forgive us on this day. I am ready when you are.
09 – R.Jones (40)
I want the victim's family to know that I didn't commit this crime. I didn't kill your loved one. Sharon Wilson, y'all convicted an innocent man and you know it. There are some lawyers hired that is gonna prove that, and I hope you can live with it. To my family and loved ones, I love you. Thank you for supporting me. Y'all stay strong. Warden, take me home.
08 – C.Phillips (59)
I want to express my feelings regarding the mishap of the deceased Mrs. Iris Siff. That was a very unfortunate incident and only God knows why it was an unintentional situation that took place. I want to express my remorse to the family and the discomfort and pain I caused in their lives. Only God will determine if I am truly guilty or innocent of being the type of person I have been drawn up to be by the press and media. I have given my wife the power and energy to be a disciple of Islam. I rescued her from a wretched life in Ireland. I thank Allah for sending her to me. Certainly murder cannot be an instrument of Allah. My wife is very devoted.
07 – W Chappell (66)
Jane, Grace and all of you all, I know you think I did this, and I'm sure you think this is wonderful in you eyes. But, let me tell you something, there were two DNA tests run and none matched me. I wanted a third, but that never happened. Three people at different times confessed to killing these people – your parents. They did not know me. My request is that you get yourselves in church and pray for forgiveness because you are murdering me. I did not kill anyone in my life. If you will look at your house and the police report, there are several bullet patterns shot into the West wall over the bed and the East wall and North wall and your sister was in the front bedroom while 30 shots were fired. There's no way in hell she would have laid in that bed. If you think I did this, you need to think again. There were three people in the house and have confessed to it. Larry Ashworth in Fort Worth killed seven people. All I was asking for was a DNA and I could not get it. But get in church and get right with God. Jane, you know damn well I did not molest that kid of yours. You are murdering me and I feel sorry for you. Get in church and get saved. I really don't know what else to tell you.
06 – J.Moreland (39)
Dad, I love you both. You've been the best. All of you, all of you have truly been the best. And ah, I believe I'm going home. I'm sorry, and I really mean that, it's not just words. My life is all I can give. I stole 2 lives and I know it was precious to ya'll. That's the story of my whole life, that's what alcohol will do for you. Oh Jesus, Lord God, take me home. Precious Lord. Take me home Lord. Take me home. Yes, sir. Take me home oh Lord.
05 – J.Wilson (39)
May I speak to my family? Honey, I love you. Be strong and take care of yourselves. Thanks for being there. Take care of yourself. Ms. Irene, thank you for everything you have done. Chaplain Hart, thank you for helping me. Gary, thank you. Maria, Maria, I love you baby. Thank you for being there for me and all these people here will find the one who did this damn crime. I am going home to be with God. Thank you. Thank you, Warden.
04 – C.Bass (30)
I deserve this. Tell everyone I said goodbye.
03 – D.Harris (43)
Yes I do. Sir, in honor of a true American hero. "let's roll". Lord Jesus receive my spirit.
02 – B.Roberson (36)
Since I have already said all I need to say to all my loved ones, I'm not going to say anything to y'all at this time. Y'all know I love you and y'all know where we're at. I will see y'all when you get there. So this is my statement. To all of the racist white folks in America that hate black folks and to all of the black folks in America that hate themselves: the infamous words of my famous legendary brother, Matt Turner, "Y'all kiss my black ass." Let's do it.
01 – C.Livingston (35)
You all brought me here to be executed, not to make a speech. That's it.
via: Lastingstatement.com