When it comes to sex, humans can't get enough of it. That's why online dating sites are so much popular. If we're not thinking about it, we're having it and if we aren't doing either we like to read about it. Nothing shows this more than the popularity of E.L.James' Fifty Shades series of books that sold millions and spawned mass hysteria worldwide. But you might be interested to know that these are not the best or dirtiest erotic novels ever written.
With an endless array of romance books to choose from, finding the perfect one that speaks to your heart and soul can be quite the challenge. From timeless classics to contemporary tales of desire. Love novels have a unique way of enchanting us with their unforgettable characters, intricate plots, and sensual encounters. If you're in search of a captivating read, look no further than our selection. Those books are of the most sizzling and passionate novels ever penned.
There have been many other novels written before and after which make sex in all its forms their central attraction. We take a look at the ten horniest to ever reach the page.
10 – Tropic of Cancer by Henry Miller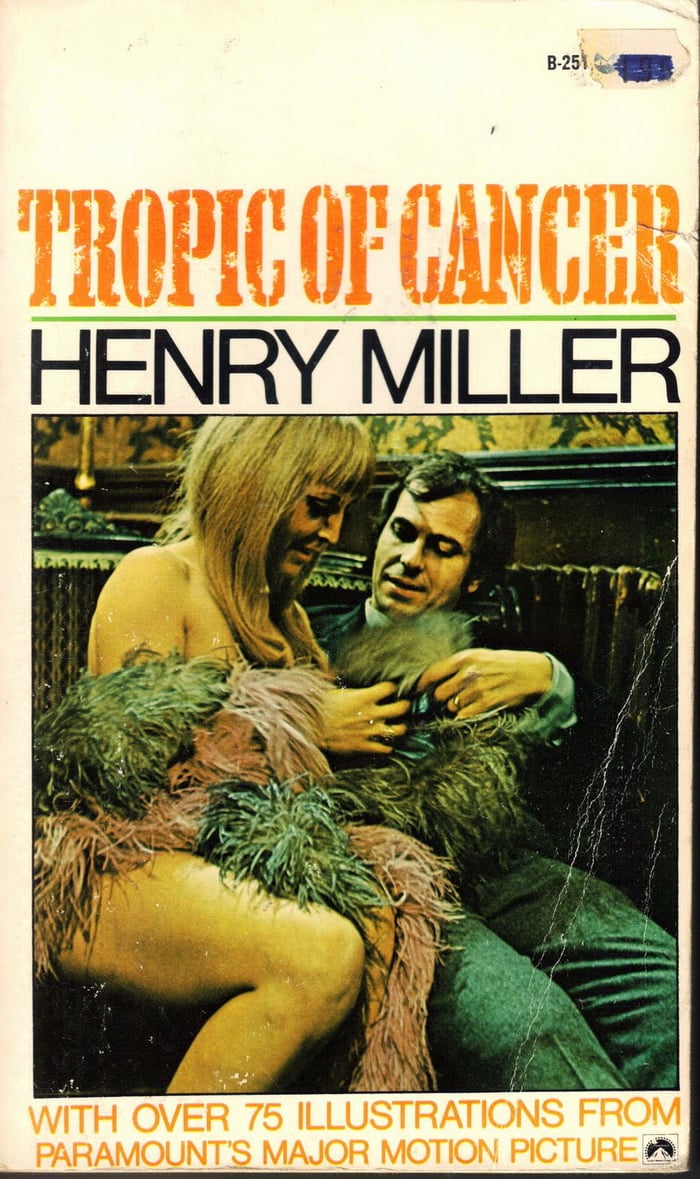 BUY HERE: Tropic of Cancer
Written in 1934, this was originally banned in the authors home country of the USA and so published in France. This has since been overruled though and it can now be enjoyed wherever you are in the world. The working title was apparently 'Cock Crazy' which sums up what happens mostly! This erotic classic is a semi-autobiographical account of the authors sexual exploits in Paris. It mostly involves numerous liaisons with girls and prostitutes – be warned, it can get pretty steamy at times!
09 – Baise Moi by Virginie Despentes
BUY HERE: Baise Moi
This is one erotic novel you may have already heard of as it was also made into a film. Both film and book are pretty explosive – this is definitely on the angrier and more extreme end of the erotic novel range. Many describe it as sexual version of Thelma and Louise which is quite accurate in truth. The novel tells the story of two French girls who set off on a murder and sex spree to satisfy their darkest desires. If can get pretty graphic but is certainly a book you will remember!
08 – The Sexual Life Of Catherine M by Catherine Millet
BUY HERE: The Sexual Life Of Catherine M
If Tropic of Cancer was only semi-autobiographical with a central male character, this book is the reverse. Completely autobiographical, it tells the story of Catherine Millet and her many sexual adventures around modern day Paris. If you like sex scenes, then this is the one for you as it is filled with them. Steamy, saucy and aimed at the ladies, this is a good read too. Be warned – the author does like to describe male genitalia at length.
07 – Venus in Furs by Leopold von Sacher-Masoch
BUY HERE: Venus in Furs
Ever wondered where the term 'Sado-Masochism' came from? Well know you now! It was coined following this book being published and based on the authors surname. With this in mind, you can guess what type of erotic novel it is. Interestingly, it has the central male character of Severin is the one on the receiving end of the punishment from the main female protagonist Wanda. In essence, it was the first FemDom novel too! He loves it though and that makes the many beatings and spankings he suffers a memorable read.
06 – Lust by Susan Minot
BUY HERE: Lust
This 1984 short novel was a very modern take on sexual politics in the 1980s but feels even more true now. Of course, there is plenty of sweaty bodies and hot action to keep you turning the pages too. In essence, it tells the coming of age story of a boarding school student who has turned of age where the delights of the opposite sex can be fully enjoyed. Cue many scenes of young lust and love in cars and car parks. Although not the most well known, it is worth a read.
05 – Couples by John Updike
BUY HERE: Couples
Although this can get a bit flowery and wordy with the prose, it is still a fantastic example of the erotic novel. Set in a small American town, it tells the story of a set of couples who are promiscuous in the extreme. Updike certainly has his own writing style and way with words – this tale of drama and lust will keep you gripped until the end. There is plenty of action to keep you interested along with well written characters to delve into.
04 – The Siren by Tiffany Reisz
BUY HERE: The Siren
One of the more contemporary novels on our list is this one. As you would expect from a modern erotic tale post-Fifty Shades, it pulls no punches in the language used or sexual acts depicted. The main story tells the tale of a female erotic author embarking on a sexual adventure with her dominant male publisher. Intensely sexual with lots of BDSM for those who like it, this is one of the best contemporary erotic novels around.
03 – Story Of The Eye by Georges Bataille
BUY HERE: Story Of The Eye
Be warned – like Baise-Moi, this is on the more extreme end of the erotic fiction category. The book follows the story of the main male character and his lover Simone as they explore each other's darkest perversions. While there is nothing truly sick or offensive in it, it can get quite weird at times. Definitely one for the more experienced erotic reader, it is certainly a book you will remember for many years.
02 – Delta of Venus by Anais Nin
BUY HERE: Delta of Venus
Published after the authors death, this is not only a very horny book to read but also a great story too. It mixes dashing Hungarian aristocrats with exotic Brazilian dancers and Peruvian opium dens to superb effect. Of course, there are many scenes of a sexual nature in it and they are both well-written and steamy. Although more than 70 years old now, its tales of lust and hardcore action still leap off the page to this day.
01 – The Story of O by Pauline Reage
BUY HERE: Story of O
Coming in at the top spot is a book that is both famous and infamous. It really is the book that paved the way for Fifty Shades but many years before. The central story is similar with the central female character of O undergoing many sexual adventures at the command of her male lover. The many acts that O willingly submits too are enough to make you blush, but you will still keep reading. One particularly memorable part is the anal widening she agrees to so her male lover can enter her from behind more easily!
The popularity of erotic novels has recently come back to the fore but the above shows that they have always been enjoyed in history. Sex is such a central part of who we are as humans that it is no surprise really. If you fancy something a bit different the next time you pick up a book for the beach, the above should certainly keep you entertained.
The world of romance novels offers a treasure trove of unforgettable stories that have the power to ignite our deepest passions and evoke the most intense emotions. Whether you're a die-hard fan of the genre or a curious reader, these 10 passionate novels are guaranteed to sweep you off your feet and leave a lasting impression. As you delve into the pages of these hottest romance novels, allow yourself to be transported to a world of love, desire, and unbridled passion that will leave you yearning for more.