Getting away on holiday is a great chance to re-charge the batteries and also experience new cultures through travelling. If you fancy doing this in the ultimate style then staying at a top-class, luxury hotel is the only option. The chance to stay in elegant surroundings and experience the very best service and food is too tempting to miss. No longer a realistic choice for movie-stars and business tycoons only, the very best hotels in the world are open to all who can pay their prices.
We take a look at the ten most luxurious hotels to take a break in across the globe:
10 – Emirates Palace, Abu Dhabi
When it comes to the subject of hotels and pure indulgence, this one is up there with the best. Found in the Middle East, it gives the ultimate in pleasure and service with sumptuous décor that will blow you away.
Costing around $3 billion to build, it has almost 400 stunning rooms and suites to stay in. The standard of the rooms is simply amazing with the softest beds and comfiest chairs to relax in. Armed with its very own Spa, you can spend your days getting pampered and looked after to your heart's desire. The nearby beach has the most beautiful white-sand on it so you can top up your tan there if you prefer. Overall, staying in this hotel is one experience you won't forget in a hurry!
09 – Mardan Palace, Turkey
Nothing says luxury like a 24/7 personal butler service and that is just what you get when you stay here. Turkey is a great country to visit anyway with its friendly locals and sizzling weather but staying here makes it so much better!
Built in 2009 to the tune of $1.65 billion, this has jaw-dropping touches throughout such as gold-leaf on the interior décor and Italian marble floors. The white-sand that makes up the exclusive hotel beach was flown in from Egypt so you will feel like royalty when lying out on that. Boasting tasty food and a pool that can fit in 1,000 guests and 10 restaurants, this is certainly one of the elite hotels in the world.
08 – The Westin Excelsior, Rome
Rome is such a great city with its air of romance and sophistication that it's no surprise one of the chicest hotels in the world is found there. The Western Excelsior is simply sublime and has rooms that you will not want to leave once you check-in! What is great about this hotel is that not all the rooms are eye-wateringly expensive so the average person can afford to stay here too.
If you do want to go really up-market then the Villa La Cupola suite is for you. Spanning two floors of the hotel, it offers the perfect mix of privacy and luxury to anyone who stays there. With its classical styling and high-tech gadgets, it gives guests the ideal blend of old and new to enjoy while in Rome.
07 – Burj Al Arab Hotel, Dubai
Another entry from the Middle East is this famous hotel in Dubai. Known as 'The Sail' due to its distinctive shape, this is one place you will feel instantly at home in. One for the real high-rollers out there, all rooms are two-floor suites that give all you would expect from this type of establishment.
Some of the more fantastical touches are the heli-pad on the top of the hotel and the hovering tennis courts to play on! Contained within the hotel itself are a wide array of dining and night-life options all done in the most stylish way. This is a great hotel in a superb location and will certainly be one you will come back to time and again.
06 – Marquis Los Cabos, Los Cabos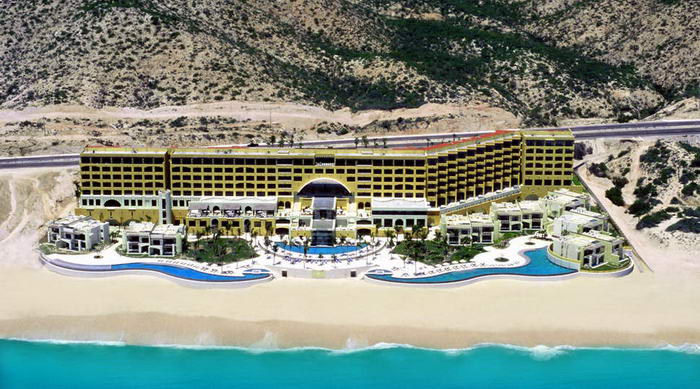 The background story to this hotel is something that makes it different from others. Inspired by the legend of two angels searching for a paradise on earth, this hotel is the answer to their prayers. The lobby alone will blow you away with its panoramic view of the ocean from it. Once you have got to your room, you will be similarly impressed by the sheer beauty of it and the standard they are decorated too.
Gorgeous sculptures and jaw-dropping infinity pools are just some of the many personal touches in each room that make your stay special. A serene and relaxing spa on site offers even more luxury with its many treatments to enjoy. Most rooms have balconies and if you're really lucky you may even spot migrating whales from them when watching!
05 – The Plaza, New York City
The Big Apple, The City That Never Sleeps – New York has many names and many places to stay. Surely the most elegant and classy is the Plaza though. Offering great views of Manhattan, especially from the VIP Royal Plaza Suite, the interior and room décor will leave you speechless. The staff are second to none and always on hand to help when needed.
Built in 1907, it is decorated to the highest standard and makes a brilliant base for exploring NYC. If three words were to sum this hotel up it would be opulent, stylish and amazing. Although there are many fabulous hotels in New York, this is arguably the best of the bunch.
04 – Atlantis Paradise Island, Bahamas
The Caribbean has long been a favourite destination for those wanting to see the more exotic and alluring side of life. The Bahamas certainly delivers on this promise and the laid-back atmosphere will soon have you feeling a million miles away from your old life.
This resort is the premier one within the Bahamas and with good reason. Built in honour of the lost city of Atlantis, this 141-acre site has everything you need to have fun. It also has that touch of luxury that is so important! The best room is the Royal Towers Bridge Suite that has 12-foot ceilings and full-length mirrors. In addition, it has a massive dining room contained within to sample the delicious food and permanent staff to look after you!
03 – The Palms, Las Vegas
Now, I'll admit that when it comes to luxury hotel Las Vegas doesn't immediately come to mind! However, if you ever stay at the Palms there you will change your mind! Famous within America for high-living and classy clientele, it is superbly well decorated and the rooms are massive. The fabrics and materials used to deck out the rooms are fabulous too which makes them a real treat to stay in.
If you really want to live like a film star then the roof-top suites are the ones to stay in. These have Jacuzzis that look straight down onto the Strip and great luxury touches like private gyms, pools and media room. If you want to experience the City of Sin in style then this is the place for you!
02 – The Boulders, Arizona
Boasting a clientele that is so select the owners can't say who they are, this is another hotel in America that is simply sublime. The real star here is the surroundings with it being set against a backdrop of the beautiful Sonoran Desert and vast mountain ranges. As well as a luxury hotel, it is also a top-class spa resort too.
This makes it perfect if you want to fit in some of the world's cutting-edge treatments during your stay. The hotel itself is sumptuous and all rooms have fabulous views across the desert and all the touches you would expect such as elegant private bathrooms and plenty of room in them. There are even two world-class golf courses on site so you can go for a round or two in the morning if that's your thing.
01 – CuisinArt Golf Resort and Spa, Anguilla
The top of our list is this stunning and luxurious hotel, spa and golf resort in lovely Anguilla. Originally brought as a private tropical playground by its owner, he has since expanded it to allow guests to stay also. Luxury rooms and villas in a Moorish-style are the order of the day here and give a real touch of class.
The star of the show is the many amazing beaches Anguilla has to explore and make a brilliant adventure to explore everyday before coming back to the hotel for a drink in decadent surroundings. It also has a real sense of privacy and calm so you can fully relax with no distractions. A Greg Norman designed golf course and sublime spa complete the luxurious picture for this hotel.
There are many elegant and luxurious hotels to stay in around the world and the ten above really are the cream of the crop. They all offer the very best in high-class living and relaxation so why not try one as a special treat for your next birthday or trip abroad? Although they may seem expensive, what you get in return is something that money simply can't buy.