According to the Asthma and Allergy Foundation of America, one in five Americans suffers from an allergy. Eighty percent of those people, about 40 million Americans, suffer from indoor/outdoor allergies such as pollen, pet dander, and mold spores.
While allergies like this are common, there are certain allergies from which only tens or hundreds of people worldwide suffer. The symptoms are often more severe, too, causing rashes, hives, shock, and sometimes death.
Check out these interesting allergies to learn more.
10 – The Sun
Photo credit: Unknown
Known as solar urticaria, individuals with this condition are photosensitive, meaning they're sensitive to certain light wavelengths, particularly those from the sun. When exposed to this light, natural or artificial, these people break out in hives. This condition accounts for only four percent of photosensitive disorders and may develop at any age.
09 – Food
Photo credit: faith goble / CC BY
The Asthma and Allergy Foundation of America reports that six percent of allergy sufferers have some sort of food allergy. If it's so common, then why has it made the list?
Strangely enough, there's one condition (still unnamed) where individuals are allergic to all food and drink. In one such case, Australian boy Kaleb Bussenschutt can only consume water and some brands of lemonade. When he eats food, he develops stomach ulcers and becomes severely ill. Not only that, but he has a difficult time absorbing any food he eats. To obtain the necessary nutrients, he's fed by a machine for 20 hours each day.
08 – Sound
Photo credit: Unknown
Having an allergy to sound means that you are hyper sensitive to sound. You pick up on just about every decibel that most people would find pleasant, unnoticeable, or a part of everyday noise. Those who suffer from this allergy may feel sharp pains in their ears or suffer from a plethora of different types of pounding headaches
If you suffer from this painful allergy, a few things you can do is retrain yourself to hear, you can also understand what it is that makes your allergy perk up. For some it is high pitched sounds, for others lower rumbling sounds.
07 – Electricity
Photo credit: U.S. Air Force photo by Edward Aspera Jr. / Public domain
In a world seemingly powered by electricity, electromagnetic fields, and all the radio signals one could muster, this allergy seems to be a little inconvenient at best. Being allergic to electricity means that you will have to insulate the entirety of your living space with tin foil (or a lining close to it) that will help repel the frequency waves that are trying to infiltrate your home.
People with this type of allergy will probably feel muscle fatigue or pain, irritated skin, headaches, and incredible head pains. Usually, the best way to limit the ill-effects of electro sensitivity is to remove yourself from cellular devices, devices that emit any kind of high electronic frequency, and high levels of electricity.
06 – Water
Photo credit: GNU Free Documentation License
If you thought an allergy to all foods was bad, imagine being allergic to water, the basic element of life. Known as aqua genic urticaria, people allergic to water experience red itchy bumps shortly after coming into contact with water. To date, less than 100 cases have ever been published in medical literature.
One report showed two cases where patients, a 19-year-old boy and a 4-year-old boy, both came to the clinic complaining of reoccurring rashes. When tested, the evidence showed that the rashes only flared after contact with water. However, both patients were able to drink water without complications. The 19-year-old was prescribed fexofenadine and the 4-year-old ketotifen syrup, which eased their symptoms.
05 – Wood
Image via Flickr by spDuchamp
Imagine giving up your job to become a carpenter only to find out you're allergic to wood. Dan Hill had to endure this after quitting his job as an investment banker. When he began working with the wood, he noticed he had developed a red, itchy rash and watery eyes. Luckily for him, and thanks to his commitment, he discovered that he wasn't allergic to all kinds of wood after working with Welsh oak. He's now running his own company with his brother and not letting his strange allergy control his life.
Along with rashes and eye irritation (as in Hill's situation), wood allergies can also have an effect on the respiratory tract and may lead to an asthma attack. However, individuals can get certain medications to prevent severe asthma symptoms.
04 – Touch
Known as dermatographia, also called "skin writing," individuals with this condition experience red raised bumps similar to hives whenever anything lightly scratches their skin. For instance, individuals with dermatographia might experience red bumps from clothes rubbing on their skin. Because of this reaction to simple touch, it's easy to write on the skin, which is where it gets its nickname. These raised bumps only last about 30 minutes, but they can become itchy and troublesome.
03 – Shoes
Photo credit: Ganymedes Costagravas / CC BY
The chemical formaldehyde is used for embalming the dead. It is used as a means of preserving the body for the funeral, and to stop or slow the decaying process. Unfortunately, it is also used as an agent for keeping your shoes up to par.
Formaldehyde is used in the resin form in a lot of leather products, including your shoes. It's used to create the glue that holds the shoe together as a whole, and is also released from the inside of the shoe due to the leather's need for the chemical. If you find yourself on the wrong end of a shoe allergy, wash your feet immediately and start looking for the nearest cortisone cream.
02 – Beer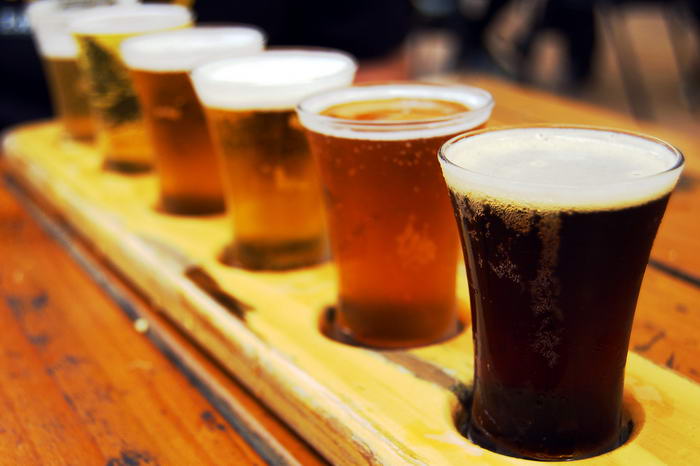 Beer is one of the most commonly consumed alcoholic beverages in the nation. There is a protein found in the barley that is used to brew beer that can create a severe allergic reaction. This can often result in skin rashes, flushed skin, irregular heartbeat, and an unfortunate jaunt with your nearest restroom.
The protein is called LTP or "Lipid Transfer Protein". This protein has been attributed to several different food allergy issues. Most fermented plant matter has this protein and it causes an issue in the digestion and absorption of the protein-holding food.
01 – Exercise
A final bizarre condition is known as exercise-induced anaphylaxis, when individuals experience a severe allergic reaction after physical activity. Symptoms may include hives, wheezing, cramping, and itching. If individuals continue exercising, they may experience even more severe symptoms, including cardiovascular collapse.
Headaches after physical exercise may persist for up to three days. In some cases, physical exercise as simple as walking can trigger an attack, so if your friend tells you he or she is allergic to exercise, they might just be telling the truth.
If these strange allergies intrigue you, visit the Asthma and Allergy Foundation of America website to learn more about similar conditions that affect those with allergies and asthma.
Author Bio:
Abigail Clark is an up-and-coming freelance writer. She graduated from The University of South Florida with a bachelors in marketing, minoring in journalism. When she isn't up to her neck in coupons she is enjoying the outdoors fishing. She loves doing reviews for technology, home products and beauty products. If you would like her to do a review for you look her up on twitter @downtownabby17.