Recently, an unsuspecting Scottish woman sparked a worldwide debate after posting a picture online which showed a dress. Was it gold and white, or was it blue and black? The world was divided, with big celebrity names such as Taylor Swift and Justin Beiber even getting involved. In case you're wondering, the real dress was actually blue and black, but it brought to mind all the other iconic dresses which have become instantly recognisable the world over.
10 – Geri Halliwell's Union Jack dress
90s girl band the Spice Girls introduced many new ideas into our everyday language, including the idea of 'Girl Power' and Victoria 'Posh' Beckham herself. Geri Halliwell (who was known as 'Ginger Spice') was famous for wearing a very skimpy mini dress that was covered with a large image of the Union Jack – this dress became synonymous with the band, the style of music, and the decade as a whole.
09 – Rihanna's CFDA Awards dress
Music diva Rihanna has always been known to push the boundaries of both taste and decency when it comes to her wardrobe, but she really pushed the boat out at the CFDA Awards in 2014. She sported a floor-length see-through dress which was covered in tiny sparkles; underneath, she only wore a tiny flesh coloured thong and no bra, leaving little to the imagination. Of course, she stole all the headlines, and the world was quick to sit up and take notice. Just hours later a parody image was released of comedy Family Guy character Peter Griffin wearing the same revealing dress!
08 – Björk's swan dress
In 2001, singer Björk (who hails from Iceland) shocked the world by wearing a short white dress to the Academy Awards that year. The dress featured a fluffy, feathered skirt, and the top curled around behind her neck and down over her chest to resemble an elegant swan.
07 – J-Lo's Grammy Awards dress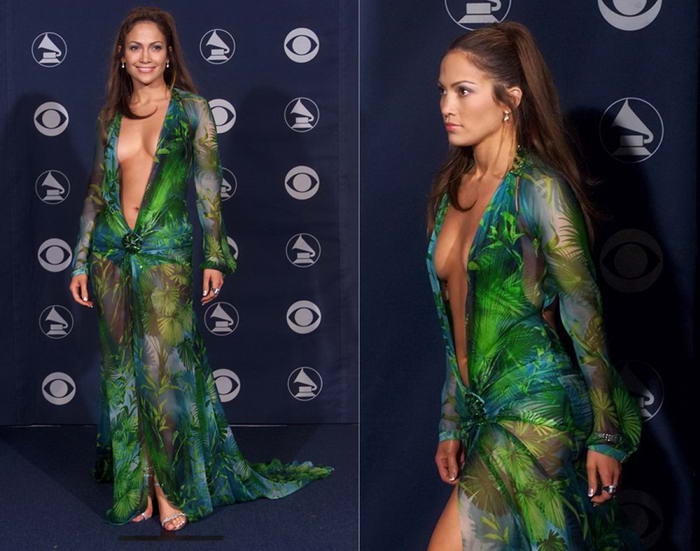 'image via nydailynews.com
Jennifer Lopez has an amazing toned, curved figure, which she hasn't been shy about showing off. This was never more true than at the Grammy Awards in 2000. She chose to wear a revealing green chiffon number designed by Versace, which had a slit up to her thigh, and a neckline that plunged all the way down to her navel. If we all had a figure like J-Lo, I'm sure we'd all be wearing the same thing!
06 – – Elizabeth Hurley's safety pin dress
In 1994, Elizabeth Hurley wore a black Versace dress to the premiere of Four Weddings and a Funeral. It showed large amounts of flesh and appeared to be held together by oversized gold safety pins. Not only did this controversial, famous dress place the designer firmly in the limelight, but it launched Elizabeth Hurley straight into the public eye, as well.
05 – Kate Middleton's wedding dress

'Royal Wedding balcony by John [email protected]
In 2010 Kate Middleton married Prince William to become the Duchess of Cornwall in a televised ceremony which was watched by over 2 billion people worldwide. Her elegant Sarah Burton for Alexander McQueen lace dress instantly became a worldwide sensation, but arguably it should be Grace Kelly's wedding dress that's actually more famous. The actress married Prince Rainer III of Monaco in 1956 in a dress which acted as a huge influence on the dress worn by the British princess.
04 – Audrey Hepburn's Breakfast at Tiffany's dress
The Little Black Dress' (or LBD) has become a staple item in every woman's wardrobe, but they only really became hugely popular after Audrey Hepburn's classic floor-length black Givenchy dress that she wore in the film Breakfast at Tiffany's.
03 – Princess Diana's wedding dress

'image via wiki
Designed by David Emanuel, the dress that Lady Diana Spencer wore when she married Prince Charles in 1981 has become one of the most famous dresses of all time. With its classic 1980s style puffball sleeves and a train that measured 25 feet long, it became hugely influential in the world of fashion.
02 – Lady Gaga's meat dress
Pop princess Lady Gaga caused a furore around the world when she wore a dress, hat and shoes made from raw meat. She revealed this dress at the MTV Video Music Awards in 2010; the public nature of the ceremony drew a great deal of speculation and controversy surrounding the dress. It was widely criticised, especially by animal rights and vegetarian groups.
01 – Marilyn Monroe's white halterneck dress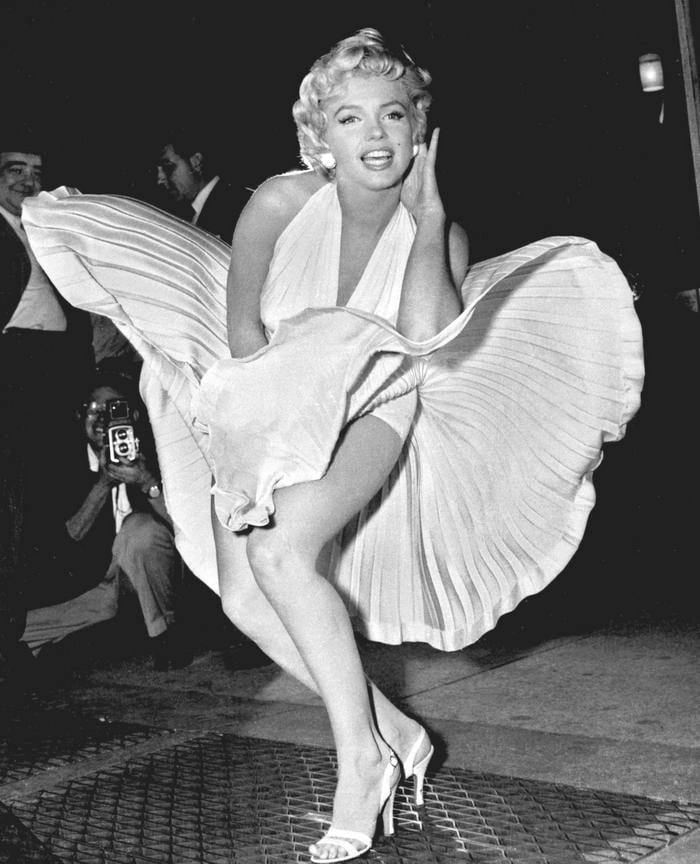 'By Published by Corpus Christi Caller-Times-photo from Associated Press [Public domain], via Wikimedia Commons
In the film The Seven Year Itch, which was released in 1965, not only did the white halterneck dress worn by Marilyn Monroe become world famous, but the image of the actress standing over the grate with the skirt billowing up around her became one of the most iconic images of all time.