Like millions of others, your hotel experiences so far might involve lumpy mattresses, soggy toast and grumpy receptionists. However, there is a whole other world out there, where hotels are filled with every treat and luxury that you can possibly imagine. If you've ever wanted to see how the other half holiday, now's your chance. Below we've listed ten of the most expensive hotels in the world; bear in mind that the prices listed are per night!
10 – Villa Rockstar at Eden Rock, St. Barths
Image via edenrockhotel.com
$32,000
If you can afford the $32,000 per night price tag, you can have the use of this hotel's on-site recording facilities to record yourself a holiday jingle. Alternatively, there's a built-in theatre for you to catch a film on the big screen. This hotel certainly has a lot to keep guests entertained, but if you do fancy venturing elsewhere, there are a couple of private Jeeps which can whisk you around this fabulous Caribbean island.
09 – Presidential Suite at the St. Regis, New York
(WT-shared) Onyo at wts wikivoyage [CC-BY-SA-3.0-2.5-2.0-1.0], via Wikimedia Commons
$34,000
This hotel in the centre of New York used to be the home of the legendary artist Salvador Dali. Nowadays, it contains the Presidential Suite, which will set you back $34,000 per night. In return, you will get two bedrooms, a library, a kitchen of the highest quality and spectacular views of Central Park. Guests also have the use of the hotel's private Bentley. It might be unbelievably expensive, but it would be money well spent!
08 – The Royal Villa at Grand Resort Lagonissi, Athens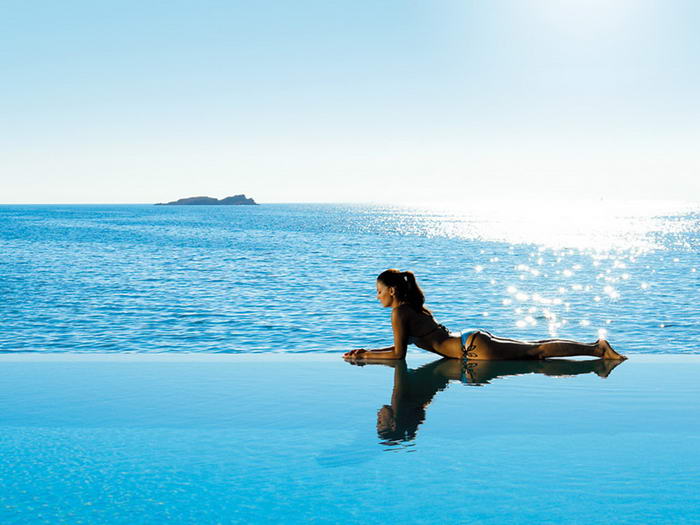 Image via lagonissiresort.gr
$34,000
This hotel offers the ultimate in relaxation for its guests. With a butler, chef, pools, a gym and breath-taking views, guests will want for nothing. A one night stay in this hotel in Athens will set you back $34,000, but you'll be in good company. A-list stars such as Mel Gibson and Leonardo DiCaprio are fans of this very resort.
07 – The Penthouse Suite at Cannes Hotel Martinez, France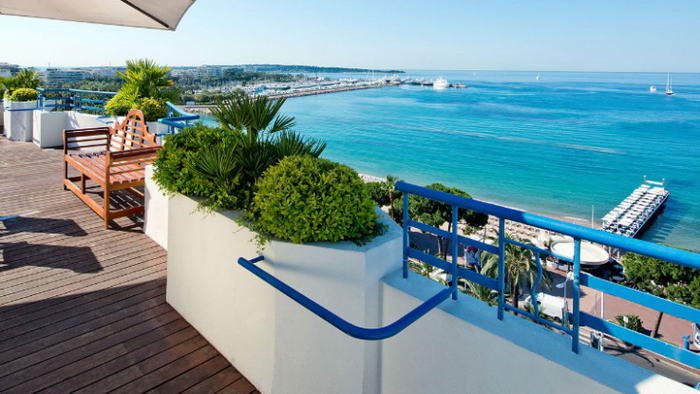 Image via cannesmartinez.grand.hyatt.com
$35,000
If you want to combine penthouse living and views of the Côte d'Azur, then this is the only way you can do it. However, at $35,000 per night, it'll cost you! Aside from the stunning views, a stay at this hotel will provide guests with five star cuisine, a private butler and silk furniture. It's pure luxury!
06 – The Royal Suite at Hotel Plaza Athénée, Paris
By Ralf.treinen (Own work) [CC-BY-SA-3.0], via Wikimedia Commons
$39,000
This hotel is home to the biggest hotel room in the whole of Paris – and the biggest price tag. For $39,000 per night, you can stay in a very elegant interior, with décor straight from the Regency period. This is pure opulence, especially when you take into consideration the steam room, Jacuzzi and three reception rooms.
05 – Hilltop Estate at Laucala Island Resort, Fiji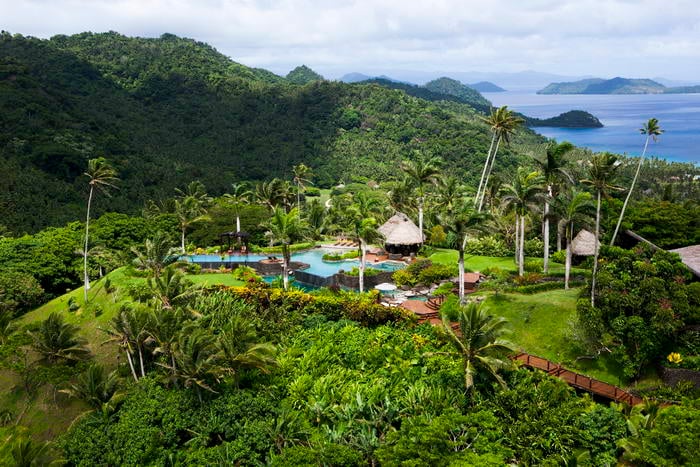 Image via hotelsinheaven.com
$39,000
Dietrich Mateschitz – the billionaire who co-founded the Red Bull empire – is the owner of this incredible resort. Guests are only permitted to stay if they have been referred or invited, so it is a truly exclusive experience. This is one of those cases where the estate offers everything you could possibly need, want and imagine; a private nanny, a 72-hole golf course, a top-notch spa and a horse riding school are just a few examples of the facilities. All of this does come at a fairly hefty cost – no less than $39,000 per night!
04 – Hugh Hefner Sky Villa, Palms Casino Resort
'Hugh Hefner Sky Villa @ The Palms Hotel' by Marc Levin
$40,000
How many people have dreamed of having a taste of the Hugh Hefner lifestyle? It's easier than you might think – if you have a spare $40,000 to spend on a single night's stay, that is. Located in Vegas, it includes everything that you'd expect from Mr Playboy himself (apart from the bunnies), including a rotating bed! However, that's not all. A Jacuzzi overlooking the Strip, along with a gym, pool, poker table, spa room and much, much more all go into this fantastic suite's facilities.
03 – Ty Warner Penthouse Suite, Four Seasons New York
By Jim.henderson (Own work) [CC0], via Wikimedia Commons
$44,000
As if the on-call chauffeur and personal trainer weren't enough, the Ty Warner Penthouse Suite at the Four Seasons New York offers 360° views of the city which are enough to take your breath away. In fact, this extravagant suite is bigger than most apartments. It's all yours for an eye-watering $44,000 per night!
02 – Maharajah's Pavilion, Raj Palace Hotel, Jaipur, India
Image via rajpalace.com
$44,000
Sitting in joint second place is the Maharajah's Pavilion at Jaipur's Raj Palace Hotel. At this magnificent hotel, $44,000 can buy guests a single night's stay in Asia's biggest suite. It's just about as extravagant as they come, with gold leaf adorning the walls and furniture in gold and silver. A stay here might not make your bank balance feel too good, but it should leave you feeling like a million dollars!
01 – Royal Penthouse Suite at Hotel President Wilson, Geneva
$68,000
The most expensive hotel in the world by a long way is in Geneva: the Royal Penthouse Suite at the Hotel President Wilson costs a staggering $68,000 per night. When you're paying that much money, who needs just one marble bathroom when you can have twelve? In addition, the suite comes kitted out with bulletproof windows and a dedicated security team for the guests' protection. However, perhaps the most impressive part of this suite is its magical views across the Alps and Lake Geneva. If you can afford this, you really will be living the high life. After all, some of its patrons have included Rihanna, Bill Clinton and Bill Gates, so if it's good enough for them then it must be something more than just a little special!